A giant free photography show, Little Italy throws an 11-day block party, Oktoberfest kicks off on Stone Street and more things to do in NYC this weekend.
13 amazing things to do in NYC this weekend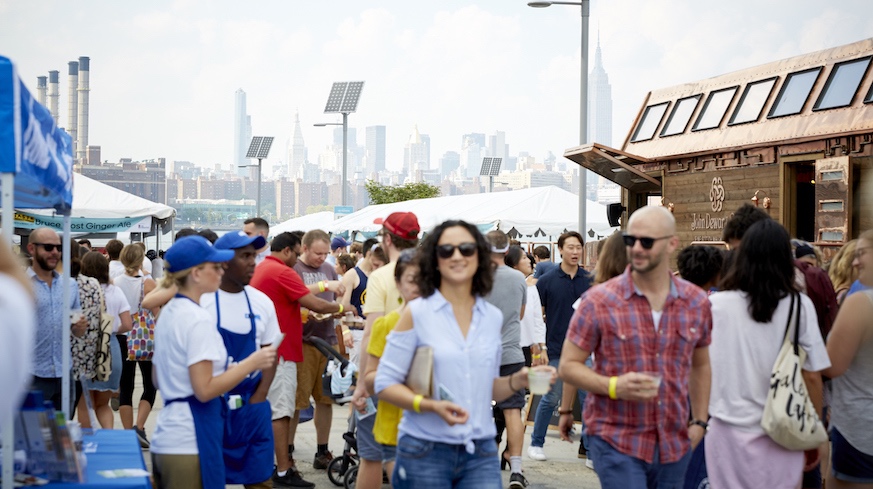 Taste the savory side of cereal
Kellogg's continues to convince the world its cereals are more than breakfast food with a residency by Food Network star Duff Goldman at its Union Square cereal cafe. Goldman will cook up dishes like chicken soup with Rice Krispies matzo balls and Corn Flakes mac 'n' cheese (you can try your hand at them at home, too). All dishes are pay-what-you-will, with proceeds going to No Kid Hungry. Sept. 13, Kellogg's NYC Café, 31 E. 17th St., email events@kelloggsnyc.com to get on the waitlist
Brooklyn's outdoor photo garden is back
Whatever the weather, don't let it keep you from the spectacular outdoor exhibit that is Photoville, the annual survey of photography where more than 600 artists cram entertaining and eye-opening images into 90 exhibitions and installations. In addition to browsing your way through the 65 shipping containers making their home in Brooklyn Bridge Park for two weekends, make time for panels, artist lectures, professional seminars, hands-on workshops — all free and open to everyone. There's also a food and beer garden courtesy of Smorgasburg. Sept. 13-16 and 20-23, 4-10 p.m. Thurs/Fri, noon-10 p.m. Sat, noon-9 p.m. Sun, next to Jane's Carousel, photoville.com
Little Italy throws a two-week party
You don't have to be Catholic to take part in the Feast of San Gennaro, the 10-day holiday that turns Little Italy into one big street festival with delicacies being grilled up on the sidewalk, bakeries turning out their best traditional treats, live music nightly, eating contests and more. Sept. 13-23, 11:30 a.m.-11 p.m. Sun-Thurs, midnight Fri-Sat, Mulberry Street between Canal and Houston streets, free, sangennaro.nyc
A German beer party in FiDi
The Oktoberfest spirit arrives on Stone Street as soon as the weather gets warm — the picnic tables come out and the music is turned up for a day-to-night party. Oktoberfest may not start in Munich until Sept. 22, but in the Financial District the keg is being tapped at 7 p.m. on Friday, Sept. 14, with a special German brew by Sixpoint plus traditional food, like oompah music, souvenir steins and giveaways. The party picks back up at noon on Saturday through 11 p.m.
All the ways to catch a wave
The end of summer is actually the start of surfing season in New York as the waves along the Rockaways finally start building. Gather with the surfers at the fifth annual It Doesn't Not Workd Festival at the Rockaway Beach Surf Club to explore the huge variety of surfboards created in "conversation between local craftsmen and the sea" and chat with makers, plus a photo exhibit, a live recording of the Swell Season podcast, film screenings and even open-water demos. Sept. 14-16, 11 a.m.-11 p.m., 302 Beach 87th St., Rockaway Beach, itdoesntnotwork.com
Prost to Oktoberfest in Central Park
The normally buttoned-up Upper East Side gets a little crazy this Saturday when the lederhosen and tracht-wearing revelers from the U.S., Germany, Austria and Switzerland take over Fifth Avenue from 65th to 86th streets for a three-hour parade of historic floats, marching bands, dancing and more. Watch the fun then raise your own stein of authentic brews at a beer garden in Central Park's Rumsey Playfield. Sept. 15, free to watch the parade, noon-3 p.m., $35 entry to the beer garden, 1:30-7 p.m., germanparadenyc.org
Bust a move with Busta Rhymes
Celebrate the 100th anniversary of the Brooklyn Army Terminal with a free all-ages block party headlined by a concert featuring Busta Rhymes, Justine Skye and Natasha Diggs, plus art exhibits, a virtual reality room by NYC Media Lab, performances by community groups and tons of kid-friendly activities. Food vendors from around Sunset Park will bring the goods, plus a beer and wine garden featuring local breweries. Sept. 15th, 11:30 a.m.-8 p.m., 140 58th St., free, eventbrite.com
Life in the shadow of hurricanes
Since Hurricane Sandy, the coastline that made New York prosperous has also been a source of worry, especially for the Rockaways. Queens-based artist Heather Simon's dreamy ink and watercolor works Home Scar examine the hope and trauma of those who choose to live on the Rockaway Peninsula, on display at the Rockaway Institute for a Sustainable Environment with an opening reception from 2-6 p.m. on Sept. 15. Sept. 15-Oct. 13, 58-03 Rockaway Beach Blvd., inkmonstersink.com
Celebrate one of the OGs of New York's craft beer scene
Spuyten Duyvil marks 15 years of spreading the craft beer gospel in NYC, and they're throwing an all-day party on Saturday where they'll unveil tons of collaboration beers with their "friends & family across the beer world" including Dieu du Ciel, Interboro, Mikkeller NYC and more, plus tons of unique bottles (and even some drafts) from breweries around the world like Monkish, Black Project, Cantillon and more. Sept. 15, noon-midnight, 358 Metropolitan Ave., free entry, facebook.com
David Byrne still rocks
When an internationally renowned band is just another item on your resume, that's a renaissance man. Since the group, David Byrne has written The Bicycle Diaries about our complicated relationship with transit, become a motivational figure with his Reasons to be Cheerful project and, just this year, released a new solo record called, optimistically, American Utopia. See him at two venues this weekend putting on a new kind of concert: Without cords, he and his band perform choreography in addition to music. Sept. 15, 7 p.m., Forest Hills Stadium, $65+; Sept. 16-17, 8 p.m., Kings Theatre, $55+
Take a foodie tour of North Brooklyn
Two of Brooklyn's hottest foodie neighborhoods are throwing a joint festival of food this Sunday. Taste Williamsburg Greenpoint returns for its ninth season with a block party on the Williamsburg waterfront featuring more than 40 of the area's restaurants, bars, breweries and wineries. Your ticket gets you a bite of everything; there will also be a special tent for L train alternatives, kids entertainment and exercise classes. Sept. 16, 1-5 p.m., East River State Park, 90 Kent Ave., Brooklyn, $55-$85, eventbrite.com
Summer's not over yet
Mother Nature can't make us give up summer if we just keep doing summery things. It may not be beach weather this weekend, but you should still wear your seaside best to Refinery Rooftop's Endless Summer Party with a cookout by Swingbelly's BBQ, plus Montauk beer, a DJ and plenty of last-minute rooftop Insta opps. Your ticket includes one plate of barbecue and two drinks. Sept. 16, noon-3 p.m., 63 W. 38th St., $25, universe.com/rrtendlesssummer
Send a message of love
Founded in 2002 as a way to honor the victims of Sept. 11, the Peace Lanterns Festival has grown into a community event that calls on each of us to make the world better by being better stewards of the environment, promoting peace and coming together. Join the Interfaith Center of New York in Gantry Plaza State Park in Long Island City for a day of free activities including kayaking, origami, lantern-making, henna and decorating your own lanterns, which will be set out on the East River after a ceremony. Sept. 16, 2-9 p.m., 49th Avenue and Center Blvd, LIC, free, interfaithcenter.org