Bring our pup to a free outdoor movie, Drake begins a four-night stint at MSG, yoga with cider and more of the best things to do in NYC this weekend.
13 things to do in NYC this weekend
See a movie with your pup
Rooftop Films is winding down its season with a free, all-ages screening of the charming new documentary Pick of the Litter in Fort Greene Park — and of course your four-legged BFF is invited! The evening starts with photo ops for you and your dog, then live music at 8 p.m. and screening at dusk of this feel-good flick about puppies trained from birth to be guide dogs for the blind. Stick around for a Q&A with directors Dana Nachman and Don Hardy at 10 p.m. Aug. 23, 7:30 p.m., Washington Park St., Brooklyn, free, eventbrite.com
Shop & sip at Goodwill
The fashionable among us already know Goodwill just launched its new boutique Curated by Goodwill NYNJ on the Upper West Side. Shop the new upscale collection of vintage duds while sipping complimentary cocktails, with tunes by DJ George Faya. Aug. 23, 5-8 p.m., 217 W. 79th St., free, eventbrite.com
The cool kid dance party
Feeling nostalgic for the disco punk and indie electro tunes of the 2000s? Head to Knitting Factory Brooklyn this Friday night for Nick Marc & Guests playing the music of Franz Ferdinand, The Strokes, The Killers, Interpol, LCD Soundsystem, The Gossip, Yeah Yeah Yeahs, Miike Snow and many more. Aug. 24, 11:30 p.m., 361 Metropolitan Ave., Brooklyn, free with RSVP before midnight, eventbrite.com
Look inside the Latino experience and imagination
The New York Latino Film Festival is the country's largest and most diverse film festival of its kind, showcasing feature-length movies, shorts, documentaries and web series about the worldwide Latino community, from a rom-com about a Chicago comedian named David Green inheriting a restaurant in Mexico from the mother he never knew to a deep dive into the 2,000-mile wall proposed for the southern U.S. border and snapshots of life in rapidly changing Havana, Cuba. Through Aug. 26, various locations, $16-$220, nylatinofilmfestival.com
A pre-Burning Man boat bash
Before he heads off to the dusty playa of Burning Man, Dutch producer Eelke Kleijn is bringing his techno house beats to New York for the Days Like Nights boat party. He'll be joined by Guy Mantzur spinning on the deck of a Hornblower yacht, with a buffet and full bar onboard. Aug. 24, boarding at 7 p.m., 78 South St., $50, seetickets.us
A YouTube series comes to the stage
Families who'd like to enjoy SNL together can see the next best thing: Studio C — Live from NYC, an all-ages sketch comedy show featuring SNL's longest-serving cast member Kenan Thompson partnering with Studio C, BYUtv's popular comedy series, plus music by The National Parks. The back-to-back shows (tickets are sold out for 6:30 p.m.) will be taped for the Season 9 premiere of Studio C. Proceeds benefit the Make-A-Wish foundation. Aug. 24, 9:30 p.m., Hammerstein Ballroom, 311 W. 34th St., $23 and up, ticketmaster.com
Drake posts up at MSG for four nights (maybe)
Drake and Migos have run into some production snags at the start of their double-billed Aubrey & The Three Migos Tour. Hopefully the problems have been ironed out before their four-night stint at Madison Square Garden beginning this Friday gets under way. If not, you can spend the evening coming up with a new sad Drake meme? Aug. 24-25, 26-27, 7 p.m., 4 Pennsylvania Plaza, $79+, msg.com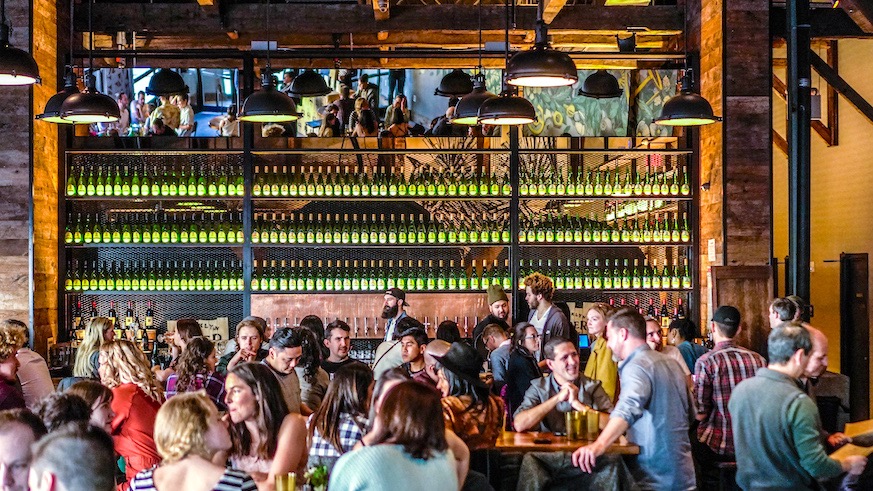 Cider with your warrior pose?
Come to Brooklyn Cider House's new-for-summer outdoor patio for an hour-long vinyasa yoga class, then take a brief tour of the Basque-style cider house, concluding with a cider catching experience. All levels are welcome and BYO mat; participants also get 10% off of their check if they stay for brunch. Aug. 25, 10 a.m., 1100 Flushing Ave., Bushwick, $23, eventbrite.com
Remember the Revolutionary War heroes
The charmingly named Society of Old Brooklynites will hold its 110th annual Memorial Tribute and Commemoration honoring the thousands of American Revolution POWs who died aboard British prison ships docked in New York. Their remains are interred at the base of the 149-foot tall Prison Ship Martyrs Monument at the top of the hill in Fort Greene Park, where speakers, opera singers, maritime musicians, civil service bands and more will take part in the ceremony. Aug. 25, 10 a.m., societyofoldbrooklynites.org
Spike Lee throws a block party
The King of Pop's legacy lives on in the annual BK Loves Michael Jackson hosted by Spike Lee. Shake it over to Do The Right Thing Way (Stuyvesant Avenue between Lexington Ave. and Quincy St.) for a free day of fun, music, dancing and tributes. Aug. 25, noon-7 p.m.
See the Addams Family uptown
Manhattan's oldest house the Morris-Jumel Mansion is back after a long renovation from a burst pipe, and this week is your last chance to see its charming show of Charles Addams' work. The New Yorker cartoonist was born in New Jersey, and America's favorite goth family is only his most famous work — check out the rest in a wide-ranging display of drawings about everything from family values to idyllic summer outings. Through Aug. 26, 65 Jumel Terrace, Washington Heights, $10, morrisjumel.org
Step back in time to the Jazz Age
All the Dapper Dans and flapper girls head to Governors Island for two throwback weekends every summer where everything is from the 1920s and '30s. The spirit of the era lives again at the Jazz Age Lawn Party, with live music from headliner/host Michael Arenella and His Dreamland Orchestra and many more, as well as all the usual trappings: dancing, cocktails, photo ops, vintage shopping, lawn games and, best of all, endless gawking at all the amazing ensembles. Aug. 25-26, $35, jazzagelawnparty.eventbrite.com
The most ladylike comedy show ever
Fifty of New York City's best comics who just so happen to not identify as male are gathering at the Bell House. 50 Lady Bits will feature comedians including Jo Firestone, Claudia Cogan, Farah Brook and Sydnee Washington to "celebrate all things ladylike" to benefit Planned Parenthood. Aug. 26, doors at 7:30 p.m., 149 Seventh St., Brooklyn, $15 advance, $20 at the door, thebellhouseny.com