A new Japanese food hall in Brookly, Bob Dylan in concert, flexing like Mariah Carey and more things to do in NYC on Thanksgiving weekend.
Chill with Bob Dylan
The lyrical poet of our troubled times swings through the city for seven concerts beginning Nov. 23 through Dec. 1. He's touring with his new album More Blood, More Tracks: The Bootleg Series Vol. 14, featuring the cuts that didn't make it onto his 1975 record — so it's vintage songs that are essentially new. Nov. 23-24, 26-27, 29-30, Dec. 1, Beacon Theatre, resale tickets start at $94, bobdylan.com
Find your zen
As much as we all love Thanksgiving, the holiday season can feel hectic. Learn how to take those deep cleansing breaths everyone keeps talking about at Greenpoint holistic wellness center Maha Rose. This Friday, the Breathwork for Creative Flow class will use active meditation to work through any blocks and unlock your creativity. Nov. 23, 7:30 p.m., 97 Green St., Brooklyn, $40, maharose.com
Eat vegan ramen by a Top Chef
Chefs Ilan Hall and Rahul Khopkar are out to prove ramen can be amazing without any animals being harmed in the making. Their all-vegan restaurant Ramen Hood — their signature broth is made with sunflower seeds — is already a hit on the West Coast, and they've popped up at Chefs Club Counter just as it became soup weather. Through Jan. 19, 2019, 62 Spring St., chefsclubcounter.com
Black foods on Black Friday
Keep on theme with the biggest shopping weekend of the year at David Burke Tavern, where the James Beard-winning chef has created a menu of dishes using black ingredients to serve from Friday, Nov. 23 through Sunday. Start with the black tempura calamari, move on to squid ink rigatoni with prawns and finish with the Blackberry Surprise, among other options. E. 62nd St., davidburketavern.com
Take a hike
Instead of getting your Black Friday workout shoving people out of your way, take a more zen approach on a free hike with the Urban Park Rangers. They'll be out in all five boroughs introducing you to the hidden gems right in your backyard, so grab a pair of sturdy shoes and head out: The Alley Giant in Queens (10-11:30 a.m.), Greenbelt in Staten Island (11 a.m.-1 p.m.), Central Park South to North Hike (11 a.m.-2 p.m.), Prospect Park in Brooklyn (1-2:30 p.m.), the Northwest Woods in Van Cortlandt Park, Bronx (1-2:30 p.m.) and Hunter Island at the Orchard Beach Nature Center (1-2:30 p.m.) nycgovparks.org
Catch a show off-Broadway
Got Black Friday off or taking an NYC vacation over the long weekend? Some off-Broadway shows — among the most creative art in the city — are offering special Friday matinee performances. We recommend Gloria: A Life, about the indomitable Gloria Steinem, and the Harry Potter parody Puffs, which has added new cast members and greatly expanded sets since its humble beginnings. playbill.com
Find your new BFF
Have someone new to be thankful for next year by adopting a forever friend from Best Friends Animal Society. From Black Friday through Cyber Monday, you can adopt a dog, cat or kitten from the Pet Adoption Center at 307 W. Broadway in SoHo for free. Nov. 23-27, Fri, Sat, & Mon 11 a.m.-8 p.m., Sun noon-6 p.m., bestfriendsny.org
Go with Mariah
Live the Fantasy at Sony Square NYC's pop-up gallery dedicated to the Queen of Christmas. The Mariah Carey Experience recreated some of the pop diva's most famous album covers, from 1997's Butterfly to her just-released album Caution, plus a Christmas GIF station and merchandise. Nov. 24-Dec. 4, 25 Madison Ave., free, sony.com
Japan comes to Brooklyn
Industry City's long-awaited Japan Village food hall opens this Saturday, a 20,000-square-foot marketplace designed to feel like an actual Japanese village. There are food stalls, an izakaya and cocktail bar, Japanese liquor store and the city's largest Japanese grocery store. Oh, and a fish market, meat market and, vegetarians get psyched, a tofu market. And it's just the start of what Industry City has going on for the season. Opens Nov. 24, 11 a.m.-7 p.m., 934 Third Ave., Sunset Park, industrycity.com
Enter the Rowmuda Triangle
The world's hottest EDM party series elrow is wrapping up its season by taking dancers deep into the Rowmuda Triangle at Avant Gardner this Saturday. After two sold-out shows in New York (not to mention summering in Ibiza), this festival-level production brings DJs Steve Lawler, Yousef, wAFF and more for a nautical odyssey featuring shipwrecks and sea monsters. 140 Stewart Ave., Brooklyn, $59.99, ticketfly.com
Take a virtual ride with Santa
If you've always wanted a ride in Santa's sleigh, good news. City Point in Downtown Brooklyn is opening the BKLYN Arctic Adventure, a sleigh ride through a Christmas village and Mrs. Claus' bakery and all the way to Santa's workshop on the North Pole, courtesy of YokeyPokey Virtual Reality. Your adventure ends in a whole winter wonderland with more techy fun like delivering presents using the Santa Sling. Fri-Sun from Nov. 24-Dec. 24, noon-9 p.m, $15, reserve at yokeypokey.com
Things to do in NYC: Ongoing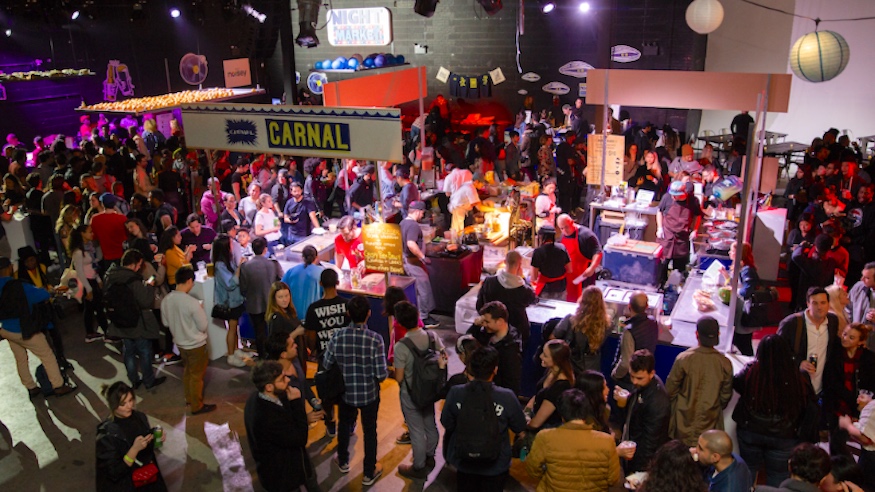 Smorgasburg at night
Their outdoor markets may be done for the season, but you've got two ways to experience Smorgasburg this winter. Opening Fridays through Dec. 21 is the Smorgasburg x Vice Night Market, with 11 food vendors and DJs at Brooklyn venue Villain (307 Kent St.) and the Smorgasburg Winter Market, opening Nov. 3-4 on weekends through March 2019 inside Atlantic Center with 30 food vendors and 20 Brooklyn Flea vendors at 625 Atlantic Ave. smorgasburg.com
King Kong takes over Broadway
It took five years to bring King Kong the musical from Australia to Broadway, but that impressive 20-foot ape — who is entirely too lifelike thanks to a team of 14 puppeteers — was worth every moment of waiting. Don't wait to see this show at the Broadway Theatre for the most thrilling night you'll have at a Broadway show. Open-ended run, 1681 Broadway, $114 and up, kingkongbroadway.com
Celebrate Mickey Mouse's 90th birthday
Did you know Mickey got his big break in New York? After getting his start at the Broadway Theatre in 1928, Walt Disney's most famous creation is back, this time in the Meatpacking District. The pop-up gallery — what else? — is called Mickey: The True Original and reveals relics from the Disney Vault among original artworks by modern artists both internationally known and local stars. Plenty of Insta-worthy moments, an ice cream booth by Ample Hills and other surprises await. Nov. 8-Feb. 10, 2019, Tues-Sun from 10 a.m. to 8 p.m., 60 10th Ave., $38, showclix.com
Beyond the Campbell's Soup cans
Who is Andy Warhol? The Whitney Museum goes on a vast journey to find out in its major winter exhibit Andy Warhol: From A to B and Back Again, opening Nov. 12. The show peels back his carefully crafted persona, the show looks at how Warhol changed the role of artists in society, including new materials discovered after his death in 1987. Nov. 12-March 31, 2019, 99 Gansevoort St., included with admission: $25 adults, free for kids 18 and under; whitney.org
The Big Apple Circus swings again
New look, new acts, new food — everything is new at the Big Apple Circus, which is under new management for its 41st season. A major makeover aimed to attract millennials has brought a glamorous spiegeltent to the grounds, serving cocktails by Pamela Wiznitzer and pre-show entertainment, while the ring now has some world-famous acts like Desire of Flight in addition to longtime favorites. It's worth a trip even if you've been before. Oct. 27-Jan. 27, 2019, Damrosch Park, 60 Lincoln Center Plaza, $29-$80, bigapplecircus.com
Learn Sherlock Holmes' secrets
If you love the stories of Sir Arthur Conan Doyle's legendary detective, the Liberty Science Center will help hone your skills with its new International Exhibition of Sherlock Holmes. Immerse yourself in the Victorian era to learn Holmes' forensic techniques, then solve a crime by collecting evidence. Nov. 3-May 27, 2019, 222 Jersey City Blvd., Jersey City, $29.75, lsc.org
An abstract master arrives in the U.S.
You don't know the name Hilma af Klint, and that's because she wanted it that way. The Swedish artist worked from the beginning of the 1900s to create large, colorful canvases filled with a world only she could see — Mondrian, Kandinsky and other modern masters merely scrambled to catch up — but also insisted they not be displayed until 20 years after her death. Beginning this Friday, the Guggenheim Museum is showing the first major solo exhibition of her work in the U.S. Oct. 12-April 23, 2019, 1071 Fifth Ave., guggenheim.org