There's no high quite like booking a plane ticket to a place you've never been before. But at some point after booking that ticket to Southeast Asia, you have to actually get on the plane and spend somewhere between 15 and 35 hours crammed into a flying metal fartbox. A bad flight can ruin your first day or two once you've arrived, so we've compiled a list of everything you need to arrive at your destination as sanely as possible.
Chill Pills
Ok, we've all heard stories about how Xanax and flying don't mix (falling asleep at the gate and missing the flight; that scene from Bridesmaids) but with all the stress involved with packing, traffic, TSA security and fighting for room in the overhead bins, it's essential to have something to take the edge off. Skip the pharmaceuticals and opt for something natural. Hum Nutrition's Big Chill and Beauty zzZz supplements will help you relax (and hopefully snooze) without the scary side effects.
Essential Oils
It is just a fact of life that airplanes smell bad. Even though you'll likely acclimate to the pungent mix of jet fuel, recycled air, microwaved mystery meat and bodily functions, it's nice to have something that smells nice. Plus, some essential oils have the added bonus of calming properties. Pick up some lavender oil at the health food store and douse it on your airplane blanket and pillow. For something a bit more luxe, Tata Harper has a line of aromatic treatments that are nice enough to smell like perfume, but seriously help you chill. 
Water
This is possibly the most important thing you can bring on a plane. Grab a bottle from home and fill it up at the airport or shell out what the overpriced magazine store in the airport terminal charges, but water is essential. Feeling thirsty and trapped in a window seat is a bad feeling, and staying awake all night to not miss the drink cart is a stupid way to fly.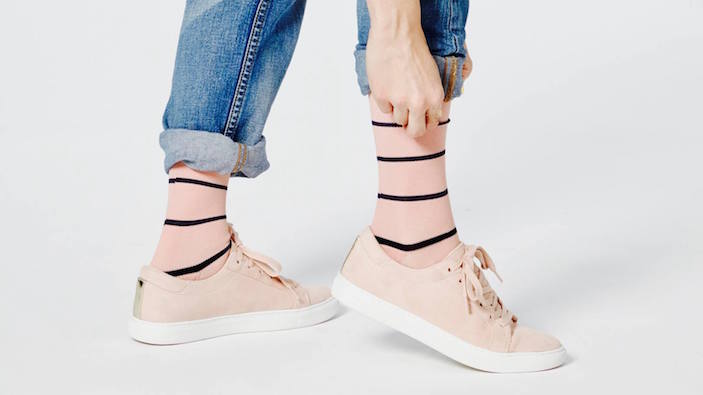 Outfits for Your Feet
How many socks do you really need for a 20-hour flight? More than you think. First of all, there are the compression socks to increase circulation and reduce swelling — Comrad makes some totally cute ones. For plush comfort, I like to opt for an over-the-top fuzzy sock in chenille fabric. The other thing that's an absolute necessity is a pair of slippers. You don't want to have to put your shoes back on mid-flight.
A Serious Sleep Mask
One of the most important factors in getting a good night's sleep on an airplane is blocking light. Just how Kim Kardashian only sleeps on silk pillowcases, I prefer using a silk eye mask because it makes me feel like I'm getting my "beauty sleep." It's also lightweight and washable.
Fancy Moist Towelettes
Whether you want to "wash" your face or dry away the night sweats, it's a good idea to carry a packet of Goodwipes.
Snacks
Airplane food is nasty. Make your own trail mix at home or pick up a bag before you board — whatever you choose, just make sure it doesn't have perishable ingredients.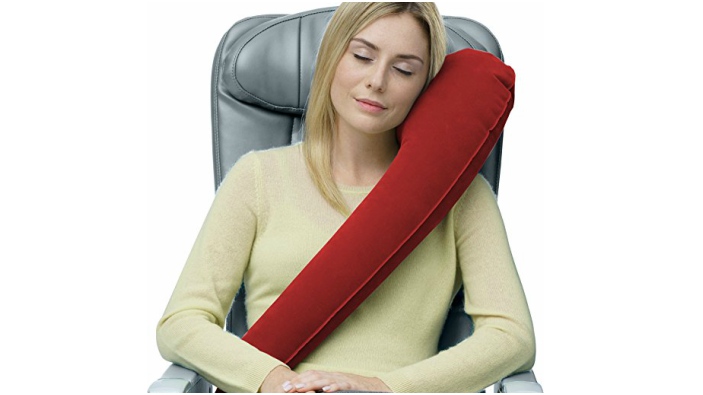 The Best Travel Pillow
I found the perfect airplane pillow is the Travelrest Ultimate Travel Pillow. Though it seems pretty weird at first, the design is genius. It attaches to your seat via the headrest and the seatbelt, effectively turning it into a soft wall to lean against — even if you're seated in the middle.
Noise-Canceling Headphones
Wireless headphones are great, but you still need a pair of plug-in headphones to be able to watch movies on the plane. Your best bet is a pair of compact noise-canceling headphones. The PXC 550 by Sennheiser are a super splurge, but with a battery that lasts for 30 hours, they're worth it. If you're not trying to spend half the price of a plane ticket on a pair of headphones, Bluetooth headphones from Altec Lansing are an excellent bargain.
Pajamas
Pack your carry-on like you're going to a sleepover. The best way to cure jetlag and kill some time during your flight is to impose an arbitrary bedtime, preferably around the same time you'd be going to bed once you arrive at your destination. Brushing your teeth and changing into some PJs can help trick yourself into thinking it's time for sleep, even if it's 11 a.m.
Wine
Wine is free on transcontinental flights, even in coach! Treat yourself to a glass of wine because it's the only fancy thing that's going to happen to you for the next 11 hours. It might even help lull you into sleep, or at least a false sense of contentment. Just don't drink too much because there's nothing worse than flying hungover.
Ear Plugs
Screaming babies, odd buzzing noises, conversations between chatty strangers, screeching announcements: There are plenty of things on a plane that you don't want to hear. Earplugs are infinitesimally small for the amount of comfort they provide.
A Face Mask
Dry air, dehydration and a lack of sleep make for a good chance of arriving at your destination looking ghoulish. Combat crypt face with a sheet mask from Lancer or Jurlique that will leave your skin hydrated and fresh. For a more low-key option, Dermalogica's Barrier Defense Booster and Calm Water Gel both can work as overnight masks, moisturizing and protecting your skin while you (try to) sleep.
A Coat That's Also a Blanket
All planes are freezing. Lighten your load with a coat that doubles as a blanket. If you're flying to (or from) a cold climate, Uniqlo's Ultra Light Down is the best option. The long coat is like a super light sleeping bag that gently hugs you while in the air and the hood can double as some extra pillow fluff. Cuyana's alpaca wool cape is better for warmer destinations since it's basically just a scarf.
A Real Toothbrush
If you're traveling for 10+ hours, you're probably going to eat a few meals at some point. Don't forget your toothbrush.
An Undereye Savior
Although we can hope for sleep on a plane, it is a rare occurrence to get a full night's rest if you're flying economy. This means that you're going to have bags under your eyes when you land, but there is some triage you can do to minimize the effects of a sleepless night. Both Honest Hazel and 100% Pure make under eye masks that will leave you fresh-faced. If your problem is dark undereye circles, La Roche-Posay Pigmentclar Eyes can fix that.
Chocolate Covered Espresso Beans
I understand if you're an addict who desperately needs a fix before the plane lands, but for everyone else: do not drink airplane coffee (hint: There's more than coffee in it.) However, if you'll be arriving in the morning, caffeine is essential to fighting jet lag and making the most of your first day of vacation. The solution is the crack cocaine of coffee: dark chocolate-covered espresso beans. A handful of these magic nuggets will keep the wolves at bay until you deplane and can hunt down a proper cappuccino. Although they're a bit hard to find, you can usually pick some up from your local gourmet grocery, or order them from Jacques Torres.
Some Face Spritz
Give your face a pick-me-up with a spritz. Guinot's brume hydra beauty mist delivers instant moisture and a refreshing scent, while Biologique Recherche L'Eauxygenante is a vitamin-packed spritz that protects against dryness. Or just pick up a $5 rosewater spray from your local health food store.
Recovery Gel
Trying to sleep while confined to a single airline seat is a recipe for sore muscles, so it's a good idea to travel with a recovery balm of some kind. You can kick it old-school with some Tiger Balm, or try out Tata Harper's recovery gel, which is made to soothe post-gym muscles but works for lower back pain caused by airplane seats, too.