The 2018 Winter Olympics are set to begin in February and if you're a sports fan, or, just enjoy watching athletes from around the world representing their countries while competing for Olympic medals, then the Pyeongchang Winter Games will keep you entertained throughout the month of February.
Below is a brief guide to provide you with some basic information about the location, start and ending ceremonies, the games, and how to watch/live stream online. 
Where are the 2018 Winter Olympics games held this year?
This year, the 2018 Winter Olympics will be held in Pyeongchang, South Korea which is located about 78 miles east (126 km) of Seoul, the country's capital.
This will be the second time the Olympics will be held in South Korea. The 1998 Summer Olympics was held in Seoul, South Korea.
When are the opening and closing ceremonies?
The Pyeongchang Winter Olympics opening ceremony will begin on Friday, February 9 at 8 p.m. (Korean Standard Time). South Korea is 14 hours ahead of New York City (Eastern Standard Time) so that means, if you want to watch the 2018 Winter Olympics live on the East Coast, you'll need to tune in at 6 a.m. Friday morning and catch a little bit of the 2018 Winter Olympics opening ceremonies before you head out for work.
Closing ceremonies for the 2018 Winter Olympics will be on Sunday, February 25. 
Meet Soohorang, the official mascot of the Pyeongchang Winter Olympics
If you're wondering what the official mascot is for the 2018 Winter Olympics, it is a white tiger named Soohorang. According to the Olympic website, the white tiger is "closely associated with Korean mythology and culture" and is recognized as a symbol of "symbol of trust, strength and protection."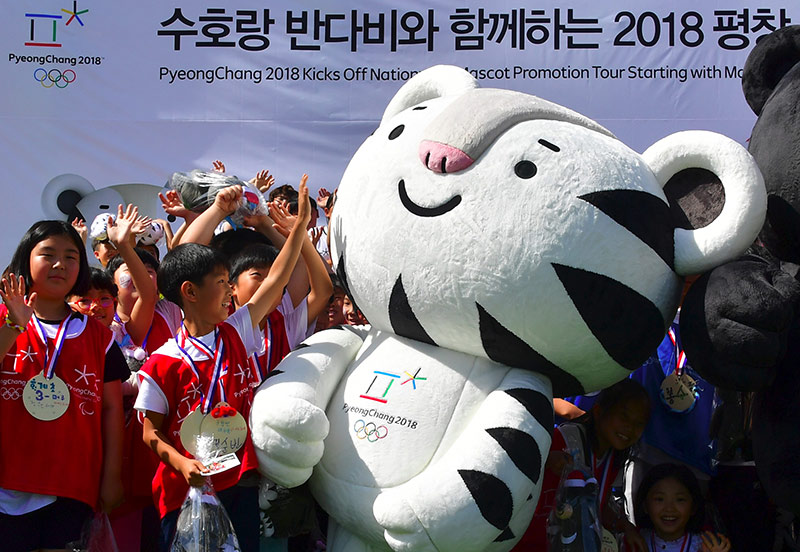 (Credit: Getty Images)
When do the 2018 Winter Olympics games begin?
The 2018 Winter Olympics games will begin on Saturday, February 10. Some of the medal competitions scheduled for Saturday are women's speed Skating, men's ski jumping and women's biathlon. There are also a few qualifying events scheduled on February 8 -9, but the official start of medal competitions begin on February 10.
The complete Pyeongchang Winter Olympics schedule can be found on the official 2018 Winter Olympics website.
Aside from the usual Winter Olympics events such as skiing, bobsledding and figure skating, four new events have been added to the program.  The International Olympic Committee (IOC) added big air snowboarding, freestyle skiing, mass start speed skating and mixed doubles curling have been added to the 2018 Pyeongchang Winter Olympics.
According to the IOC, the events were added based on "added value; youth appeal; attractiveness for TV, media and the general public; gender equality; minimum impact on the number of events and/or quotas; and infrastructure and operational cost and complexity." Overall, the IOC wants to make the 2018 Winter Olympics a more enjoyable experience for viewers.  
So, what do the 2018 Winter Olympics medals look like?
According to Lee Suk-woo, the selected medal designer for this year's Winter Olympics the medals are representative of his homeland, Korea and are "a celebration and a lifetime of hard work and dedication for all the athletes who will receive and cherish them."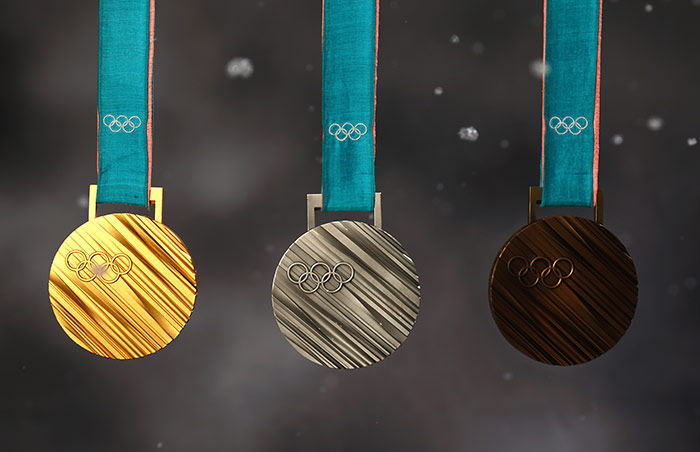 Pictured left to right: Pyeongchang Winter Olympics gold, silver and bronze medals. Credit: Getty Images
Watch the 2018 Winter Olympics 
The 2018 Winter Olympics will be broadcast live across all time zones, giving viewers the opportunity to watch all of the events live from Pyeongchang, South Korea. This was a big issue during NBC's coverage of last year's Summer Olympics in Rio De Janeiro. There was a mix of live broadcasts/streaming mixed in with tape-delayed broadcasts which caused confusion and spoiled event results for a lot of people. 
According to NBCUniversal, there will be more than 2,400 hours of Olympics coverage spread across their live television networks and streaming apps, so watching the 2018 Winter Olympics will be easy.
You can catch all the action on NBC, NBCSN, CNBC, USA Network, NBCOlympics.com and the NBC Sports app.  
According to NBCUniversal, the Pyeongchang Winter Olympics will be the first winter Olympic games to have streaming coverage for connected TVs. That means if you have Apple TV, Chromecast, Amazon Fire, Roku, Win10 or ComcastX1 you'll be able to watch NBC Olympics coverage.
Watch 2018 Winter Olympics live streaming for free
When it comes to watching major events online, there are people out there who figure out how to get around paying for a TV subscription. Services such as Sling TV offer free trials of their services, but it will only be available for seven days. If you're looking to watch the 2018 Winter Olympics online for free, all you need to do is search online and you'll find a handful of sites offering links to watch online. You can find live streaming links on YouTube, Facebook, UStream or Periscope but it's not guaranteed those links will remain active for long.