Another New York Mets season has come and gone with a feeling of overwhelming disappointment looming not far above the organization. 
This was a team that had genuine hopes of competing for a National League East title. Instead, injuries and underperformances dominated for a majority of the season as mediocrity reigned supreme. 
For the eighth time in the past 10 years, the Mets put up a win total that landed in the 70s at 77-85, a horrific June in which the team went 5-21 creating a hole that it could not climb out of. 
As the Mets languished near the cellar of the division and at times, the National League, there were some promising signs that developed in the final months of the 2018 season. 
Here are three:
The development of a strong starting trio
While the "Fantastic 5," — or whatever Jacob deGrom, Noah Syndergaard, Zack Wheeler, Steven Matz and Matt Harvey wanted to be called — are no more, the second half of the season offered a glimpse of just how good the Mets rotation could be. 
Especially with their top three arms. 
There cannot be enough said about the season deGrom just had as he put in one of the finest pitching performances in Major League Baseball history.
Forget the 10-9 record that came because of an inept offense; deGrom's 1.70 ERA was the second-lowest single-season mark in the past 23 years. He became just the third pitcher since 1908 to have an ERA of sub-2.00 with 250-plus strikeouts (269) with less than 50 walks (46). The other two were the legendary Christy Mathewson (1908) and Pedro Martinez (2000). 
The National League Cy Young Award is as good as his. 
Behind the ace deGrom, Syndergaard battled through an inconsistent season that once again was plagued with injury issues that kept him out from May 25 to Aug. 1 save a pair of starts. In his final six starts of the season though, Thor went 4-1 with a 1.73 ERA, lowering his mark from 3.51 to 3.03. Everything came together on the last day of the season on Sunday against the Miami Marlins when he conducted a complete-game shutout in which he allowed just five hits and struck out six. 
A surprising third arm to this equation was Wheeler, who looked destined to be playing his ball elsewhere at multiple points this season. After missing two years because of his recovery from Tommy John surgery, Wheeler struggled mightily in 2017, with a 3-7 record and 5.21 ERA. 
After initially not making the MLB roster out of spring training to make room for Jason Vargas, injuries allowed the 28-year-old to get another chance with the Mets. 
It didn't start well as he was 2-5 with a 4.98 ERA over his first 12 starts. But something clicked under the tutelage of manager Mickey Callaway and Dave Eiland as Wheeler suddenly found his stuff. 
In his final 17 starts of the year, the righty was magnificent, going 10-2 with a 2.30 ERA before being shut down in late September to preserve his arm. 
Jeff McNeil
While the Mets have opted to keep star prospect Peter Alonso down in the minors, they did call up second baseman Jeff McNeil in late July. 
It was a no-brainer considering the 26-year-old was batting .342 with 19 home runs between double-A and triple-A ball in 2018. 
He didn't miss a beat once he made the jump to the majors as all McNeil did was hit upon his arrival to the Mets. 
In 63 games (225 AB's), McNeil slashed .329/.381/.471 with three home runs and 19 RBI to go with seven stolen bases. Those kinds of numbers are perfect for a Mets team to pair up with a high on-base percentage talent like Brandon Nimmo, who finished fourth in the majors with a .404 OBP this year.
If Nimmo continues to see his power numbers trend upwards — he hit 17 home runs in 140 games — McNeil could become the team's every-day lead-off man for the foreseeable future. 
Amed Rosario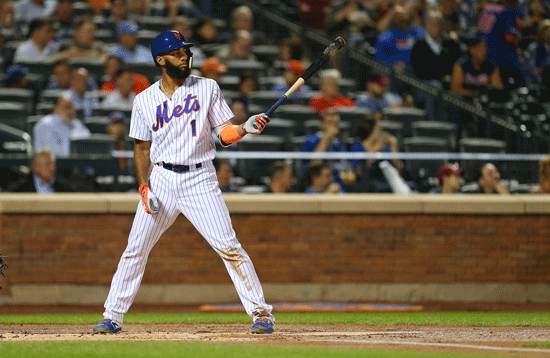 There was legitimate concern for Mets top prospect Amed Rosario heading into the second half of the 2018 season. 
After batting .248 during his brief six-week debut in 2017, the 22-year-old shortstop was batting .232 with four home runs and 21 RBI through 84 games. That's not the kind of production expected from such a highly-touted talent coming out of the minors. 
The second half though saw Rosario start to look much more comfortable at the plate. In the final 70 games of his season, he batted .277 with an OBP of .310 while adding five home runs and 30 RBI to his stat line. 
While he will still need to increase that OBP if he wants to move up in the lineup, that kind of offensive improvement should give the Mets a glimmer of hope that this can be a shortstop to build around moving forward.