Asia Argento was one of the first women to speak up about sexual assault claims against Harvey Weinstein (who now faces criminal charges, including two counts of sexual assault, in Manhattan). She became a leading face of the #MeToo movement. Now, the New York Times reported on Sunday that, in the months after the Weinstein story broke, the actress and advocate arranged to pay child star Jimmy Bennett $380,000 over alleged sexual assault claims linked to an encounter in 2013.
According to documents obtained and authenticated by the Times, Bennett, now 22, was 7 when he played Argento's son in The Heart Is Deceitful Above All Things (2004). The documents say that the two maintained a mother-son relationship of sorts as he grew up. In 2013, they reunited in a California hotel where Argento was staying.
Argento, 37 at the time, allegedly gave him alcohol and showed him notes she'd written to him on hotel stationery. As the Times describes, based on the documents: "Then she kissed him, pushed him back on the bed, removed his pants and performed oral sex. She climbed on top of him and the two had intercourse, the document says. She then asked him to take a number of photos."
Bennett had just turned 17. The age of consent in California is 18.
The hotel incident reportedly affected Bennett's mental health and ability to work — he subsequently lost income — claims a November notice of intent to sue that his lawyer, Gordon Sattro, sent Richard Hofstetter. Hofstetter was the attorney of the late Anthony Bourdain (Argento's boyfriend), who was reportedly representing Argento at the time. This came a month after the Weinstein story broke.
The notice asked for $3.5 million in damages for the "intentional infliction of emotional distress, lost wages, assault and battery," reports The Times.
Sattro wrote in the notice that Bennett's "feelings about that day were brought to the forefront recently when Ms. Argento took the spotlight as one of the many victims of Harvey Weinstein."
The agreement made between Argento and Bennett doesn't prevent them from discussing the alleged sexual assault, reports The Times. (AKA, Bennett isn't barred under a nondisclosure agreement.) Argento's lawyer, Carrie Goldberg, explained in a letter addressed to the actress that Bennett legally can't sue her for his claims. He also can't post any photo taken during their hotel meet-up, as he gave Argento copyright through their agreement.
Argento, now 42, denied Bennett's allegations, saying, "I have never had any sexual relationship with Bennett." She claims that Bourdain made the payments to ease Bennett's "severe economic problems." The Times reports that Bennett filed a lawsuit against his parents in October 2014, claiming they'd cheated him out of at least $1.5 million worth of earnings over the years. That case was reportedly settled in December 2014.
"Anthony was afraid of the possible negative publicity that such person, whom he considered dangerous, could have brought upon us," Argento wrote. "We decided to deal compassionately with Bennett's demand for help and give it to him." 
Read the full statement, sent to journalist Yashar Ali, below:
I just received this statement from @AsiaArgento in response to the NYT story published late Sunday evening. pic.twitter.com/jAOo7TAULX

— Yashar Ali ? (@yashar) August 21, 2018
Despite the fact that Argento denied having sexual relations with Bennett, texts and photos leaked by TMZ days after the Times report may argue otherwise — also calling into question the unwelcome advances Bennett previously alleged. (Still, Bennett was a minor during the alleged incident.) 
In a text exchange between Argento and a friend discussing the Times report, Argento is allegedly quoted as saying, "He wrote me this afterwards," referring to a "love" note of sorts written by Bennett, "and kept sending me unsolicited nudes all these years up until 2 weeks before the attorneys letter."
She continues, "it wasn't raped [sic] but I was frozen. He was on top of me. After, he told me I had been his sexual fantasy since was 12."
Who exactly is Jimmy Bennett? Here's everything to know about him.
Jimmy Bennett grew up in Cali
Jimmy Bennett was born in Seal Beach, California and reportedly grew up just south of there in Huntington Beach.
Bennett's family opened up a crepe joint in the area "set in an immersive Rock-N-Roll ambiance," Rockin' Crepes.
"We'd been traveling with our a son a great deal, and we always saw how popular crepe places were in other cities," Bennett's dad, Frank, told The Los Angeles Times back in 2010. "So we thought we'd give it a go here at home. The music theme just felt like a fun way to pay tribute to classic bands."
Jimmy Bennett started acting when he was 6
According The Times, Bennett began acting at age 6, when he was featured in a commercial for a Dodge Caravan.
As his IMDb page relates, he booked roles in a long list of movies growing up, such as Daddy Day Care (2003), The Amityville Horror (2005), Evan Almighty (2007) and Orphan (2009). He also played the young James T. Kirk in the 2009 Star Trek film and even appeared in an episode of Gilmore Girls.
Bennett said in a 2010 interview of his acting career, "It was just something I was always curious about. I had seen so many movies and it came up in a discussion between me and my mom. We went to an agency and they sent us out to a couple of things and I started getting work."
"Hopefully, I can follow in Leonardo DiCaprio's shoes," Bennett said, naming DiCaprio as one of his "favorite actors of all time."
Bennett was reportedly just 7 years old when he filmed with Argento. They're pictured below with actor John Robinson at The Heart Is Deceitful Above All Things wrap party: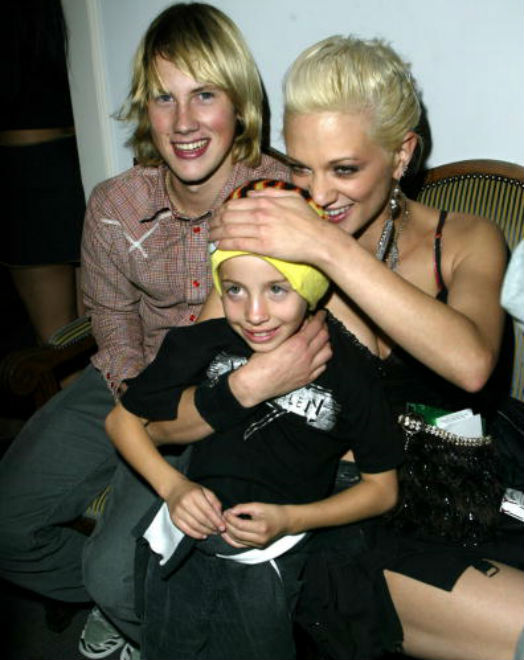 On the day they reunited back in 2013 — the day he alleged she sexually assaulted him — Argento posted on Instagram the following photo:
Jimmy Bennett is a singer as well
Bennett's song, Summer Never Ends, is featured on the soundtrack of the comedy Shorts (2009). He released his debut single, entitled "Over Again," in 2011. 
At his 16th birthday party in 2012 (where he performed live), Bennett told Popstar! that he listens to a lot of classic rock bands like Motley Crue and Guns N' Roses for inspiration.
You can hear some his latest work on what appears to be his personal Sound Cloud account.
Through his lawyer, Bennett declined to comment on the alleged claims of sexual assault against Argento, stating that, in the coming days, he will continue to focus on his music.