Jennifer Lawrence dated filmmaker Darren Aronofsky for a year. Now she's with a new man who, believe it or not, is not a celebrity. Cooke Maroney is his name, and he's an everyday guy.
Lawrence, 28, and Aronofsky, 49, broke things off in November 2017. Reports that Maroney and Lawrence were "quietly" dating surfaced in June of this year.
The Red Sparrow star was reportedly introduced to her new beau through Laura Simpson.
"They met through Jen's friend Laura," a source told Page Six in June. "The relationship has been going on a few weeks. But they have been very private and careful not to be seen together."
That all changed once their relationship became more public.
Cooke Maroney & Jennifer Lawrence https://t.co/ol9MFCQTE5 pic.twitter.com/EAwg2pk2pE

— FansnStars✨✪ (@FansnStars) October 3, 2018
Here's everything we know about Cooke Maroney.
Note: JLaw does not have an official Instagram — or Twitter — which makes a deep dive into her new relationship rather, well, shallow. (Maroney currently has a private Instagram account.)
Cooke Maroney is a Vermont native
Maroney, 33, went to high school in Middlebury, Vermont, according to his Facebook page. 
Fun fact: Per Cosmo, his parents own Oliver Hill Farm located in Leicester, Vermont. In 1990, it became the third organic dairy farm in the state.
Maroney has a sister named Annabelle also reportedly living in NYC. 
Cooke Maroney went to NYU
Maroney studied at New York University, where he got a degree in art history.
According to Facebook, he graduated in 2007.
Cooke Maroney is an art gallery director
Maroney is a director at Gladstone 64 on the Upper East Side. According to Page Six, the gallery reps artists like Carroll Dunham (Lena Dunham's dad) as well as painter Richard Prince and British sculptor Anish Kapoor.
Maroney formerly worked at Gagosian Gallery.
"In the art world, the way information is shared is rapidly changing," Maroney said during a 2015 interview with Artsy when he was still at Gagosian. "A growing group of internet-savvy collectors are searching for art online with galleries eager to provide it."
A source told The Cut, "He's definitely respected. … I'd say he understands what good art is, as opposed to a lot of art dealers who just like to go to parties and do deals."
"I think he really has solid taste in art and he's a very good art dealer," the source continued, "and I expect a fruitful career out of him."
Here he is at an art show after-party in 2013 (left):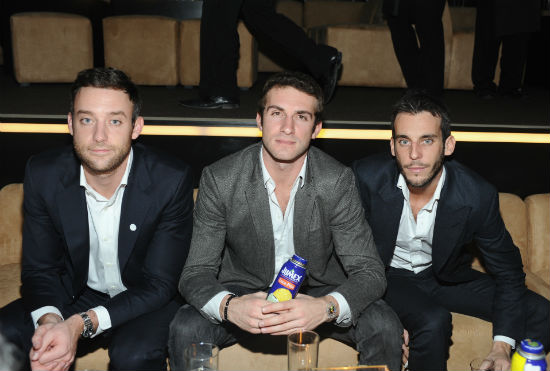 According to a 2015 Medium post about his parents' farm, Maroney's dad, James, used to be a part-time private art dealer and his mom, Suki, takes care of art collections around Vermont.
Cooke Maroney and Jennifer Lawrence do NORMAL things together
Like any normal couple, they do ordinary couple things. Take, for instance, food shopping:
Jennifer Lawrence and her boyfriend Cooke Maroney Monday shopping in a supermarket pic.twitter.com/bqaO0Fdeui

— JLaw (@Kentuchy1990) October 2, 2018
Back in August, the two went on a romantic European vacation together and were spotted strolling around Paris — the city of love.
"He's not a showboat, it's not like he's a celebrity hound or even a model hound," a source told The Cut. "He just likes beautiful women."
See? Regular, everyday guy with really good taste.