A member of the royal family, Zara Tindall, was caught partaking in the ultimate royal faux pas this weekend: PDA (of the aggressive variety). 
Prince William and Harry's former butler, Grant Harrold, told TIME that when it comes to public displays of affection, it "depends on where the royals are and what situation they're in."
However, Harrold did say that, generally, "The younger royals are re-writing the etiquette rules. We should expect them to become more relaxed over time, especially with Harry and Meghan."
This mainly applies to handholds and occasional smooches, but Tindall went all out with her husband at Gatcombe Park's equestrian festival — she grabbed his butt. 
See for yourself: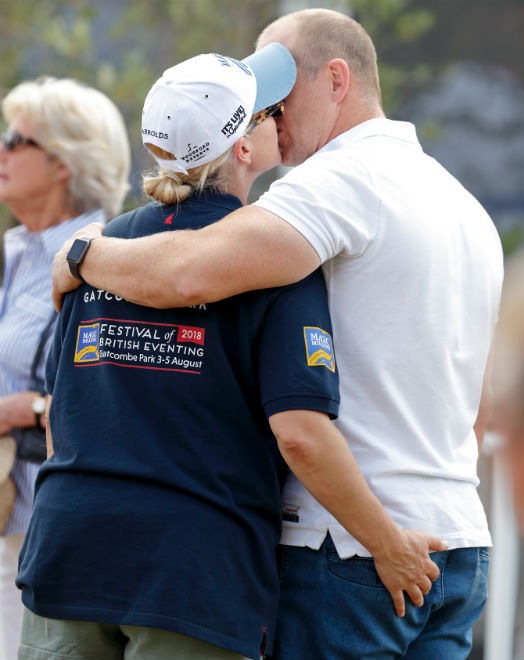 He, as one would do, grabbed hers right back after the fact.
Mike and Zara Tindall really are just like any other married couple in love. And, well, good for them! 
But, who exactly is Zara Tindall? Here's everything you need to know.
Zara Tindall doesn't have a royal title
Tindall's parents are Anne, Princess Royal, (the Queen's only daughter) and Captain Mark Phillips, the Princess' first husband.
At 37, Tindall is the Queen's eldest granddaughter. She does not have a royal title, though she's currently 17th in line to the throne.
According to BBC, Princess Anne and her husband "rejected an offer from the Queen of titles which would have enabled their children to be born into the peerage."
The Princess Royal reportedly wanted her children (Tindall and her older brother, Peter) to remain without titles so that they'd lead a more normal life.
"I'm very lucky that both my parents decided to not use the title," Tindall told The Times in 2015, "and we grew up and did all the things that gave us the opportunity to do."
Zara Tindall went to Exeter
Tindall enrolled in England's Exeter University where she reportedly got a degree in physiotherapy.
Instead of pursuing a career in that field, though, she became a renowned equestrian.
Zara Tindall is an Olympic equestrian
Tindall won a silver medal in the London 2012 Games as part of Britain's Eventing Team. She did not qualify for the Rio 2016 Games.
"It was an amazing experience," she told the Olympic Channel in 2014 of her experience two years prior, "and a massive honor to ride for your country anyway, and to be on home turf and at an Olympics, it's a very unique occasion. It was just fantastic. You can't put into enough words how great it was."
Before her Olympic debut, she won the European eventing title in 2005. In 2006, she became the third rider in history to simultaneously hold world and European titles — and she was voted BBC Sports Personality of the Year.
At 26 years old, Tindall was appointed an MBE award — an honor given by the Queen that stands for "Member of the Most Excellent Order of the British Empire" — for her services to equestrianism.
Her parents were also Olympic equestrians. Captain Phillips won gold with the British equestrian team at the 1972 Munich Games. Princess Anne took part in the 1976 Montreal Olympic Games with the Queen's horse, Goodwill. She was reportedly the first member of the royal family to compete in an Olympics.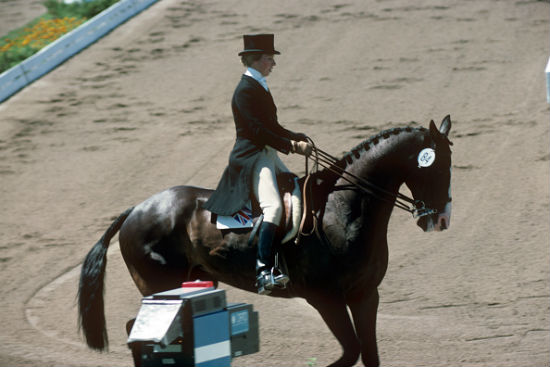 Mike and Zara Tindall married in 2011
Tindall met her husband, a former professional rugby player, at a bar in Sydney. It was 2003, during the Rugby World Cup, and he'd just been let go from the English team before the semi-finals.
"Clive (Woodward, the coach) had just told me I was dropped for the semi-final, so I went out for a beer with two others who weren't playing," Tindall's husband told Daily Mail ahead of their 2011 wedding. Later that night, one of his teammates gave him Tindall's number, and the rest was history. 
The two welcomed their second child, Lena, on June 18 of this year. Their eldest, Mia, was born in January 2014. Like their mother, Tindall's children won't have royal titles.
We encourage Mike and Zara Tindall to keep the PDA coming. If you've got a good thing going, royal or commoner, why hide it from the world?