Trump rallies began at the launch of his 2016 presidential campaign, and they still take place across the country today. 
Subsequently, artists came forward with complaints about Trump using their music during these events once his commander-in-chief bid took off.
Some of the first names on that list include Elton John, Adele and the Rolling Stones.
Artists react to their music at 2018 Trump rallies
Here are artists who've voiced similar distaste for finding out their music was played at Trump rallies this year.
Rihanna
Rihanna's pop hit "Don't Stop The Music" could be heard at a rally Sunday night in Chattanooga, Tennessee. The event was organized in support of Republican Senate candidate Marsha Blackburn.
When the artist found out that day through a tweet from Philip Rucker, Washington Post White House bureau chief, she replied: "Not for much longer…me nor my people would ever be at or around one of those tragic rallies, so thanks for the heads up Philip!"
Not for much longer…me nor my people would ever be at or around one of those tragic rallies, so thanks for the heads up philip! https://t.co/dRgRi06GrJ

— Rihanna (@rihanna) November 5, 2018
Rihanna then took legal action, sending over a cease and desist letter.
"It has come to our attention that President Trump has utilized [Rihanna's] musical compositions and master recordings, including her hit track 'Don't Stop the Music,' in connection with a number of political events held across the United States," her legal team wrote in the letter, which Rolling Stone obtained.
"As you are or should be aware, Ms. Fenty has not provided her consent to Mr. Trump to use her music. Such use is therefore improper," it continued. "Trump's unauthorized use of Ms. Fenty's music… creates a false impression that Ms. Fenty is affiliated with, connected to or otherwise associated with Trump."
Axl Rose, Guns N' Roses
Guns N' Roses lead vocalist Axl Rose also took aim at the president and his campaign for using the band's songs at Trump rallies.
"Just so ya know… GNR like a lot of artists opposed to the unauthorized use of their music at political events has formally requested r music not b used at Trump rallies or Trump associated events," the artist wrote on Twitter the same day Rihanna sent out her tweet.
He went on to accuse Trump's campaign of using "loopholes in the various venues' blanket performance licenses where were not intended for such craven political purposes, without the songwriters' consent."
And when ur phone's blowin' up cuz peeps r seein'/hearin' Sweet Child on the news at a rally… as a band we felt we should clarify r position. Peace!??

— Axl Rose (@axlrose) November 4, 2018
Pharrell Williams
Just hours after the Pittsburgh synagogue shooting on October 27, Williams' song "Happy" was played at a Future Farmers of America convention in Indiana, where Trump spoke.
Two days later, Williams' attorney sent the president a cease and desist letter. It read, per The Hollywood Reporter: "On the day of the mass murder of 11 human beings at the hands of a deranged 'nationalist,' you played his song 'Happy' to a crowd at a political event in Indiana. There was nothing 'happy' about the tragedy inflicted upon our country on Saturday and no permission was granted for your use of this song for this purpose."
The letter ended with, "Demand is hereby made that you cease and desist from any further unauthorized use of Pharrell Williams' music."
Prince's estate
On October 13, Prince's estate issued a statement through the late artist's half-brother Omarr Baker requesting that the president stop using "Purple Rain" at Trump rallies, Vulture reports.
"The Prince Estate has never given permission to President Trump or The White House to use Prince's songs and have requested that they cease all use immediately," Baker wrote.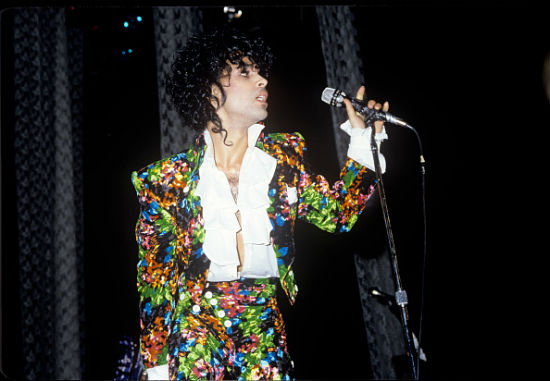 Steven Tyler, Aerosmith
Tyler's representatives sent Trump a cease and desist letter twice in 2015. This August, they had to send another one.
After "Livin' On The Edge" played at a Trump rally in West Virginia this past summer, Tyler's legal team said that the president was violating the artist's copyright. 
The letter read, per Variety: "As we have made clear numerous times, Mr. Trump is creating the false impression that our client has given his consent for the use of his music, and even that he endorses the presidency of Mr. Trump. By using 'Livin' On The Edge' without our client's permission, Mr. Trump is falsely implying that our client, once again, endorses his campaign and/or his presidency, as evidenced by actual confusion seen from the reactions of our client's fans all over social media."
Tyler clarified on Twitter that this isn't about Trump rallies specifically, it's about anyone using his songs without his permission:
THIS IS NOT ABOUT DEMS VS. REPUB. I DO NOT LET ANYONE USE MY SONGS WITHOUT MY PERMISSION. MY MUSIC IS FOR CAUSES NOT FOR POLITICAL CAMPAIGNS OR RALLIES. PROTECTING COPYRIGHT AND SONGWRITERS IS WHAT I'VE BEEN FIGHTING FOR EVEN BEFORE THIS CURRENT ADMINISTRATION TOOK OFFICE.

— Steven Tyler (@IamStevenT) August 22, 2018
Tyler's legal team cited the Lanham Act, which mandates how trademarks are used. 
They wrote, "This specifically violates Section 43 of the Lanham Act, as it 'is likely to cause confusion, or to cause mistake, or to deceive as to the affiliation, connection, or association of such person with another person.'"