As relief efforts accelerate, organizations are urging people across the country to give back to the Carolinas with Hurricane Florence donations. 
By the time Florence, originally a Category 4, made landfall on the Carolina coast this past Friday, it was downgraded to a Category 1 hurricane, then a tropical storm. Florence has been downgraded to a tropical depression, as of 5:00 a.m. EST on Monday.
However, as the Los Angeles Times notes, the Saffir-Simpson scale that rates hurricanes is based on wind speeds — and the real damage is done when flooding occurs. That's why, regardless of its categorization, the storm is still so severe.
"Do not focus on the wind speed category of #Hurricane #Florence! Life-threatening storm surge flooding, catastrophic flash flooding and prolonged significant river flooding are still expected," the National Hurricane Center tweeted on Thursday, leading up to Florence.
At least 17 people have died due to storm-related incidents — though some outlets are reporting the death toll has reached 19 at this time. 
"Florence continues to produce heavy rain over parts of the Mid-Atlantic region," the National Hurricane Center stated as of 11:00 a.m. EST today. "Flash flooding continues over the Carolinas and may develop across parts of the Delmarva into Pennsylvania today." Remnants of the storm system will also cause rain in Boston and New York. 
Flooding is so bad that North Carolina's Department of Transportation has issued an advisory recommending people do not travel in parts of the state.
The North Carolina city of Wilmington, with about 119,000 residents, has been cut off due to flooding, reports The New York Times, and hundreds of thousands in North and South Carolina remain without power. 
In the wake of the storm's aftermath, residents need our help. Here are organizations collecting Hurricane Florence donations.
Hurricane Florence donations: Where to start
It's important to note that there are countless organizations you can make Hurricane Florence donations to. As The New York Times reports, you can use the Charity Navigator tool to evaluate the financial health and accountability/transparency of specific non-profits you're intent on supporting. You can also check the New York State Attorney General's website, charitiesnys.com, to see if organizations are registered under the Charities Bureau. 
Here are a handful of places to start.
Salvation Army
The Salvation Army is collecting Hurricane Florence donations to use for the following: "[T]o provide food and drinks, cleaning supplies and other essential commodities, financial assistance to disaster survivors, long-term recovery assistance programs including repair and reconstruction projects, or to support disaster relief workers serving in impacted communities."
You can donate by mail, phone (1-800-SAL-ARMY or 1-800-725-2769) or by visiting give.helpsalvationarmy.org.
The United Way Hurricane Florence Recovery Fund
United Way created the Hurricane Florence Recovery Fund to "support local communities in Georgia, South Carolina, North Carolina, Virginia, Maryland and the surrounding areas affected by Hurricane Florence," the website reads.
Hurricane Florence donations to this fund will help local United Ways branches help rebuild communities affected by the storm, and United Way will focus on "mid- and long-term recovery."
To donate, click through to unitedway.org. 
The American Red Cross
Leading up to the storm, over 20,000 evacuees across six states took shelter Thursday night at more than 200 Red Cross centers, according to the organization.
Over 2,000 Red Cross disaster workers have been mobilized to help feed, house and support residents affected by Florence.
The Red Cross is on the ground working around the clock to provide food, comfort and other emergency support to those affected by #Florence. pic.twitter.com/IXwHxVVhgF

— American Red Cross (@RedCross) September 16, 2018
The Red Cross is also asking people to give blood because, through this week, over 140 blood drives have been canceled due to the storm, "resulting in over 4,200 uncollected blood and platelet donations."
To send Hurricane Florence donations to the Red Cross online, click through to redcross.org. You can also donate by mail or phone — call 1-800-RED CROSS or text the word FLORENCE to 90999 to make a $10 donation.
Google is matching up to $1 million in donations to the Red Cross. You can donate through Google, here.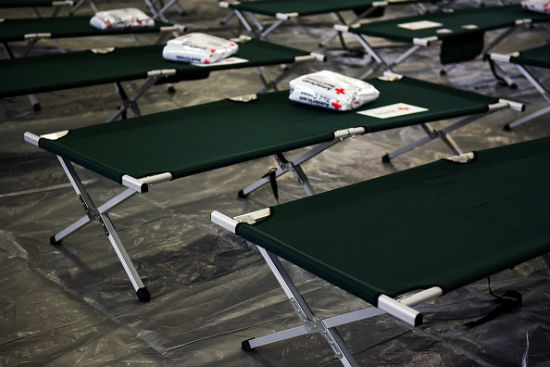 Diaper Bank of North Carolina
The Diaper Bank of North Carolina is collecting Hurricane Florence donations in order to provide financial support and diapers to families displaced by the storm.
"Disaster relief organizations provide vital goods and services to those in need," the organization writes. "However, there are no agencies that provide diapers. As the only statewide diaper bank in North Carolina, DBNC partners with state emergency services to fill this gap."
You can make a monetary donation at ncdiaperbank.networkforgood.com. You can also volunteer to assemble relief kits for families, or donate items through the organization's Amazon Wishlist.
ASPCA
"The ASPCA stands ready to assist animals in Hurricane Florence's path, but we can't stress enough how important it is to incorporate pets into evacuation plans to keep families together and pets safe," Dick Green, senior director of ASPCA Disaster Response, urged pet owners prior to the storm.
Hurricane Florence donations will go to the ASPCA's Field Investigations and Response Fund, "which supports our lifesaving efforts for animals in disaster and cruelty situations, helping us provide care and supplies, and carry out rescue operations where needed."
To help fund their animal rescue efforts post Florence, click through to aspca.org. Other organizations helping affected animals include Charleston Animal Society and American Humane.
For updates on Hurricane Florence, now a tropical depression, click through to the National Hurricane Center. Do your part to help those in need.