Netflix's To All The Boys I've Loved Before, based on Jenny Han's New York Times best-selling novel by the same name, has taken the internet by storm with its charm, lasting humor and — naturally — Noah Centineo.
Centineo plays Peter Kavinsky in the film, one of the five boys who all receive Lara Jean's love letters — and he's the jock with a heart of gold tucked away in your own fantasies. Ask any fan and they'll tell you he's a key part of why they love the movie (TATBILB for short).
"I love To All The Boys I've Loved Before because it's a fun, quirky rom-com that is genuine in that the protagonist expresses feelings that I felt in high school," one fan from New York tells Metro. She adds that the film didn't whitewash the cast, which is true — producers specifically sought out an Asian-American lead, for instance — and "it makes you fall in love with the characters."
"Also," she concludes, "because the actor [Noah Centineo] who played Peter Kavinsky is hunky." No argument there.
Though he isn't new to the acting scene, Centineo's fame seemed to skyrocket as soon as fans got their fix of the Netflix rom-com. Some outlets are even pegging him as the "next Zac Efron." (When W Magazine pointed out that his Instagram following doubled in less than a day, his response was, "it's just a device, you know?")
We're not yet sure if Netflix will greenlight a To All The Boys I've Loved Before sequel — the cast and crew is on board at least — but there's so much more to come for Centineo regardless.
Here's everything to know about Noah Centineo: the leading man in TATBILB and our hearts.
Noah Centineo is a Florida native
Centineo was born in Miami and grew up in Boynton Beach.
He dropped out of Boca Raton Community High School halfway through sophomore year and moved to L.A. to pursue acting. He reportedly finished school through independent study.
Centineo, 22, told Vulture that, unlike Peter, he wasn't popular in high school.
"Like, I was like this tiny little kid that was goofy and would always crack jokes or sit in the back of class and not listen to anything that the teacher was saying," he explained. "I didn't do well in school, and I didn't really care to cater to certain social structures that were in place to be cool."
Noah Centineo was on Disney Channel, then went on to The Fosters
In his younger years, Centineo played Dallas on Disney Channel's Austin & Ally, and he also played a role in the Disney Channel film How to Build a Better Boy (2014).
Centineo replaced Jake T. Austin as Jesus Adams Foster for three seasons of Freeform's The Fosters.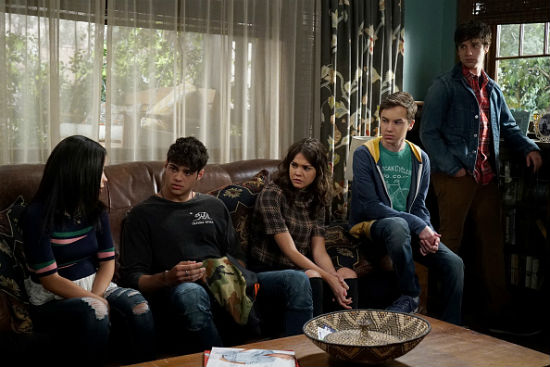 Not to mention, he portrayed Camila Cabello's love interest in her Havana music video.
Noah Centineo was reportedly the perfect Peter for TATBILB
Lana Condor, who played Lara Jean in To All The Boys I've Loved Before, told Teen Vogue that she knew Centineo was the right guy to play Peter.
"I went through [the audition process] and my last chemistry read was actually with Noah," she explained. "…We did our read together and it was a no-brainer that he would be cast, he was the best one in the room. He's perfect."
lana condor talking bout how she's in love with noah centineo for a minute and a half pic.twitter.com/OnbBC6Df9K

— sabrina (@lanascovinsky) August 18, 2018
Fans have questioned if the two might be more than friends and co-stars — the chemistry is there — but nothing has been confirmed yet.
Centineo told W Magazine of his role as Peter, "I can relate to him because he was going through some stuff with his parents, and because of that he had this outer shell and, really, inside he's a sensitive character. I'd like to think of myself as the same."
Noah Centineo's next projects are rom-coms 
Centineo will star in upcoming Netflix comedy Sierra Burgess Is A Loser, co-starring Stranger Things' and Riverdale's Shannon Purser. It's set for release September 7.
He's also a lead in The Stand-In, a film coming this year. In it, Centineo creates a dating app to pay for college where he portrays every kind of "stand-in" boyfriend imaginable. It also stars Riverdale actress Camila Mendes.
Noah Centineo is a romantic like Peter Kavinsky
When W Magazine asked Centineo about the rom-coms he likes, his list included greats such as 13 Going on 30, Failure to Launch, How to Lose a Guy in 10 Days, What Happens in Vegas and You've Got Mail.
"Serendipity is one I really, really love," he added.
Centineo also told BuzzFeed that his favorite first date was meeting a girl on his hotel rooftop at sunset for a book swap. "And we just read, for like three hours," he said. (Swoon.)
Oh, and he's written love letters of his own.
"Some of them are like one-liners like, 'I love you endlessly,'" he told Vulture. "And I'd leave it in her room to find."
Centineo is reportedly single as of August 2018 (early in his career he dated actresses Kelli Berglund and Angeline Appel).
"These movies talk about the principle of 'do not be afraid to love' — we get our hearts decimated sometimes by love and we think we're not gonna recover," Centineo explained — all too honestly — to the L.A. Times. "We do and we will. We just have to trust it."