Chris Fischer and Amy Schumer were married this past February in an intimate Malibu ceremony. They started dating around November 2017.
Two days after they tied the knot, Schumer took to Instagram to debunk the rumor that she might be pregnant. She also called for donations to Everytown for Gun Safety in place of wedding gifts (the actress/comedian has advocated for stricter gun laws ever since two women were shot and killed in 2015 while viewing her comedy Trainwreck).
Schumer, though, revealed this week that she's now expecting a child with Fischer.
She announced the news via journalist Jessica Yellin, who posted a list of recommended congressional and gubernatorial candidates on Instagram. At the bottom, in true comedic fashion, read the line, "I'm pregnant -Amy Schumer." 
Schumer then shared a snapshot of the same list to her own page.
"Chris and I are thrilled and almost positive he's the father," Schumer joked to The Los Angeles Times on Monday. "I look forward to competing with [Meghan] Markle every step of the way."
Here's everything we could find on Amy Schumer's husband and dad-to-be Chris Fischer.  
Chris Fischer is a Massachusetts native
Fischer, 38, grew up on his family's five-acre Martha's Vineyard property, Beetlebung Farm, located in Chilmark, Massachusetts. They acquired the farm in 1961.
His mother, who passed away in 2005, was an artist and public school teacher. His father was a longline fisherman. 
Fischer reportedly spent a lot of his childhood fishing and hunting.
"I grew up with a dad and a grandfather who were extremely thrifty," he told BU Today in a 2016 interview. "Getting dinner was an activity. My dad more than anyone displayed to me the pure joy of growing and raising food."
Fischer went to California Culinary Academy in San Francisco, Esquire reports, but only for a short period of time. He later went on to work at Mario Batali's Babbo restaurant in NYC.
"I have a nontraditional approach to work," he said. "I jumped into the chef world, but without a chefly background and was so focused for the first two and a half years that I taught myself to run Babbo's three-star kitchen when I was 25."
Chris Fischer is an accomplished chef
Besides working at Batali's NYC restaurant, Fischer held positions overseas at Rome's Sustainable Food Project and London's River Café and St. John Bread and Wine. He's also worked as a private chef.
When Fischer's mother passed away, he returned home and began hosting now-trademark greenhouse farm dinners at Beetlebung.
He's since worked at and opened restaurants in the Martha's Vineyard area like Beach Plum Inn (loved by the Obamas) and Covington.
Fischer currently runs Beetlebung Farm and launched a produce market near the fishing docks last summer, which he aspires to expand into a restaurant.
"After years of working for other people, my intuition is, 'I'm doing this on my own terms,'" he told Boston Magazine.
Chris Fischer has been a culinary instructor 
Fischer has experience as a part-time instructor in Boston University's Metropolitan College Food & Wine program. His name is still listed on the program's website.
Watch Fischer take two BU culinary students around Beetlebung Farm:
One of Chris Fischer's friends? Jake Gyllenhaal
Fischer reportedly got his gig at Batali's restaurant through Gyllenhaal.
Gyllenhaal attended Fischer and Schumer's wedding earlier this year along with Jennifer Aniston, JLaw and other famous faces.
Chris Fischer is an award-winning writer
Fischer has written columns for Vineyard publications like the Vineyard Gazette.
He authored The Beetlebung Farm Cookbook, which won a 2016 James Beard Award in the American Cooking category. It's a collection of recipes and stories celebrating his family's longstanding life on the farm.
"I found it surprisingly easy to leave the field and have a meal prepared by sundown, because the ingredients here are so fine they are best almost left alone," he wrote in the book.
Fischer continued, "I realized then what I had always instinctively known, that the food we grow, the fish we catch, the animals we hunt, and those we raise on grasses and flowers salted by the sea breeze are special because of this place."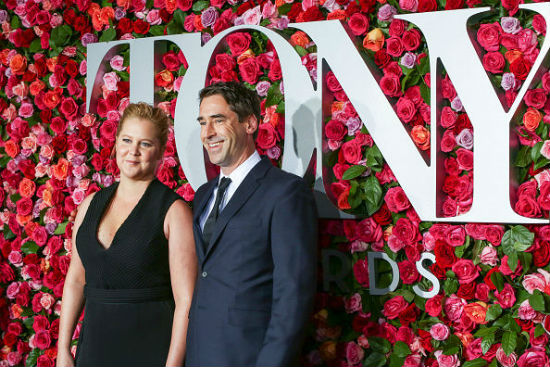 Fischer and Schumer spent their honeymoon eating around Italy, where Fischer was scheduled to work.
"He was cooking in Sonoma at Scribe vineyards, so I followed him there," Schumer said on The Late Show in April. "Then he was cooking at a festival in Milan, and I heard that they invented pasta and wine, so I've just been kind of following him around getting drunk."
"What a good idea to marry a chef," she mused during Live with Kelly and Ryan that same month. "I'm sorry, it's the best."