Track Palin, the eldest son of former Republican vice presidential candidate Sarah Palin, was arrested Friday night on domestic violence charges — the third time in three years.
Alaska State Troopers responded to a disturbance at his Wasilla home at 10:37 p.m., according to CNN. The incident involved a female acquaintance.
Troopers wrote on an online dispatch, "Investigation revealed [Track Palin] assaulted an acquaintance at his residence. When the acquaintance attempted to call authorities, he prevented her by taking away her phone. While being placed under arrest, Palin physically resisted troopers."
Palin was reportedly charged with fourth-degree domestic violence assault, interfering with the report of domestic violence, resisting arrest and disorderly conduct.
He's currently being held at Mat-Su Pretrial without bail. According to TIME, he pleaded "not guilty, for sure" in court on Saturday.
Here's everything we know about Track Palin.
Track Palin grew up in Alaska
Palin, 29, grew up in Alaska where his mother served as the ninth governor. 
He went to Wasilla High School and, according to Kalamazoo Gazette, spent six months of his senior year with a host family in Michigan.
Palin was accused of taking part in a 2005 "prank" where four teens cut the brake lines of Wasilla school buses. They reportedly slashed the tires of 44 vehicles, disconnected 110 total from their engine-block heaters and broke bus mirrors. This caused the school district to close down for a day.
One of the teens involved, Deryck Harris, told the Daily News in 2008 that Palin was not with him at the time of the incident.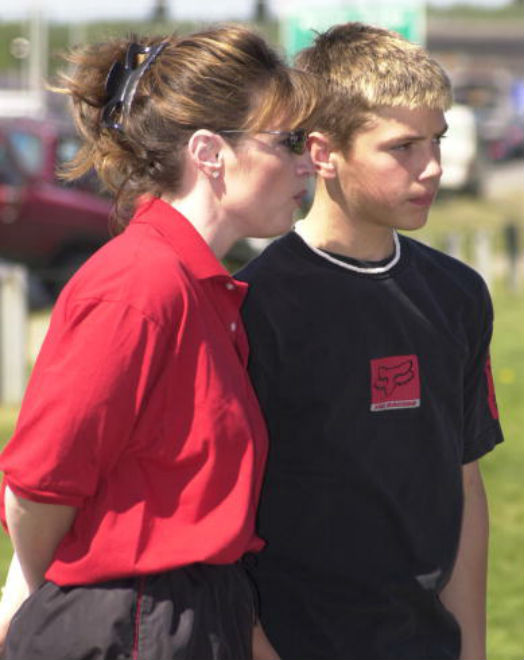 Track Palin is an Army veteran
Palin enlisted in the Army on September 11, 2007, and was deployed to Iraq in 2008, according to The New York Times.
He served as an air guard on the 25th Infantry Division's 1st Stryker Brigade Combat Team, known as the "Arctic Wolves." His main duty while deployed was providing security for the deputy commanding officer in charge.
"He's a good kid and a good soldier and he'd like to remain anonymous," Col. Burt Thompson said of Palin in 2008, suggesting the young man didn't want attention on him during his mom's VP campaign.
Track Palin has two children
Palin married ex-wife Britta Hanson in May 2011. They have a daughter, Kyla Grace, born three months after their wedding day. They filed for divorce in 2012, and Hanson received custody. 
Though Palin did not get physical custody of his daughter, now 7 years old, an Alaska court did grant him posession of his gun collection, according to Daily Mail. 
Palin also has a 2-year-old son, Charlie Mitchell, with ex-girlfriend Jordan Loewe. After an assault charge in 2016 — which we'll discuss later on — Loewe filed for full custody of Charlie.
Track Palin and siblings were involved in a 2014 brawl
In fall 2014, the Palin family made headlines for a fight at an Alaska birthday party. It involved siblings Bristol, Willow and Track, along with over a dozen others (according to police reports there were about 20 people fighting at the scene).
Bristol, now 27, accused an older woman of pushing Willow. She then said that the owner of the house, Korey Klingenmeyer, pushed her to the ground. In the process, she claims she was dragged on the grass by her feet and got personal items stolen.
Conversely, Klingenmeyer claims that Bristol hit him several times before he grabbed her fist and she fell to the ground. Police reports say that the man claims "several guys from the party stepped in to help him and a fight broke out and the Palins ended up losing."
Track reportedly tried to defend his sisters. Police reports state that he was "angry and intoxicated" — also shirtless. He left the party with a bloody mouth and other injuries to his face and body.
No one was charged. Listen to audio from the scene below:
Track Palin: Arrest history
Palin was put on probation in January 2016 after assaulting Jordan Loewe. Both had reportedly called the police over a drunken argument.
Authorities found Loewe with injuries to her eye, and she alleged that Palin punched her in the head and threatened to fire a gun at himself.
He was charged with domestic violence, possession of a weapon while intoxicated and interfering with reporting of domestic violence. He pleaded guilty to the firearm charge, and the other charges were reportedly dismissed.
After his January 2016 arrest, Sarah Palin suggested during a Tulsa, Oklahoma rally for then-presidential-candidate Donald Trump, that her eldest son was suffering from PTSD.
"So when my own son is going through what he goes through coming back, I can certainly relate with other families who kind of feel these ramifications of PTSD and some of the woundedness that our soldiers do return with, and it makes me realize more than ever, it is now or never for the sake of America's finest that we'll have that commander in chief who will respect them and honor them," she said, continuing on to accuse Obama of neglecting veterans.
Track Palin was also arrested in December 2017 for assaulting his father, Todd. He broke into his parents' home and hit his father over the head repeatedly, according to police reports.
In June, as part of a plea deal in Veterans Court, Palin pleaded guilty to first-degree criminal trespass. If he completes a "multi-month long process" through Veterans Court that count will be further reduced, KTUU reports. Upon completion of that program, he'll reportedly serve 10 days in jail; failure to complete the program would result in jail time of one year.
Palin's family members reportedly issued restraining orders against him when he was released on bail. His ex-wife and ex-girlfriend also filed for protective orders.
Jordan Loewe pictures,Gun-obsessed Track Palin attacked her https://t.co/eFN1fElJjJ pic.twitter.com/uEn1dSOkGQ

— infowe (@infowe) January 16, 2018
In January of this year, Loewe spoke publicly about alleged domestic violence she endured throughout their relationship, recalling a time he choked her when she was seven months pregnant with their son.
"From the outside, abusive relationships are hard to comprehend," Loewe told DailyMailTV. "People think, 'You're being abused? Just leave.' It seems so simple but it's not. These perpetrators are people we know, we love and we trust."