A race track in the middle of New York City? Formula 1 chief Bernie Ecclestone didn't think it could be done, but Formula E turned a stretch of the Red Hook waterfront into the site of the first-ever Qatar Airways Formula E NYC ePrix, the electric version of Formula 1.
"It exceeded expectations," says Mike Hopper, the adviser who helped bring the five-year-old race series to Brooklyn in 2017 and again in 2018, taking place the weekend of July 14-15. "From the time that Formula E leadership looked at this event site and knew we were able to do a race here to what it actually became, we were blown away by it and we're super excited to be back in Red Hook again."
To go with the green and sustainable ethos of the race, Formula E races on existing roads within its host cities. It takes just over two weeks to set up the track, which is picked up and moved to the next city once the racing is over.
The 2018 Formula E season began in December in Hong Kong, and the champions will be decided after the checkered flag falls in Red Hook on July 15. Unlike in 2017, when tickets sold out well in advance, you can still get into this year's Formula E NYC ePrix — and new for 2018, kids 15 and under get in free.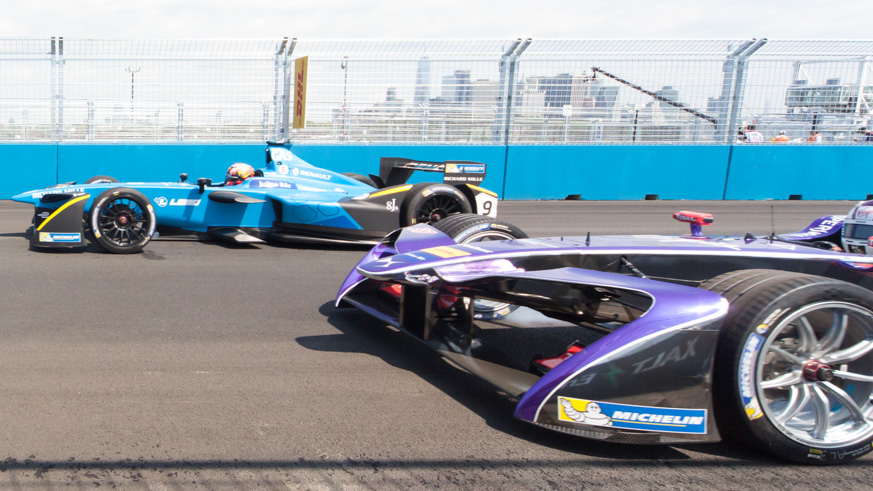 How is Formula E different from Formula 1?
Formula E cars look much like their Formula 1 cousins, only they run entirely on batteries instead of gasoline. Since there's no fuel being burned, the race not only cleaner for fans and the environment, but the electric motors make for a much quieter race — though you'll still get the zooming as they shoot down the straightaways.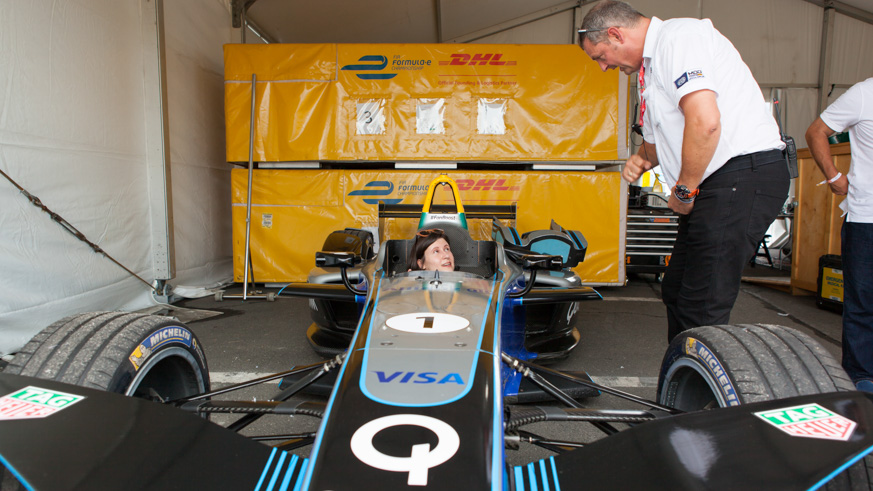 What's new at the Formula E NYC ePrix 2018?
The 2018 Formula E NYC ePrix track is longer, up to 1.5 miles from last year's 1.2 miles, which will "give more of an opportunity for the cars to reach greater speeds, and there should be more competition for places," says Hopper.
Twenty drivers from 10 teams, including newcomers Porsche and Mercedes, will compete. Formula E cars are capable of going as fast as their Formula 1 cousins, but there's a simple reason why they top out around 155mph.
"These cars could do well over 200 miles an hour, but if you did that with these current vehicles, the batteries drain so quickly that they wouldn't be able to finish the race," explains Hopper.
Expect a faster race next year though, when the new generation of Formula E cars with more efficient batteries debut, innovation that will also make its way into the electric cars of tomorrow: "One of the things motorsports have done throughout history is push the consumer market, whether that's testing new technology in the cars or building general interest in EV vehicles."
Improvements to the Brooklyn ePrix for fans
Free to all Formula E NYC ePrix ticketholders, the Allianz eVillage surrounding the track is also larger, with an expanded roster of 12 food trucks and improvements: "We heard everybody is looking for comfort, so we've added a great number of stations for shade and more access to cold water."
The eVillage is where you'll find driver meet-and-greets before each day's races and racing-themed activities like driving simulators, trying out new electric tech, getting behind the wheel of new hybrid models from Audi, Renault, Jaguar and BMW, and a first look at the next generation of Formula E cars hitting the track next year.
And at the end of the race, all fans are invited to watch the podium presentations and even get a little Champagne shower at the end of each race day.
The 2018 Formula E NYC ePrix takes place July 14-15 at the Brooklyn Cruise Terminal, 72 Bowne St., Red Hook. Tickets are $85 per day or $150 for a weekend pass for adults and free for kids up to age 15 with advance registration; students are $55/$95. fiaformulae.com