In 1920, the Harlem Renaissance saw the black community embrace its identity and declare its traditions and art an equal part of American culture. Now, almost 100 years later, Harlem is facing a very different kind of renaissance because of gentrification — but that doesn't have to be a bad thing, as a new adaptation of a holiday classic A Christmas Carol in Harlem shows.
The Classical Theatre of Harlem has reimagined Charles Dickens' story of Ebenezer Scrooge, the miserly old man who's visited by ghosts from his past, present and future urging him to change his ways, into a story about gentrification.
"Scrooge is a real estate mogul," says Ty Jones, the producing artistic director of Classical Theatre of Harlem. "He has a 'rent-to-own company' that, while it is completely legal, it might be a little dodgy in the sense that there are so many loopholes that you probably are never going to own your property."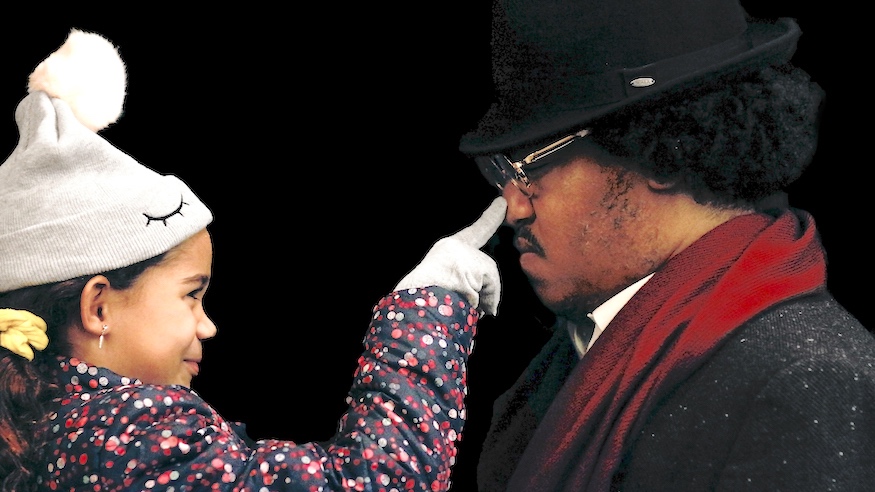 Tiny Timothia and Ebenzer Scrooge in A Christmas Carol in Harlem. Credit: Jill Jones
Instead of 1800s London, this adaptation by Shawn René Graham begins in modern-day Harlem, moving back in time to the '70s and seeing a way forward that maintains the community spirit of the neighborhood. Because you can't have a play about Harlem without music, Kahlil X. Daniel has written songs that "would absolutely be in place during those times," says Anthony Vaughn Merchant, a veteran actor with the company starring as Scrooge.
"We have a Christmas rap that is on point, old school early-'80s Kurtis Blow-style," he says. "There's a Christmas Boogiedown that's a perfect mid-'70s sound. All of these songs are emblematic of the time they're meant to take place."
Classical Theatre of Harlem was founded in 1999 and has tackled works by classic playwrights from Shakespeare and Chekhov to Sophocles but with a modern sensibility. "We like to tell stories through the lens of the African diaspora that honors the cultural literacy of the neighborhood in which we were founded," says Jones. "We take original adaptations and I like to say we dust them off a bit for a 21st-century audience."
A Christmas Carol in Harlem aims to become a new holiday classic in the city, as embraced as the Rockettes or The Nutcracker. It's for "anyone who has made Harlem their home, whether it was yesterday or their family has been there five generations," says Merchant. "There's nothing wrong with coming to Harlem, it's how you move in — you're being welcomed into a legacy, but you can't change that, you get to be part of it and add to that legacy rather than trying to destroy it."
It's not too late for Harlem to turn out differently than some of the other stories of gentrification that have unfolded in New York City. By changing his ways, this Scrooge — just like every one of us — has a chance not just save his own soul but that of his entire community.
"It is Christmas Carol, and we do want to make sure people walk away with real joy," says Jones. "However, I think it's always important to have real substantive meaning, for you to walk away from this play engaged in real conversation about the world in which we live today."
A Christmas Carol in Harlem runs Nov. 27-Dec. 8 at Aaron Davis Hall, 135th St. and Convent Ave. Tickets are $10-$45, cthnyc.org