Mean Girls is, hands down, an iconic film. How many times have you secretly considered wearing pink on a Wednesday, or described something as "so fetch"? Jonathan Bennett, who portrayed lover boy Aaron Samuels, is paying homage to the movie with a Mean Girls cookbook filled with the quotable humor we know and love.
The 2004 comedy starring Bennett, Lindsay Lohan (Cady Heron), Rachel McAdams (Regina George), Tina Fey (Ms. Norbury) and more, is honored on October 3 every year — for obvious reasons. And Bennett's work will go on sale October 2, just before Mean Girls Day.
Entitled "The Burn Cookbook: An Unofficial Unauthorized Cookbook for Mean Girls Fans," it includes recipes like "Fetch-uccine Alfredo," "You Go, Glenn (Hot) Cocoa," "Whatever, I'm Getting Cheese Fries" and "Are Buttermilk Pancakes a Carb?"
It's published by Hachette Book Group and co-written with Food Network Star finalist Nikki Martin. Bennett currently appears on the Food Network as the host of Cake Wars.
You can pre-order this Mean Girls cookbook on Amazon. Hardcover is going for $22.50, and the Kindle edition is going for $14.99.
The Burn Cookbook is also available for pre-order on the Hachette website and through Walmart and Barnes & Noble.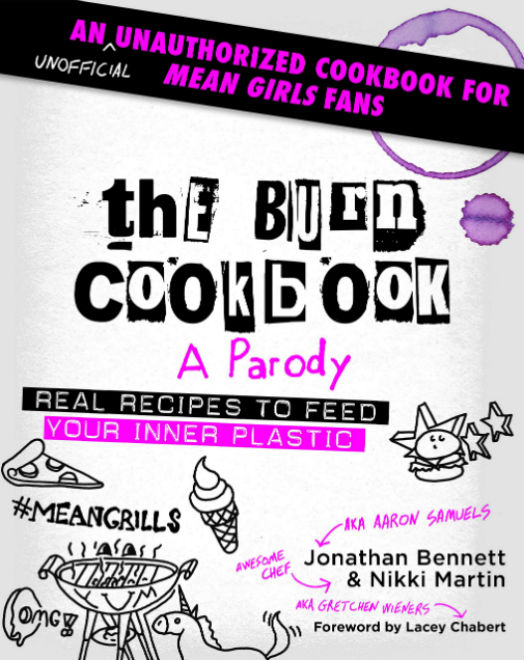 "THE BURN COOKBOOK is a hilarious, delicious must-have cookbook for chefs (and wannabes) everywhere!" reads the Amazon description. "Jonathan Bennett (that's right, Aaron Samuels himself) dishes out a tasty parody of Mean Girls, serving up behind-the-scenes stories from the movie alongside awesome recipes for treats that your favorite mean girls should be enjoying in Girl World."
Jonathan Bennett on the Mean Girls cookbook
"It's a weird thing to be Aaron Samuels for your whole life, but also it's an amazing thing," Bennett tells Entertainment Tonight. "I equate it to being the Time Square ball on New Years Eve because once a year the whole world turns to the ball to watch it shine and glitter and fall down, and once a year, on October 3rd, everyone turns to me and is like, 'What day is it?! What day is it? Ask us what day it is!'"  
"This is a parody cookbook for Mean Girls fans," he says of The Burn Cookbook.
The idea came about when Bennett was having guacamole with a friend and she declared that it wasn't regular guac, it was "cool guac."
Some of Bennett's favorite recipes from the Mean Girls cookbook include "Gretchen's Wieners" and the ever so creamy "Fetch-uccine Alfredo." Also included are some of his most memorable childhood dishes, such as his mom's stuffed shells.
"My mother passed away in 2012, and when I was cleaning out her kitchen and I came across the many recipes that she had created over the years," Bennett writes in The Burn Cookbook, according to Hachette.
"Everything was handwritten on envelopes and scrap paper—many had missing pieces and were impossible to decipher," he continues. "I wanted to make sure as many of her recipes as possible lived on forever and weren't lost over time."
The Mean Girls cookbook begins with a foreword by Lacey Chabert (AKA, Gretchen Wieners). We bet it's so fetch.