Exploring a new destination by bike is a travel trend that isn't going away anytime soon, and we're certainly not complaining about it. Add some wine to the mix and you're well on your way to a truly spectacular escape.
For intrepid travelers, there are plenty of options that offer unique ways to sip and cycle through the most stunning sceneries on earth. From brand new routes to classic trails, here are a few of our favorites.

Mendoza
Steak, tango and fútbol are three things Argentines do well, but their wine is one of the country's crown jewels. The province of Mendoza produces some of the finest varietals in South America, thanks to a combination of idyllic weather, soil composition, and extreme elevation. To experience Mendoza's most prestigious wineries, consider Say Hueque's three-day experience, where you will pedal along the foothills of the magnificent Andes Mountains and sip on signature blends such as Malbec and Cabernet. Other adventurous activities include hiking, horseback riding, and white water rafting.
Sonoma County
Visitors flock to California's Sonoma County year-round to enjoy miles of rugged Pacific coastline, expansive redwood forests, and a premium culinary scene. With more than 425 wineries, it also provides a perfect weekend getaway for wine-lovers. Enjoy contemporary luxury with this three-night Short Escape package from Wine Country Bikes, which combines professionally led and self-guided tours for a one-of-a-kind experience. The casual course twists through the rolling hills of Dry Creek Valley and allows participants to explore a diverse range of wineries, from humble, family-owned operations to large-scale productions.
Québec
As any Francophile knows, Québec is the Canadian cultural hub where old and new converge in effortless harmony. Join Butterfield & Robinson's private six-day itinerary that begins in cosmopolitan Montréal and culminates in charismatic Québec City. You'll cycle through woodland paths, on cobblestone streets, alongside sparkling lakes, and past local treasures such as historic chapels, ancestral manors, and enchanting antique shops. It's no surprise that the French-speaking capital of Québec City takes its wine seriously, so expect plenty of robust reds, delicate whites, and cheeses galore along the way.
Burgundy
Few know wine better than the French, and Burgundy is one of the country's leading regions for oenophiles. Partake in DuVine's four-day Sommelier on Wheels tour, led by award-winning Master Sommelier Carlton McCoy. Highlights to anticipate include cycling the Route des Grands Crus among Burgundy's most esteemed vineyards, private tastings, and Michelin-starred cuisine, including a final dinner at 1243 Bourgogne Society, the world's most exclusive members-only wine club. Book the brand new tour now, which will officially launch in October.
Piedmont
Italy's Piedmont region may be revered for its wine, cheese, and truffles, but its striking landscapes make it a dream to discover by bicycle. Treat yourself to VBT's 10-day tour through the area's hilltop villages dotted with verdant vineyards and ancient castles. Along the winding roads, you'll learn about Italian grape production, sip on Spumante, tour a grappa distillery, join a truffle-hunting expedition, converse with locals in cantinas, and enjoy sumptuous farm-to-table cuisine that gave rise to the region's famed slow food movement.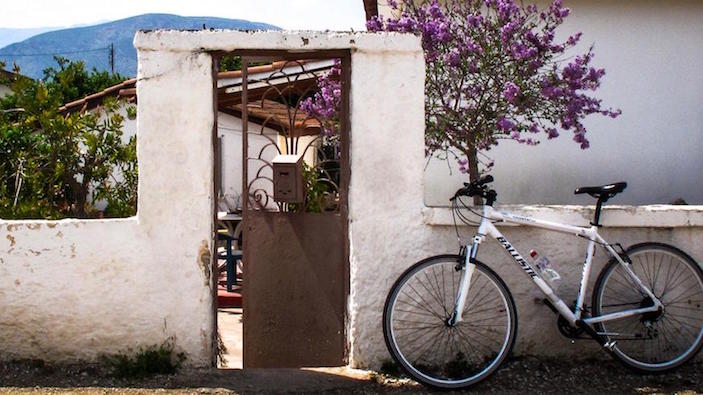 Peloponnese
Greece's Peloponnese peninsula is lapped with azure waters and draws tourists from all corners of the globe for its storied past and lush vineyards. This all-inclusive six-day Peloponnese Trekking Bike Tour by Travelncycle is a must for history buffs and epicures alike. The diverse course is chock-full-of archaeological sites, ancient cities, seaside villages, and some of the best wineries in the Mediterranean. Spend your days retracing the mythological steps of Hercules as you learn about Greek wines, weave through olive groves, and swim in the Ionian Sea.
Clare Valley
Pack your bags and head Down Under to explore Australia's Clare Valley at your own pace with a three-day, self-guided cycling adventure with Tour de Vines. The Riesling Rail Trail is a fan favorite, thanks to its charming cellars, rolling estates, and relatively level trails. The region's viticulture roots trace back to the mid-1800s, and today its winemakers are celebrated for their fragrant, full-bodied Rieslings. Feel free to bring your own bike or rent one from their fleet (including ebikes with pedal assist technology).
Khao Yai
When you think of Thailand, chances are wine tourism isn't among the first things that come to mind. However, hidden just two hours north of Bangkok, visitors will be delighted to find Asoke Valley. The little-known Khao Yai countryside is building a reputation as one of Asia's top up-and-coming wine regions. Speckled with elaborate Buddhist temples and home to a patchwork of luxuriant vineyards, the area produces a surprising selection of wines. Experience it firsthand with this two-day cycling tour, including three winery visits and unforgettable landscapes.
Empordà
The Empordà region of Catalonia, Spain is a spectacular (albeit under-the-radar) destination for oenophiles; in fact, it's often referred to as the "undiscovered Tuscany." Here, cultural heritage combines with a rich gastronomic legacy surrounded by undisturbed nature. Ride along its myriad medieval villages, rural plains, national parks, and panoramic vistas overlooking the Mediterranean on Bacchus on Bikes' three-day itinerary. The classic Pirinexus route is comprised of peaceful back roads that venture to vineyards dating back centuries. Here, you will meet fifth-generation wine producers who will eagerly introduce you to their signature blends.
Casablanca Valley
Chileans have been producing wine since the 1550s, and the Casablanca Valley has quickly established a foothold as one of the top wine regions in South America, renowned for its refreshing whites and robust reds. Upscape's day-long bike trip brings thirsty cyclists to award-winning wineries such as Emiliana and Loma Larga Vineyards. The coastal breeze provides the perfect temperature for cool-climate viticulture and ideal cycling conditions. Be sure to taste the Sauvignon Blanc, Syrah, and Pinot Noir.
Willamette Valley
Those in search of a tailor-made itinerary should look no further than LifeCycle Adventures. Their Oregon bike tours through the Willamette Valley are completely customizable, allowing you to handpick every detail, including duration, preferred distances, accommodation style, and more. Routes can combine natural wonders through this wine-lovers' paradise, such as the impressive Columbia River Gorge and snow-capped volcanoes of Mount Hood. The region is home to more than 200 wineries and is respected worldwide for their vintages, so there's truly something for every palate.