Adam Rippon has waited 28 years to grace the Olympic stage, and on Sunday night (for those watching in the U.S.) he did just that with a dazzling debut performance during the men's free skate team event.
The world-class figure skater brought 110 percent of his skill and spunk to the ice in a breathtaking number that two-time Olympian and commenter Johnny Weir called "spell-binding." Watch part of it below.
ADAM RIPPON. Because he slays. #WinterOlympics https://t.co/fmMl0C4Amf pic.twitter.com/fkG1KgiTb0

— NBC Olympics (@NBCOlympics) February 12, 2018
Rippon's 172.98-point, third-place finish dazzled viewers, and his reaction to it all was utterly priceless.
When asked by NBC's Andrea Joyce if the performance was what he "thought it would be or more," he said with a sigh, "Andrea, it's like, pretty awesome." Then, turning to the camera, he urged, "I highly recommend it. If you ever have the option, come to the Olympics, it's like a fun time." (Which is probably — definitely — the world's greatest response.)
@Adaripp is an artist on ice and a hysterical interviewee pic.twitter.com/C2UlHRIVL8

— Joe Lynch (@branniganlynch) February 12, 2018
Rippon also revealed that, naturally, he hoped he'd made Reese Witherspoon proud. The TIME'S UP advocate and actress responded with a tweet of her own: "Oh @Adaripp, you make me so proud! Keep making us all so happy!"
Oh @Adaripp ,you make me so proud ! Keep making us all so happy! https://t.co/XXzaXDpUAG

— Reese Witherspoon (@RWitherspoon) February 12, 2018
In another interview with NBC's Mike Tirico, he described what was going through his head while on the ice: "I want to throw up," he exclaimed. "I want to go over to the judges and say, 'can I just have a Xanax and a quick drink?'"
Adam Rippon wants a Xanax and a drink when he hits the ice and when can we hang out? #Olympics pic.twitter.com/EC9CqgXwTp

— Rachel Rose Gold (@RachelRoseGold1) February 12, 2018
Rippon missed qualifying for both the Vancouver and Sochi Olympic Games but won a national title in 2016. In an NBC interview with Joyce after this victory, Rippon said with almost identical wonderment, "Andrea, you and I both have waited a long time for this."
He and freeskier Gus Kenworthy previously made headlines for their feuds with Mike Pence, and they are the first openly gay Olympians to represent the U.S. during a Winter Olympics (and the first to represent the U.S. in any Games since 2004).
We're here. We're queer. Get used to it. @Adaripp #Olympics #OpeningCeremony pic.twitter.com/OCeiqiY6BN

— Gus Kenworthy (@guskenworthy) February 9, 2018
When asked by Tirico how this public debate with Pence has affected his focus, Rippon stated, "I've worked my entire life for this moment. But more than that, my mom always taught me to stand up for what I believe in. And that's sort of given my skating a greater purpose. So I go out there and I'm not only representing myself — I'm representing my coaches, I'm representing my country, I'm representing my teammates. And I remember that. And that's how I stay focused."
Also, there's this: 
The REAL one for I did for TV says "my mom" but, like, I needed this one for myself because it was the first thing that actually popped in my head and I thought I was so funny. pic.twitter.com/aC5X7wQ7bY

— Adam Rippon (@Adaripp) February 5, 2018
Last night, Rippon skated to a medley of songs that included the Cinematic Orchestra's 2008 track "Arrival of the Birds" and ended with Coldplay's "O" from their 2014 album "Ghost Stories," according to Billboard.
"Basically it was this idea that I was this bird that's the leader of the flock and I had this broken wing and toward the end I flew on," Rippon explained. "I had this program two years ago, and life imitates art and I broke my foot. Now when I do the program I think maybe my wing shouldn't be broken anymore. So now I'm flying through the whole thing."
Team USA got a bronze medal overall in the team figure skating event, but we're sure Rippon feels like he got gold — because he didn't just fly, he flat-out soared.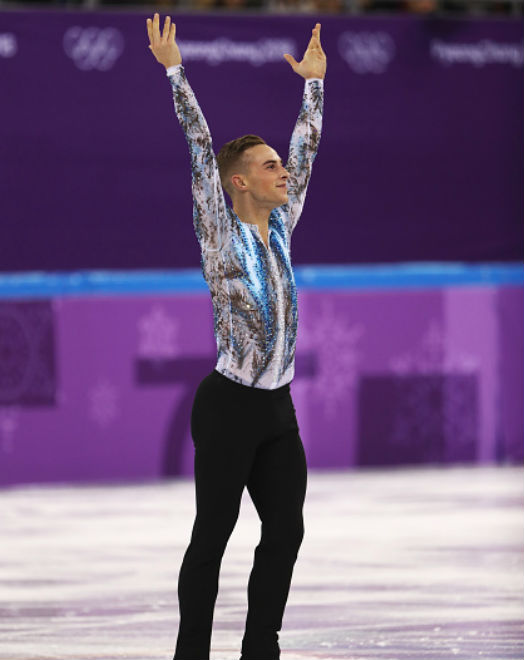 Watch: Adam Rippon full "O" routine recorded this summer