New York City is really turning into one big urban playground this summer.
The headliner is, rightly, the Bronx Zoo's new adventure zones, including a zipline that takes you over the Bronx River and a kid-friendly Nature Trek, and let's not forget all the amazing and totally free public pools. And there are plenty more places where you can get a taste of summer camp with thrills, water and outdoor games.
Here are the seasonal pop-up playgrounds you need to check out, no matter your age.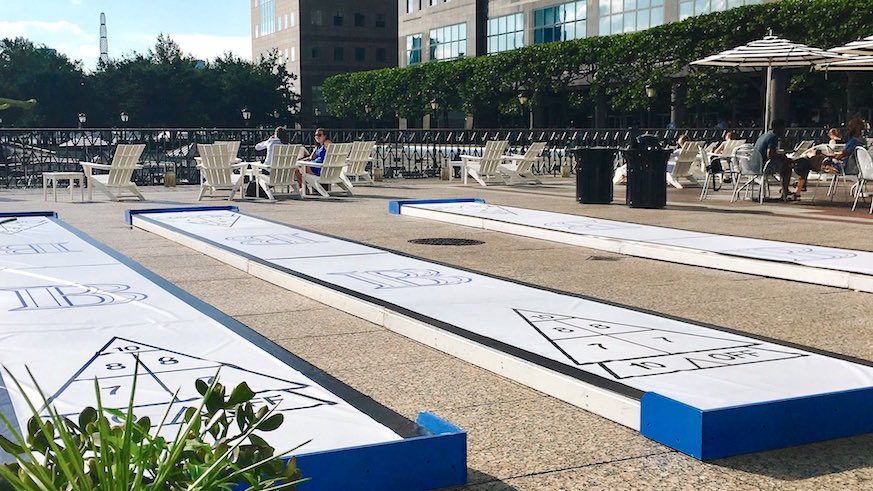 The Terrace at Brookfield Place
The Hudson riverfront may not be Miami Beach, but you'll feel the vibe all the same while taking a turn at Brookfield Place's new shuffleboard courts, set up on its scenic terrace every Friday from 3 to 8 p.m. Cool events go on every summer weeknight like a Coloring Bar on Mondays (5-8 p.m.) and free movies, music and other special events on Après Wednesdays (5-8 p.m.) We can also recommend scouring the stalls of its Le District French food hall for a picnic in its shaded garden. Through Aug. 18, 250 Vesey St., brookfieldplaceny.com
Rockaway Water Park
With our unusually mild summer so far, the waters around NYC have been a bit too cold for comfort. But the chill is worth it at Rockaway Water Park, a big-kid playground floating on Jamaica Bay with jet skis, canoeing and a Tarzan Boat. Your goal is to make the biggest splash, whether you're cruising down the water slide, taking a flying leap from a rope swing or, for the very bravest, cannonballing from a trampoline. Through mid-September, 375 Beach 92nd St. (behind Thai Rock restaurant), $25 for a two-hour session (limited to 40 people, ages 8+), check dates/times at rockawaywaterpark.com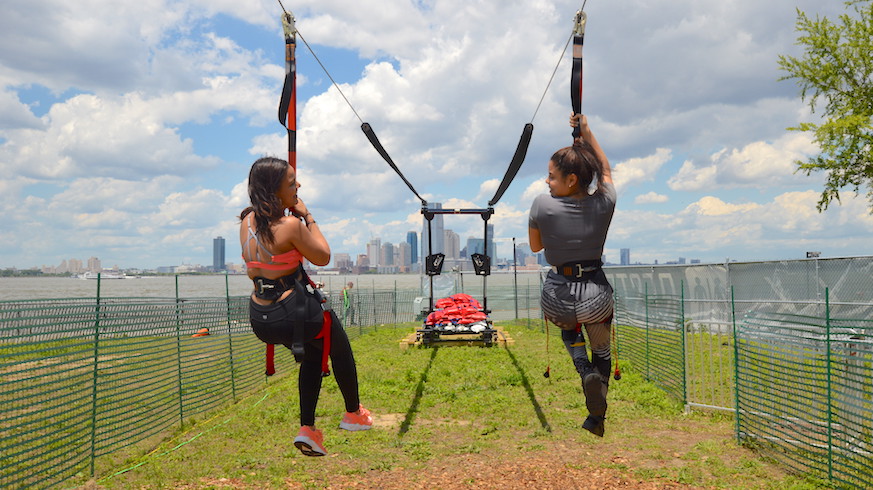 Adventures at Governors Island
A double zipline with Statue of Liberty views is just the latest addition to Governors Island, which already boasts the city's longest slide and a mini golf course that pops up with a new theme every summer. Adventures at Governors Island is a new all-ages play area that also includes a 24-foot climbing wall with three different faces and the Amazen Maze that you can wander at your leisure, or try the challenge mode. Through Oct. 1, $22 all access, or individually ticketed (zipline $12, maze $8, climb $6), 10 a.m.-6 p.m. weekends, 10 a.m.-5 p.m. weekdays, near Liggett Terrace, govisland.com
#HeatWave Cool off and plunge into a Perrier smoothie! https://t.co/BobaJVBzSB ?: @teekenng pic.twitter.com/b5YT1JcLhX

— Perrier (@Perrier) June 20, 2017
The Perrier Flavor Studio
What's more summery than bubbles? Perrier is introducing two new flavors of its mineral water for the season, and you can taste them while bouncing around in The Perrier Flavor Studio. Popping up in SoHo from July 12-16, the playground includes a Bubble Ball Pit, digital art walls (with one devoted entirely to artsy selfies), live music and a mocktail bar turning out fizzy drinks using the new strawberry and watermelon flavors. Open 10 a.m. to 6 p.m., 63 Greene St., free