The world of Scarlet Magazine is everything a sassy, stride-making, unapologetic publication should be — and The Bold Type follows the lives of three young, unique-in-their-own-right best friends trying to navigate their personal and professional paths in NYC. The Bold Type season 2 is back to reunite viewers with Scarlet, its editors and, of course, Sam Page.
But the show represents more than just growing into your potential and the glamor of the magazine industry — The Bold Type, which premiered this time last year, is known for covering a wide array of hard-hitting societal topics.
The first season tackled Adena's struggle with immigration policy when she's denied re-entry into the United States because of an expired work visa. It also devoted an entire episode to, and drew from, the #MeToo movement, broadcasting a message of solidarity: We hear you; you are not alone.
The Bold Type season 2 premiered last Tuesday, June 12, on Freeform, and it picked up right where it left off. Sutton Brady (Meghann Fahy) is enjoying her new, well-deserved position as a fashion department assistant but still has to tie up loose ends with top executive, handsome (with a capital H) Richard (Sam Page). Kat Edison (Aisha Dee) has just returned from a trip overseas with girlfriend/artist Adena (Nikohl Boosheri) and is stepping into her role as Scarlet's first black female department head. Jane Sloan (Katie Stevens) has been brought on as a writer for the edgy news outlet Incite. She has her own vertical but isn't sure if leaving Scarlet was worth branching out into "more serious" journalism.
The Bold Type season 2, in its two-hour premiere, already covered heavy topics.
In two hours, the premiere episodes spoke on issues of slut-shaming and racial identity. They also showcased what happens when you betray your company's reputation to save your own.
Melora Hardin, who plays the ever-wise, ever-fashionable Scarlet EIC Jacqueline Carlyle, told Entertainment Weekly that the TV show isn't stopping there. It's even tackling the ever-topical issue of gun possession.
"There's an episode where we deal with gun ownership and I think it's a particularly interesting episode," Hardin said. "I like that it's a balanced conversation. To me, the show in its best form is an honest show and it reflects modern day society, but it's also an inspirational show, and so I would hope that it would inspire people to start having more intelligent, more balanced conversations around things that we disagree on."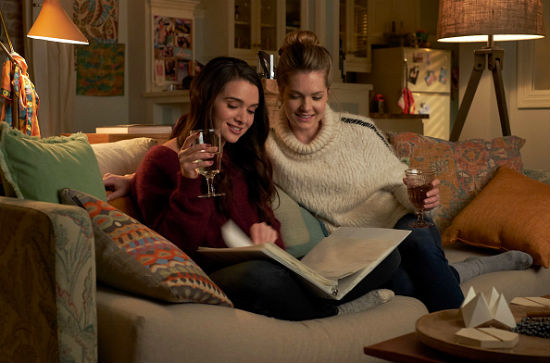 How to watch The Bold Type season 2
The Bold Type season 2 airs Tuesdays at 8 p.m. ET on Freeform. If you miss these on-air episodes, you can stream them on Freeform.go.com or the Freeform app (in addition, there's a "watch live" option on Freeform's website).
After the air-date, these episodes are available to stream on Hulu with a monthly subscription — and they're also available for purchase on Vudu as well as iTunes (season 1 and season 2).
Currently, you can buy The Bold Type season 1 on Amazon Prime video.
With all of these options, what's stopping you? Nothing. As Jacqueline once told her staff, "And I expect you to unleash holy hell on anybody who tries to hold you back, because you don't just work for Scarlet. You are Scarlet."