Traveling chef and TV host Andrew Zimmern may be known best for devouring wild entrées and delacacies from all over the world on his long-running Travel Channel show Bizzare Foods with Andrew Zimmern. But with his new show Big Food Truck Tip on the Food Network he is on a new journey all together. In his latest TV venture, Zimmern will visit food trucks from all over the country and deliver a hefty "tip" of $10,000 to the food trucks that impress him the most. There are no crazy competitions where the chefs are thrown curveballs to cook around — the prize is just an act of good will and recognition to one of our biggest champions of delicious food. Zimmern recently spoke with Metro about the new show and how innovation and creativity is crucial to keeping a food truck business alive. 
Andrew Zimmern on how a big tip can change a life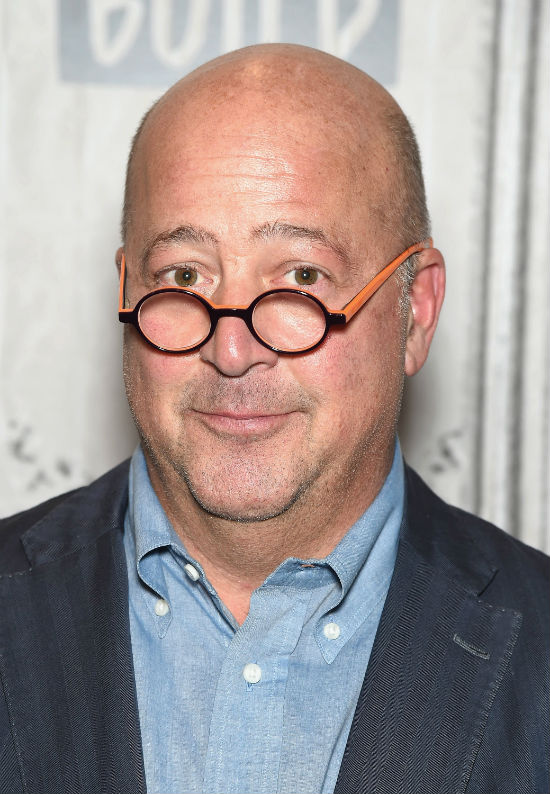 Your new show Big Food Truck Tip chooses not to have food trucks compete against each other, rather you surprise them with a huge tip based on the quality of their food and their overall  business model. What made you choose this direction?
Andrew Zimmern: I teach entrepreneurship at Babson college and I'm always telling my students that I don't compete against other people for anything. I compete against myself. And from that comes a lot of little Zen Koans and business philosophy bullsh-t that is very real and practical if you put it into regular use. But, I didn't want to do a show where 3 trucks competed against each other because how does a BBQ truck compete against a dumpling truck that is competing against a spanish tapas truck? It's just impossible. So I had to create some kind of metric. I think in some ways, given my skill set, I'm well-suited to do it and maybe some other people aren't so well-suited to do it, and maybe other people aren't so well suited to do it, to judge their food aas primary criteria and also their potential and how well they fulfilled it and along with their impact on the food scene and what they're trying to do and how well they're achieving it… It's all part of giving them a grade within themselves. It's basically how well are they doing versus what I think would be the perfect versions of themselves. Because no one is the perfect versions of themselves. But I have a great way of imagining it!
It's almost like with comparing different kinds of music.
Zimmern: You are spot on! That's why there is pop-music and symphony and no one can say one is better than the other. But if someone holds a gun to your head and says, "What do you want to listen to right now?" You have to come up with an answer! I think that's the fun part of this.
Was there a moment when a tip from a customer changed or saved your life?
Zimmern: When I moved to Minnesota 27 years ago I was on life support. I spent months and months in the Hazelden Continuum of care. Primary treatment and then in a halfway house as a very sick addict and alcoholic. I was working as a dishwasher in restaurants just very anonymously with my head to down just trying to focus on my recovery. The very quickly through a strange turn of events, I ended up taking over the kitchen of a restaurant in town and turned it into our first really great french bistro in the Twin Cities. I was probably 9 months sober so I was 3 months into running the restaurant. I wasn't making any money. I came into sobriety with hundreds of thousands of dollars in debt to the IRS. Insurance only covered half of all of my treatment costs so I had that debt that I was paying back. I had no money. Everything that I made went straight to somebody else.
I was trying to make financial amends left and right to the people that I had harmed during my drinking and using days. I cooked a meal for somebody's birthday — it was a party of 12 — and the host came into the kitchen and put $500 into my pocket. I almost passed out. I was 9 months sober and I never considered doing something for myself that made me happy. I was so focused on repaying the debt. So focused on doing all of the hard work that was in front of me. I had so much shame from the last year of my using. I was sick and confused at 9 months. It takes years and years of sobriety to start to think clearly and to start to practice some healthy self-love and all of that other stuff. That money really made a huge impact on me. I actually haven't thought about it in 15 years at least — until you asked that question. But, that was a very big deal to me.
On more of a bigger scale — a lot of these people who operate these food trucks are getting by on the skin of their teeth. 
Zimmern: It's not a really good business model. What it is, is a very good business opportunity in pass… I know almost no one who comes into it with a 3 year plan and a real way in which they are going to create a regular growing profit stream. The great thing about food trucks is that it's a way for entrepreneurs to get into the food game in a very inexpensive way. What happens immediately is that everyone realizes that some days are too hot and humid, some days are rainy and cold, some days there's snow, some days your truck gets a flat tire … some days your employee who helps you out for three hours a day during a rush when you need them — it's their part time job — and they don't show up. All of that stuff goes out of the window the minute you open that truck. So you get into the real politics of how much am I going to make and how much am I going to work? The answer is: less money and more of 'me'. So the successful truckers are the people who are able to pivot… If you're a dumpling truck, you may make more revenue selling bottles of your dumpling sauce than you might in food sales over the course of a year if you organize yourself in the right way. For a breakfast and healthy smoothies truck — getting your smoothies in the freezer section at the local grocery may net you more dollars than being on the road for six months. If you are an accomplished chef who has left the business to do something on their own and is trying to leverage a food truck then yes, brick and mortar may obviously be on your list. But in between there, catering might be a very powerful accelerant to your business. I think it's really crucial for truckers to be as creative as they are because it's an extremely hard business.
You can catch the Big Food Truck Tip with Andrew Zimmern on Wednesdays at 10pm on the Food Network.