Andy Serkis — you know, the guy who played the voice of Gollum in "Lord of The Rings"— brought back the iconic character for what could arguably be his best performance yet: Reading tweets from President Donald Trump's Twitter account.
Serkis appeared Tuesday night on "The Late Show with Stephen Colbert," to talk about his latest movie, "War for the Planet of the Apes." The actor plays Caesar, the leader of the genetically enhanced apes who are at war with humans. But it was Gollum who stole the show, and even Serkis knew it.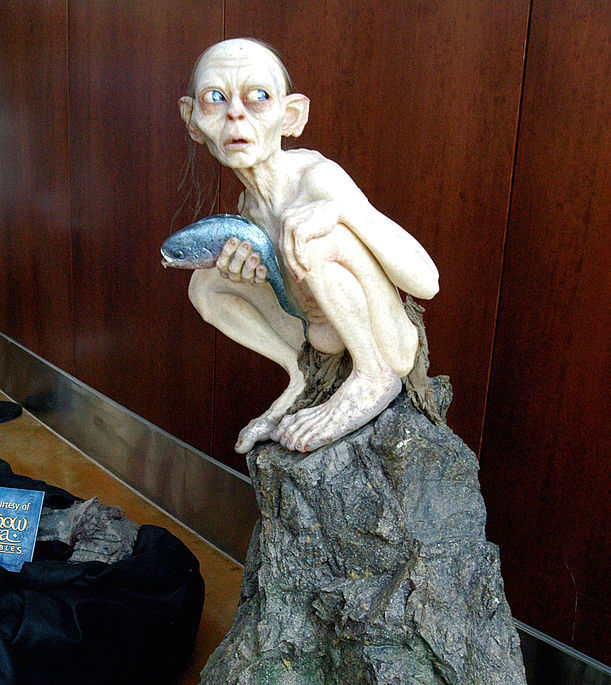 After taping the segment with Colbert earlier in the day, Serkis let fans know they should probably tune in to watch later that evening.
"I may or may not, have read Presidential Tweets as Gollum. Tune-in tonight on @ColbertShow to find out," he tweeted out just after 7 p.m.
I may or may not, have read Presidential Tweets as Gollum. Tune-in tonight on @ColbertShow to find out. #WarForThePlanet @ApesMovies pic.twitter.com/UhTfq6ZjrZ

— Andy Serkis (@andyserkis) July 11, 2017
Serkis was being coy, though — he definitely read the tweets at Colbert's request.
"The performance that people first got to know you was as Smeagol, Gollum. Tremendous not only you're doing that, but two different characters, two different sides," Colbert said. "I wonder if I could as you a favor… I would love it if I could hear either Smeagol or Gollum read these tweets by Donald Trump."
Serkis wasted no time. With a chuckle, he hopped up on top on one of the studio armchairs and assumed Gollum's signature crouching position as Colbert passed him a notecard.
"Purposely incorrect stories and phony sources to meet their agenda of hate. Sad," Serkis said in full Gollum glory.
Colbert then asked Serkis to read out Trump's famous "covfefe" tweet.
"Despite the constant negative press covfefe," he continued, using the pronunciation "cuv-fuf-fe."
Harping on the media heyday around the president's Twitter typo, Serkis — still in character — asked, "Wait, what's covfefe, precious?"
"No one knows," Colbert answered. "That's the most beautiful thing."
Gesturing at Gollum — er, Serkis — Colbert said what was on all our minds.
"I've got to say, they actually sound better that way," he said.