Packing for a trip is always a challenge. But when that trip is to space, astronauts have precious little room to fit in small mementos of home, and they're sharing them for the first time in a new exhibit Personal Space at the Intrepid Sea, Air and Space Museum.
"You're going on this journey, and you can't deny there's some danger involved, so you're bringing that one comfortable thing," says curator Erik Boehm. "NASA had to let them do it — they're only humans after all."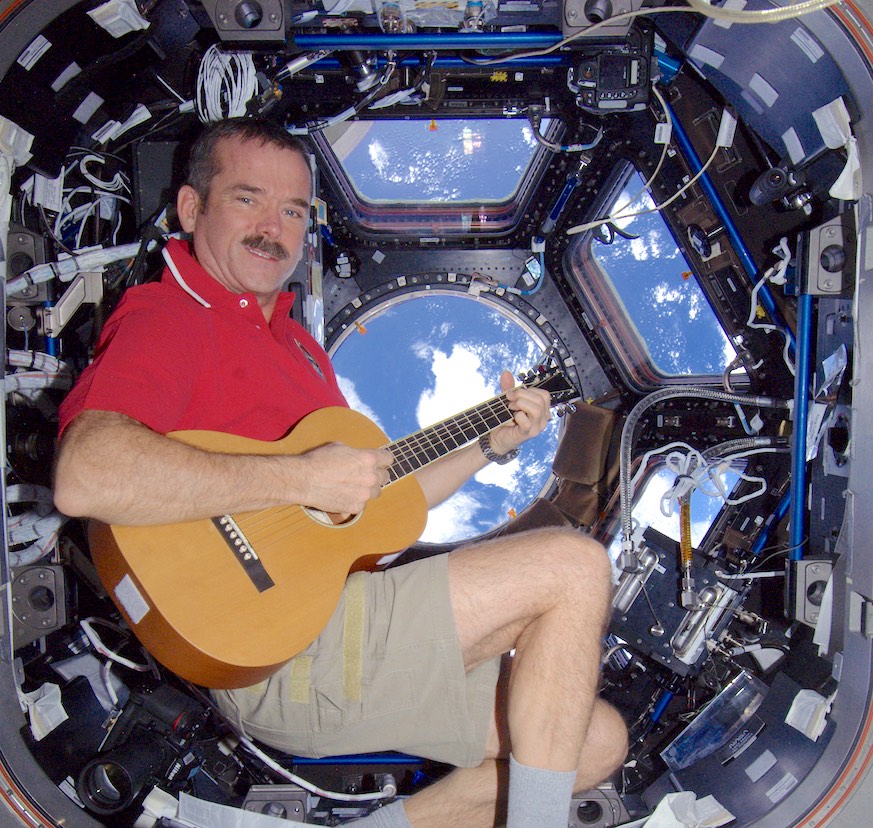 Canadian astronaut Chris Hadfield went viral for playing his guitar in the International Space Station.
Opening Sept. 20 through September 2019, Personal Space highlights 11 different astronauts who loaned the original objects to the exhibit, an explanation of why they chose to bring it with them into space, and a photo of them with the object in space.
Boehm got the idea from former astronaut Mike Massimino's book Spaceman, which includes a photo of him in a homemade space suit as a child who became interested in aeronautics after the Apollo 11 moon landing. He's photographed in the suit holding a Snoopy doll in a similar outfit, which he kept and brought up into space with him when he finally got to fly in orbit.
"We just thought that was kind of a cute little story and I started asking astronauts when I met them, 'What did you bring?' Of course they start talking about their tools and their books and their checklists, and I say, 'No no no, what personal items did you bring?' And nobody's ever really asked them that."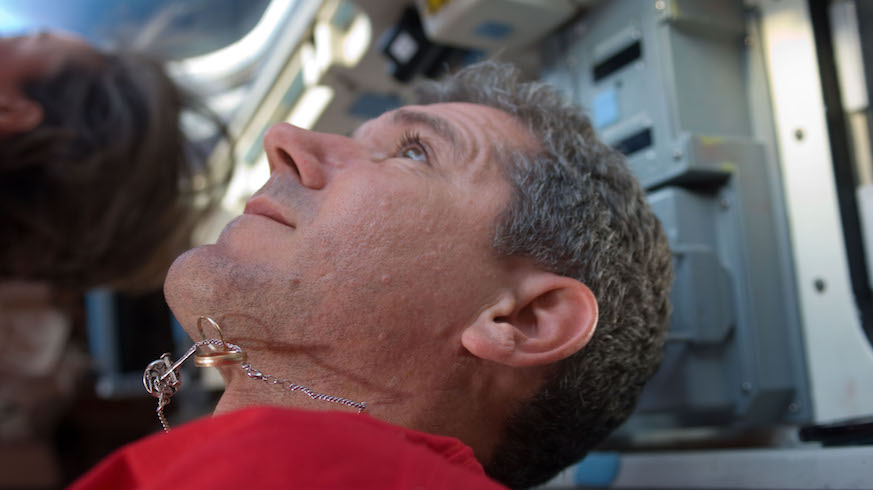 Among the personal effects astronaut Michael Good took into space was a St. Christopher's medal and his wife and his wedding rings, worn on a chain around his neck.
What did astronauts bring into space with them?
Their answers ranged from a pocketwatch that astronaut Scooter Altman's grandfather had carried into the coal mines he worked decades ago. "He admires his grandfather's work ethic and keeping time and working the full day and the full measure of a man and working hard, so he brought that into the space program," says Boehm.
During the now-retired shuttle program, room was at a premium and astronauts were only allowed a roughly shoebox-size space in which to bring personal items. Those missions only lasted for a week or two; astronauts who now serve three- to six-month stings aboard the International Space Station get a little more leeway, plus if there's extra room aboard the Russian Soyuz rockets that bring up new supplies and experiments.
Canadian astronaut Chris Hadfield got a guitar up into the ISS, where he played a viral live set with the Barenaked Ladies and Wexford Gleeks. Though the guitar remains in space for future astronauts to use, the Intrepid did get Hadfield's guitar pick.
Some of the objects are surprising. One of the objects astronaut Michael Good opted for is a St. Christopher's medal, which he wore on a chain around his neck along with his and his wife's wedding rings. "It was his way of sharing his mission with his family and his church community," says Boehm.
People will also be invited to share what they'd bring with them on a NASA mission to space, and the answers will be shared on social media. "I'm especially interested to see what children would do because they're going to see these grown adults bringing toys into space and things that are common around the house that you may take for granted but that remind you of home."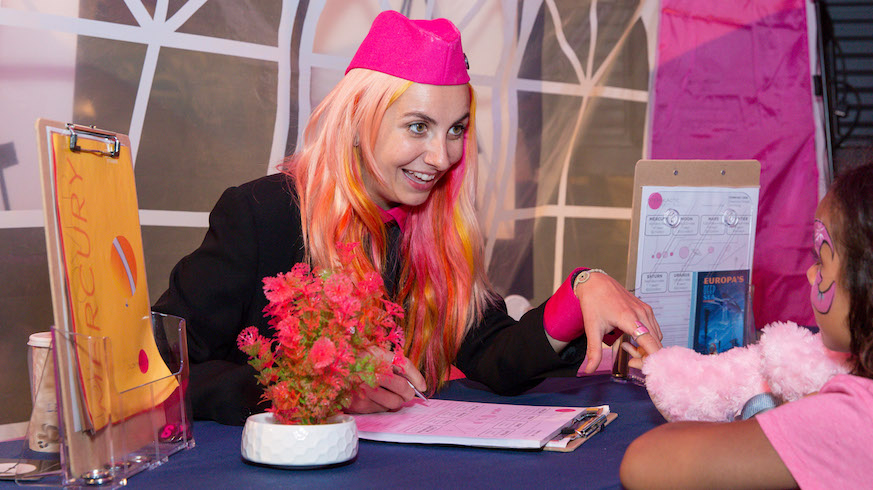 The Intrepid's role in the Space Race
When it was still a Navy aircraft carrier, the Intrepid took part in the 1960s Space Race, assisting in the ocean recovery during the Mercury and Gemini missions.
The Space Shuttle Enterprise arrived at the Intrepid in June 2012 and helped put the ship on NASA's radar for space-related events. Coming up this month on Sept. 20-23 is the Intrepid's annual Space & Science Festival, designed to get young people excited about careers in the applied sciences that make things like the shuttle program possible. 
Activities include making your own robots and rockets, hands-on exhibits and a free screening of The Last Jedi (hey, space travel is space travel) and getting one-on-one with NASA scientists and engineers, including astronaut Sunita Williams.
"The first person who'll walk on Mars is probably a child today, and they just need to set their career paths in that direction," says Boehm. "I hope people see that these astronauts, a lot of people don't really see them as regular people, they really are regular people who aspire to do more and when you read their stories, I think everybody could say, 'You know, I want to do that,' and apply themselves and do it."
Personal Space opens as part of the Intrepid's annual Space & Science Festival on Sept. 20-23, four days of hands-on exhibits, experiments, special guests including NASA astronaut Sunita Williams and a free screening of The Last Jedi on the flight deck all about getting young people interested in space. Tickets are $33 for adults, $24 for kids up to age 12; intrepidmuseum.org