If imitation is the sincerest form of flattery, then Ikea must be feeling exceptionally flattered as French luxury fashion house Balenciaga's latest "it" bag looks just like the furniture store's iconic blue bag.
But while Ikea's reusable Frakta shopper bag will set you back just 99 cents, Balenciaga's version, the Carry Shopper, is going for $2,150 on its website.
Another difference between the two bags is that Ikea's is made from synthetic plastic that is almost as known for its wrinkly material as it is its versatility, while Balenciaga's is glazed leather — that is also wrinkled.
What will we see next? Balenciaga sheepskin-lined boots inspired by Ikea's Rens rug or earrings based on the retailer's super popular Billy bookcase?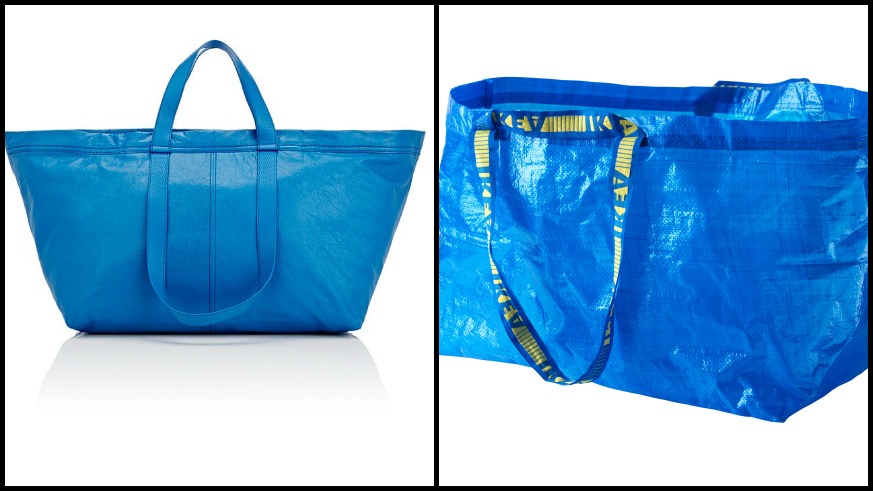 Surely we jest, but c'mon. The similarities between Ikea's and Balenciaga's blue bags are too close — but unlike many other companies, Ikea isn't sweating it or calling foul. In fact, the company is downright flattered by the imitation.
"We are deeply flattered that the Balenciaga tote bag resembles the Ikea iconic sustainable blue bag for 99 cents. Nothing beats the versatility of a great big blue bag!" the company told "Today" via email this week.
This isn't the first time that Balenciaga looked elsewhere for inspiration. At Paris Fashion Week earlier this year, its 2017 fall-winter menswear line was inspired by none other than former Democratic presidential candidate Bernie Sanders. 
The fashion house also caused a social-media stir last year when it unveiled large, striped shopper bags that were eerily similar to those found in Bangkok markets. Soon after, many Thai Instagrammers took to the app to share their photos of their Balenciaga "originals."
But back to Balenciaga's latest sensation. The shopper is also selling on Barneys.com as the Arena Extra-Large Shopper Tote for $2,145. According to Elle, it's also available in yellow and black in case you want to avoid anyone talking to you about Ikea's infamous meatballs.