Coming-of-age stories have always featured plenty of drama, outrageous characters and over-the-top settings — so why are they just now trending on Broadway? The last couple years have seen the genre become a hugely popular niche in musicals, with Dear Evan Hansen racking up six Tony Awards in 2017 (including Best Musical) and Mean Girls being the hottest new ticket of the 2018 season. And the next big thing is Be More Chill.
On par to be the next Dear Evan Hansen if its die-hard fans have anything to say about it, the new musical Be More Chill is in previews now and officially opens off-Broadway on Aug. 3. Fans have been buzzing about the musical since it premiered in New Jersey in 2015, and after selling out seven concerts at Feinstein's/54 Below this February, it's getting another fully staged run at the Pershing Square Signature Center.
"At first we were devastated that there wasn't going to be a life beyond New Jersey for this show," says George Salazar, who returns as the protagonist's best friend, Michael. "We did a cast recording, but then we all kind of moved on."
Thankfully, that wasn't the end of the story. Like with many cult classics, it just took a little time for the show to find its fans where many underground hits ultimately do: on the Internet. "[Last May], I started to notice dozens of fan art posts on a daily basis," recalls Salazar, who's on Twitter as @georgesalazar. "When it started, I think I was getting tagged in 50 posts a day. Which is crazy, because my social media following back then was my friends and family! And it has not died down since.
"I remember tweeting: 'If the cast album isn't enough, and you want to see 'Be More Chill' live, retweet this.' That was the first time a tweet of mine went viral."
Let's try something. RT if the album just isn't enough anymore and you want to see BE MORE CHILL live.

— George Salazar (@georgesalazar) May 18, 2017
What you need to know about Be More Chill
A modern coming-of-age story like Dear Evan Hansen, it's no wonder Be More Chill became the second highest trending musical on Tumblr in 2017 (no points for guessing that Hamilton was first). It starts, as many high school problems do, with a teen who isn't popular and can't get the girl he likes to notice him — to wit, he has zero chill. But he gets the chance to step up his game with the help of an addictive, personality-altering stimulant known as Squib. If he takes it, he is promised that he will, indeed, be cool — but at what cost?
The premise speaks to a generation raised is a minefield of digital adversity straight out of science fiction: cyberbullying, hacking and doxxing; performance-enhancing drugs at every level of sports, even high school locker rooms; and about as many people on antidepressants as birth control. And that's just high school. "I can't imagine what it must be like to grow up in this digital age, in the Trump Era, when a little bit of difference in your life is bad," Salazar says. "Or people try to make you feel bad for being yourself."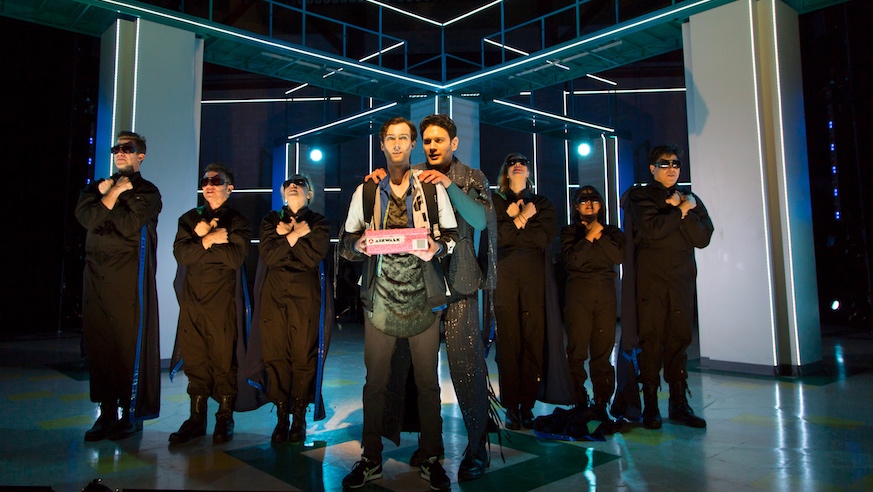 It also helps that the show sports an addictive score with lyrics by Joe Iconis (NBC's Smash) and a quippy, of-the-moment book by Joe Tracz (The Lightning Thief) that doesn't veer into patronizing or naive tropes.
"To this day, the show is the highlight of my career. Before, I feel like I was always considered for the funny clown best friend. In Be More Chill, I got to have this really serious moment," Salazar says, reflecting on his popular and poignant solo, Michael in the Bathroom, about a bout of loneliness and anxiety in the middle of a party. "It was such a relief creatively. It meant so much to me that Joe trusted me with that material."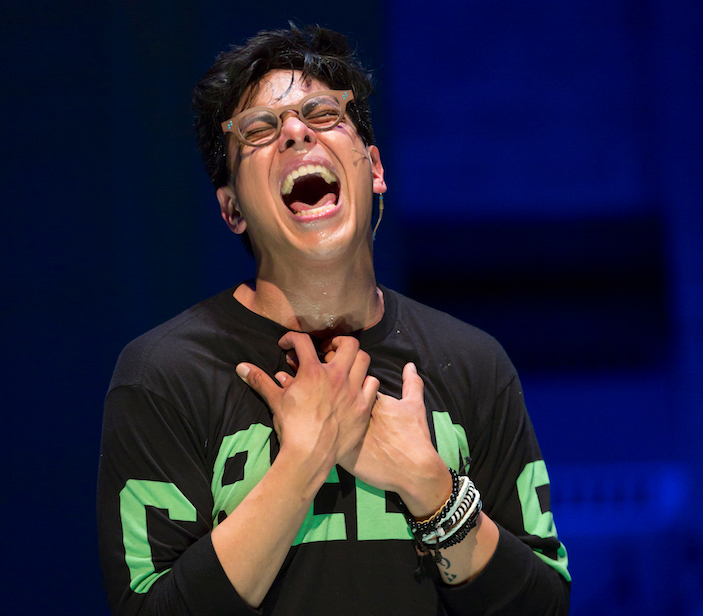 Giving back to the fans
Salazar and the rest of the cast know they owe this second chance to their vocal fanbase. As a thank you, cast members stayed behind for lengthy meet-and-greets after their sold-out shows at Feinstein's, which sometimes stretched longer than the concert itself.
For the new production, which runs through Sept. 23, the cast will make every effort to visit the lobby after each performance. It makes the night longer but can be just as rewarding as the applause during the show: Salazar recalls fans waiting in long lines just to thank the team for creating a show that "brought them comfort and made them feel safe."
"Isn't that the dream?" he says. "To make art with your friends, that affects humans, and helps people confront their own issues? Talking to a stranger who's been positively affected by what you've made? It's just a gift that we get to do this again."
Be More Chill runs through Sept. 23 at Pershing Square Signature Center, 480 W. 42nd St. Tickets are $65-$140. bemorechillmusical.com