When a recent trailer for The Punisher season 2 finally revealed what the Netflix show's version of the iconic villain Jigsaw would look like, some longtime comic book readers weren't too keen on it. Sure, Billy Russo's (Ben Barnes) face was no longer the pristine, pretty visage it had once been before Frank Castle (Jon Bernthal) had smashed it into a broken mirror in season 1, but it was nothing like the horrifying face fans were familiar with. As Barnes tells Metro, however, audiences shouldn't rush to condemn their take on Jigsaw just yet.
Ben Barnes talks Jigsaw in The Punisher season 2
"I wanted it to be more gruesome at first," he says. "Have an eye pulled down, a lip curled up and all these stitches and scars. But they persuaded me differently by saying that he had had 12 hours of professional plastic surgery, during which they put him back to together. Mostly. Sure, there are cartoon versions of this that exist. There are the War Zone comics and the movie based on them. They worked really well and we didn't want to make something like that, something that had already been made."
Of course, simply avoiding the same look as the comic books and previous iterations of the character wasn't the sole intent of Barnes, the writers and the makeup team. In fact, the Westworld actor traces this version's more psychologically-specific interpretation on conversations he'd had with showrunner Steve Lightfoot while shooting season 1.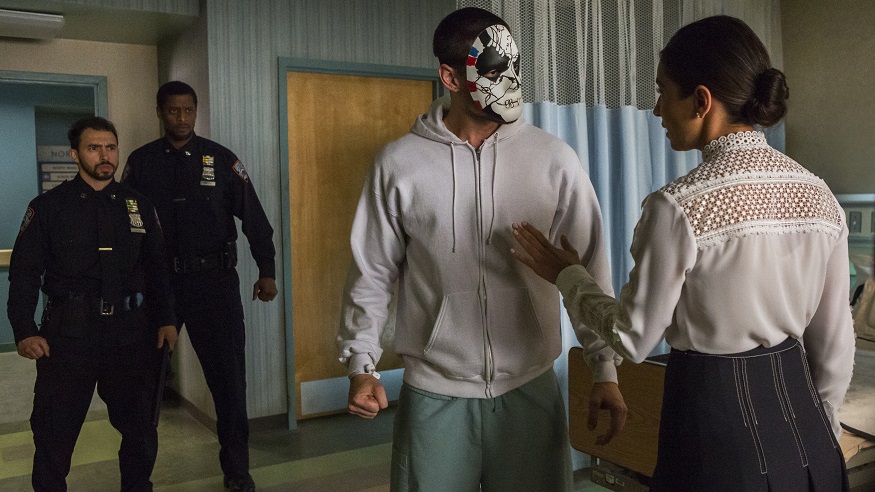 "The catalyst for it, I believe, was a conversation between myself and Steve when we were shooting the carousel fight at the end of season 1, when my face is being smashed against the mirror so many times, I remember thinking to myself, 'Wow, these brain injuries would be really bad. His brain would be rattling around in his skull a lot.' I thought, aside from the physical damage, it would also potentially cause major issues with the frontal lobe, especially personality and memory. It made me think of the movie Memento."
Barnes just so happened to be working with Jonathan Nolan, whose short story served as the inspiration for that film, on HBO's Westworld. This spurred even more conversations and ideas about what Frank's pummeling would do to Billy's brain.
Ben Barnes talks Jigsaw in The Punisher season 2
"I thought, 'Wouldn't it be cool if he couldn't necessarily remember all the bad things he had done, or what had been done to him? What if he had become a kind of blank slate, albeit one infused with all this suffering, torment, history and intimacy that he couldn't quite place or explain?' I just found it all so fascinating, and it turned out that Steve did too. We figured that, instead of Billy becoming Jigsaw because of what Frank had done to his face, what if the puzzle was actually in his mind?"
The move also allowed Lightfoot and Barnes to conceive of a new storyline for Russo that would better fit his military background, which he shares with Castle in season 1.
"I was reading a lot about veterans who were coming back from combat with injuries that weren't visible on the outside," the actor explains. "Their scars were, and are, very much on the inside. This makes many of them feel like they can't really share what they've been through because people won't necessarily see the ugliness, shame or rage that they feel. It's not literally written all over their faces."
The Punisher season 2 release date
The Punisher season 2 streams Friday, Jan. 18 on Netflix.