If you don't have the scratch to watch the Macy's Fourth of July Fireworks from a party with views of the action, parks are always a good option.
For the 2018 Macy's 4th of July fireworks show, the company will line up seven barges — that's two more than 2017 — on the East River between 23rd and 40th streets. That means Brooklyn Bridge Park and the South Street Seaport are out. And only Roosevelt Island residents managed to snag tickets for the viewing party at Four Freedoms Park.
With an especially over-the-top show in store — Macy's has upped its firework poundage to 60,000 — it's worth the trek to these free public viewing spots.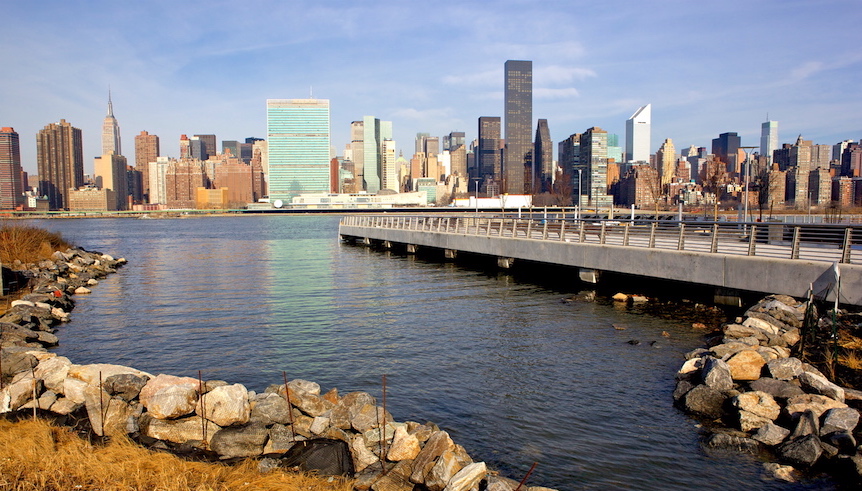 Credit: Stephen Dettling, Flickr
Where to watch Macy's Fourth of July fireworks for free
Gantry Plaza State Park
Watch the fireworks from the wide waterfront promenade of Long Island City's Gantry Plaza State Park, or get as close to the action as possible without being on a boat on one of its four piers — if you arrive early (like, hours early). Bonus: After the show, skip the subway and take the East River Ferry.
Note that Gantry's sister park Hunter's Point South will be closed for Macy's Fourth of July fireworks private viewing party.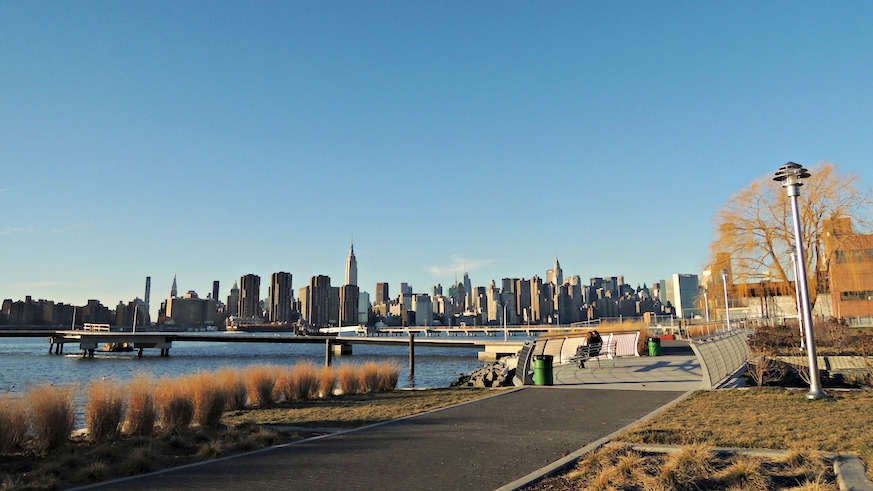 Credit: needlessspaces, Flickr
WNYC Transmitter Park
Greenpoint's recently revamped WNYC Transmitter Park sits right on the water next to the Brooklyn Barge, putting it closer to the action than most other parks along the riverfront. Grab a pizza from Paulie Gee's and a cake from Ovenly on your walk out there, spread out a picnic blanket and enjoy your evening.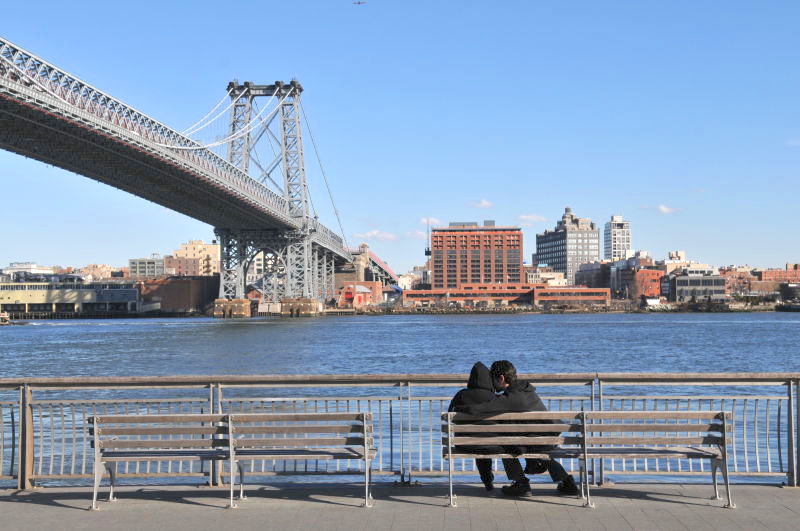 East River Park
A rare Manhattan vantage point with green space, you can still get a decent view of the show from the East River Park's northern end. With 57 acres of bike paths, playgrounds, playing fields and gardens, you can make a day of it at this 1.5-mile riverside park in the Lower East Side before settling in for the fireworks.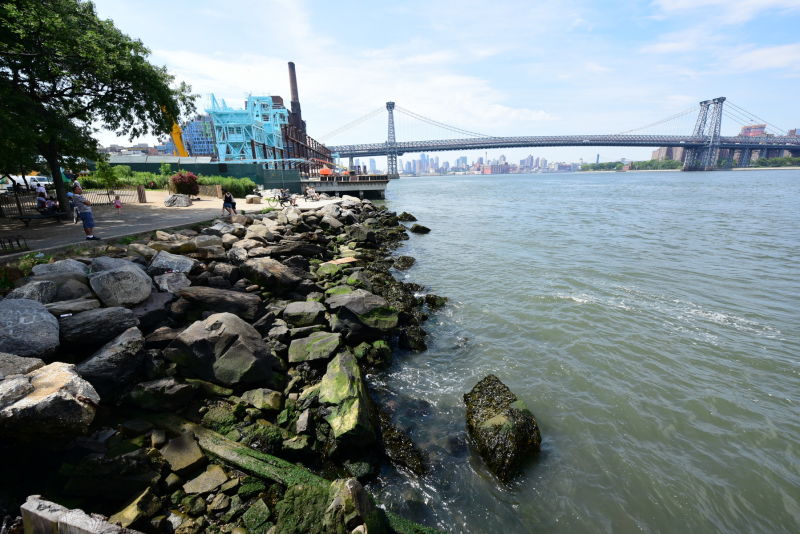 Grand Ferry Park
Perched right on the Williamsburg waterfront, Grand Ferry Park is light on amenities but offers unobstructed views of all the barges.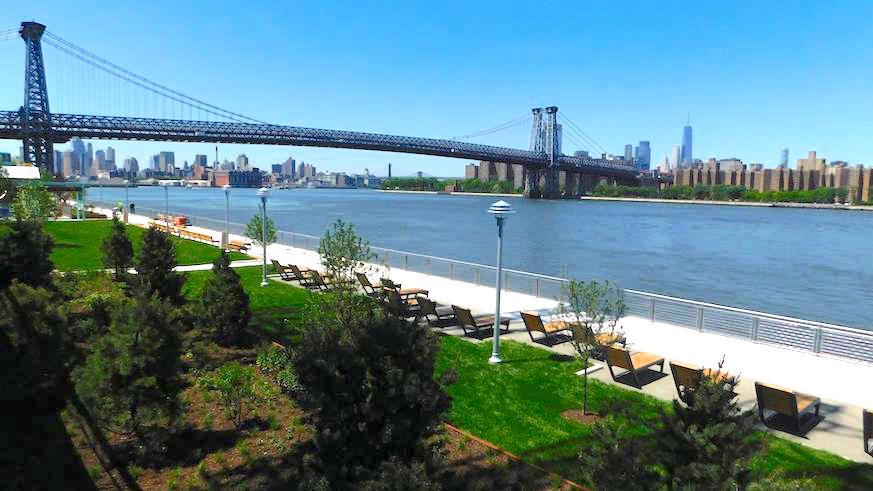 Domino Park
Williamsburg's just-opened Domino Park will be the hotspot of this year's 4th of July fireworks audience, with water features and imaginative playground to keep kids entertained before the show. Upgrade your experience with unlimited tacos and margaritas (and tons more food and drinks) from Danny Meyer's new Tacocina for $100. 
FDR Drive
All of the official Macy's Fourth of July fireworks viewing spots are located along FDR Drive, which will be closed to traffic. There are four main areas to gather, from south to north: Houston, 18th, 23th, 34th and 42nd streets. You'll find some of the most dramatic views courtesy of the Queensboro Bridge at 42nd Street. At 34th and 23rd streets, you'll be right in front of the barges. 
Williamsburg Bridge
You don't need to be next to the fireworks if there are no buildings in the way! You'll have an amazing vantage point on the action from either side of the Williamsburg Bridge. Bonus: not having to jostle with the Midtown crowds to get on a train afterward.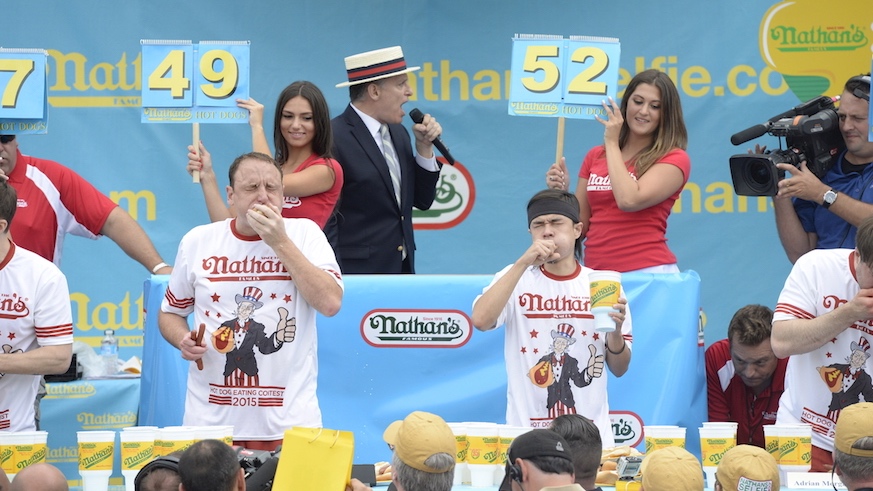 Flee to Coney Island
You know what? Forget the hassle of trying to get to the same fireworks as everyone else and use the long weekend to cross off a major NYC bucket list item and head to Coney Island. If you haven't personally witnessed the modern-day feat of strength that is Nathan's Famous Hot Dog Eating Contest, arrive early (action starts at 10 a.m.). Once the champion is crowned, spend your day riding the rides (Luna Park's Cyclone may be 90 but it's never been more spry), and don't miss the outdoor Coney Art Walls mural gallery. Be on the Boardwalk when Macy's Fourth of July fireworks start at 9:30 p.m.