The Grammy Awards ceremony is back in New York City for the first time in 15 years, so you better believe things are gonna get wild.
Music royalty including Rihanna, DJ Khaled, Elton John, Kesha, Bruno Mars and Cardi B are taking over Madison Square Garden on Sunday, Jan. 28 beginning at 7:30 p.m., broadcasted live by CBS.
While tickets to the music industry's biggest night were not available to the general public (rude), there are plenty of ways to enjoy the Grammys hype all over town.
"When you're fed up of being someone else, be yourself." ~@sza. Let nothing stop you. #StartSomethingPriceless pic.twitter.com/8noX8e1blL

— Mastercard (@Mastercard) January 18, 2018
Lay down a track at Mastercard House
Nothing gets you closer to the Grammys past and present than Mastercard House, a week-long popup featuring talks, vinyl listening stations (in case you needed convincing about why the medium is having a revival), a gallery of iconic music photographers and even a recording booth where you can lay down a track for your own vinyl. The daytime panels (1-2 p.m.) include how a hit song gets made and hip-hop's influence, while at night (9 p.m.-midnight) the space comes alive with intimate performances by artists including Ghostface Killah, St. Vincent and Portugal. The Man. Tuesday-Saturday, 60 10th Ave.
American music through the ages
The New School takes you on a journey to the soul of American music, from Memphis to New Orleans, in Take Me to the River. The day-long symposium features talks, screenings and a concert by Grammy winners Bobby Rush and William Bell. Jan. 23, panels & screening at 4 p.m. are free, concert at 7 p.m. is $20, Tishman Auditorium, 63 Fifth Ave.
The best decades for music
Totally biased here, but the '80s and '90s were wildly different but equally groovy eras in music. Bagatelle's weekly Thursday night party Rock 'N Baga celebrates its first anniversary with a special Grammy Edition featuring the winners of these two unforgettable decades of tunes, from Prince to Michael Jackson. Jan. 25, 1 Little West 12th St.
Brunch with Old Blue Eyes
After a sold-out national tour, Our Sinatra: A Musical Celebration arrives at The Cutting Room for a brunch engagement spanning 50 of his greatest hits. $35-$55, Jan. 27, 2 p.m., 44 E. 32nd St.
Spot a star
Just steps from Madison Square Garden is The Pennsy Food Hall, where you never know who may come in for a bite between rehearsals. To go with the excitement, Pennsy vendors are rolling out the red carpet with "award-worthy" specials like Pat LaFreida's Triple Platinum Truffle Burger and Sabi Sushi's The P!nk Roll (spicy tuna, avocado, tempura flakes, jalapeno wrapped in pink soy paper). 2 Pennsylvania Plaza
The best of the Grammys
It's been 60 years of the Grammys, and the Cafe Wha House Band are playing all the greatest hits in pop, rock, R&B and more by winners and nominees from 1958 to the present in a tribute show to remember. $15, Jan. 26, doors at 5:30 p.m., Cafe Wha?, 115 Macdougal St.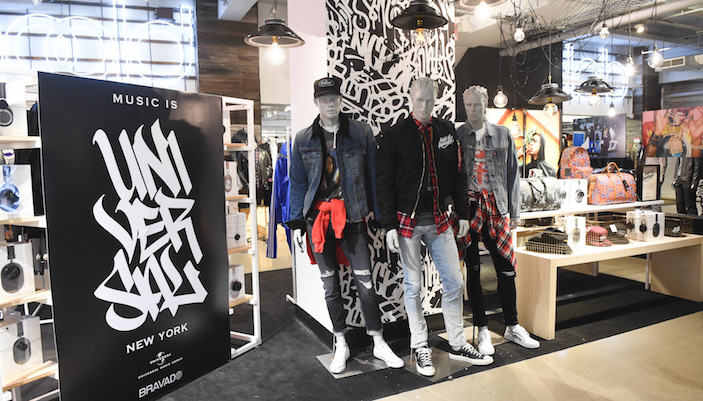 Music Is Universal
For merchandise featuring iconic artists, visit Bloomingdale's Music Is Universal pop-up shop with items by music fashion brand Bravado like T-shirts for past shows by artists like Lady Gaga and Jimi Hendrix, bomber jackets with record label logos, hats and more ranging from $35 to $225. Check out the themed windows at the 59th Street flagship store, and because it wouldn't be a music event without a tour bus, catch Bloomie's on the move Jan. 25, noon-6 p.m. at 1755 Broadway, Jan. 27 10 a.m.-4 p.m. at Hell's Kitchen Flea Market (408-424 W. 39th St.) and Jan. 28, 3-8 p.m. at Bloomingdale's Soho (504 Broadway).
The Big Ta-Doo
The night before the big event, party down with Danny Clinch and the Preservation Hall Jazz Band at the always-grooving McKittrick Hotel at a music and photography party. Proceeds will benefit The Preservation Hall Foundation and MusiCares. $50, Jan. 27, 9:30 p.m., 530 W. 27th St.
Celebrate Americana
Folk Alliance International showcases some of the songwriters keeping American tradition alive with a concert featuring Best Folk Album nominees Olivia Chaney (of Offa Rex) and The Secret Sisters, Best Traditional Blues Album nominee Guy Davis, Ashley Campbell and Dar Williams. $75+, Jan. 27, 1-3:30 p.m., Joe's Pub, 425 Lafayette St.
Concerts by nominees
Several of the artists hoping for Grammys glory will be treating New Yorkers to concerts around the city. Irving Plaza is hosting big-name artists from Wednesday through Sunday including Eminem and Childish Gambino (note that all shows are sold out, but where there's a will there's a way), while on Jan. 27, Canadian electronic music duo Adventure Club will be at Lavo ($30).