Learning Spanish is a stimulating process that opens you up to a whole new world. Maybe you're marrying into a Spanish speaking family and want to learn the language to foster more intimate connections. You could be traveling to Spanish speaking countries and looking to learn enough of the language to get around. Or maybe you've completely fallen in love with the culture and will stop at nothing to learn Spanish—and speak it fluently. Whatever category you're in, you'll need some help along the way. 
Depending on your unique learning style, you may do best when engaged in conversation with a Spanish tutor; the consistent interaction alongside relationship building may be just what you need to make the process of language learning easier. On the other hand, you may be the type of person who prefers to learn Spanish on their own, taking as much time as needed with lots of repetition and digital flashcards. You may be someone who loves language learning via interactive, game-like apps and would much prefer to spend the time learning Spanish with new vocabulary words rather than sitting face-to-face with a tutor. Whatever the best way to learn Spanish for you is, we're sure one of our top picks will work and have you speaking Spanish like a native in no time.
Top 4 Spanish Language Learning Sites
How Did We Pick These 4 Sites as the Best Way to Learn Spanish?
To create this list of our top four picks to learn Spanish, we had to create a robust checklist. Our primary objective is to provide an unbiased review of services that teach you the best way to learn Spanish. This is what we considered.
With any language learning environment, you should feel comfortable to go at your own pace with an easy-to-understand program that gently walks you through each lesson. We intentionally choose programs that are easy to use and that prevent you from getting overwhelmed. 
Each person has a unique language learning style and we wanted to honor this fact by selecting programs that appeal to different learning styles. 
Whether you're all in with learning to speak Spanish or you just want to dip your toes in with an affordable program, we have you covered. 
Positive Customer Feedback
Reading through customer feedback allows us to gain insight that isn't outlined in the product descriptions. We chose programs that customers love. 
Top 4 Sites & Apps to Learn Spanish – Reviewed
1.
Pimsleur
– Editor's Choice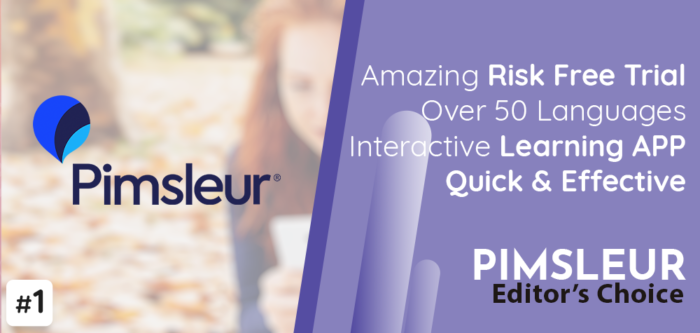 Pros:
Free lesson

Over 50 languages

Digital flashcards

Role-play with speakeasy challenge
Cons:
Can be a time-consuming process
Customer Reviews
Customers describe getting hooked after their first lesson. "It's like a bell went off," described a customer who learned to speak Italian with ease. Carol calls it a "secret sauce" and another customer, Donald, shares that after he learned he'd be visiting Mexico frequently with his wife, he decided he wanted to learn the Spanish language. Despite not having a high aptitude for language learning, he found that Pimsleur's method taught him how to speak Spanish in a completely different way. It's not about rules and spelling, it's through hearing the language, repetition, and pronunciation that helps someone like Donald pick up a new language. 
The Method
The Pimsleur method is a scientifically proven set of principles that help take you directly to the heart of the language, so you can have a focused experience without any distractions or feelings of overwhelm following information overload. With Pimsleur, you are reminded of new words at gradually increasing intervals. This is called Graduated Interval Recall and is at the core of transferring short-term memories into long-term memories. You also benefit from the Principle of Anticipation, which is applied with consistent questions seeking understanding and a pause for response. Correct responses are reconfirmed and through this process, you experience accelerated language learning and improved understanding. 
Core Vocabulary is another principle practiced with the Pimsleur method; it's what keeps you from experiencing information overload because the program intentionally focuses on only a certain amount of information at a time. This allows your brain to absorb the new information thoroughly before moving on to new words and structures. And finally, the Pimsleur method incorporates Organic Learning, which means every new item in the course is introduced within the context of a conversation. This promotes learning and retention by triggering different brain processes.
Free Trials and Special Offers
You can test Pimsleur out without making a commitment by starting a 7-day trial. You can choose the best way to learn Spanish for your needs, as it's spoken in Latin American countries or as it's spoken in Spain. The free trial includes core lessons, reading lessons, and digital flashcards. For special offers, you can trade your email and get exclusive deals delivered directly into your inbox. 
Pros:
Choose from over 5,000 Spanish teachers
Filter best price per hour
Select country where tutor is from
Cons:
Tutors have voiced concern that Preply takes 100% of their first class' compensation 
Customer Reviews
Customers love this platform because you're able to select the dialect you want to learn based on where the Spanish tutor is located. If you prefer to learn from someone based in Colombia, for example, you will pick up on their accent and the nuances of native speakers of that particular culture when you connect with them. Customers also love how the hours fly by—they're so engaged with the face-to-face interaction with their tutor that study time doesn't feel like a challenge. It's more of an experience. 
The Method
Preply connects you with Spanish tutors instead of providing a learn-at-home set of courses or digital flashcards. Their tutors have an average rating of 4.92 out of 5 stars. To start, select the language you'd like to learn, toggle the price per hour filter between $1 and $40 to find a cost you're comfortable with, and select the country where you'd like your tutor to be from. The last step is to identify your availability, so you can match with Spanish tutors that are also available within the same time frames. 
You can peruse available tutors—their profiles detail information about them, including their price per hour and their background. This allows you to get to know potential tutors without making a commitment to them just yet. And Preply also ensures your satisfaction: If you're not 100% satisfied with your tutor, they replace your tutor for free until you're completely happy. 
Free Trials and Special Offers
When you find a Spanish tutor that seems like a good match for you, there's a green button on their profile page that allows you to "Book a Free Lesson." You'll need to sign up to obtain the free lesson, but this perk is provided so you can get acquainted with the service. 
3.
Drops
– Honorable Mention
Pros:
Castilian Spanish made easy
Learn in just 5 minutes a day
Create memorable visual associations
Personalized learning Spanish experience 
Cons:
Not as immersive as other options
Customer Reviews
Customers have found Drops to be helpful with learning vocabulary words in a fun, game-like way. This app does one thing well: by focusing entirely on vocabulary, they've created a robust experience for people looking to practice the vocabulary of a new language in just 5 minutes per day. It's a great supplemental tool to add to your learning experience and expands your Spanish vocabulary in an eye-catching, interactive way. 
The Method
Drops use beautifully illustrated, immersive, and playful lessons to improve your Castilian Spanish. It makes language learning easy because it condenses lessons into 5 minutes and uses clever sessions to get you engaged with the learning process. If you're the type of person who has a hard time committing to several hours of studying Spanish per day, or you've tried and given up after getting overwhelmed, you'll love how easy and fun using Drops is. They have over 2,000 Castilian Spanish words that you can learn and with each new word, you are provided with a visual association that helps you memorize the new information more easily. 
Free Trials and Special Offers
You can try Drops with a free trial to enjoy all the premium features for 7 days. If you don't cancel the free trial, your subscription is automatically processed after the 7th day. You can select a monthly, yearly, or lifetime subscription of Drops with all the premium features or you can keep using the free version. With the free version, there are several limitations: for one, you can only enjoy 5 minutes of game play every 10 hours. With premium, you have unlimited time with the app and after you get a taste, you'll be hooked and will want to continue playing. With the free version, you are shown an ad after each lesson but with the premium version, you can enjoy an ad-free experience. 
Learn Spanish at LanguageDrops.com
4.
Family Lingo
– Bonus for Kids – Pre-Order
Pros:
4 scannable posters plus 1 progress poster 
1 month paid online subscription
Cons:
Only pre-ordering available 
Customer Reviews
Being that Family Lingo is still relatively new, with pre-ordering available for a spring ship date in 2022, there are currently no reviews. However, this program was created for children ages 6+ who can enjoy instant access to both audio and pictures via the scannable QR codes delivered with the program. To continue access, an online subscription is required. 
The Method
Family Lingo has created a kit that includes scannable posters, a progress poster with stickers, 40 scannable stickers, and a one month paid online subscription for unlimited access. This program was developed for children and covers multiple themes around the house. Each of the stickers are water-resistant and removable and the paid subscription provides access to an entire library of step-by-step speaking activities and games. You can print and play with over 1,000 instant audio and pictures. 
Free Trials and Special Offers
Currently, there are no free trials or special offers available. However, you can pre-order the kit for $24.95 and can continue with the paid monthly subscription for $9.99 per month.
Learn Spanish at FamilyLingo.com
Why You Should Try Learning Spanish
Spanish is the second most spoken language in the United States and there are over 400 million Spanish speakers worldwide. When you find the best way to learn Spanish, you will communicate better with Spanish speakers, and you will gain a competitive edge in the workplace. Learning Spanish helps to create a bridge between you and other Spanish speakers throughout the world, whether they're native speakers or other people just like you, who are working on learning a new language.
Whenever you travel to a Spanish-speaking country, you won't feel left out or like you're in a completely foreign environment because you'll be able to read the road signs, communicate with local staff at restaurants and in your hotel, and you'll have a better experience of the culture because you'll understand what everyone is saying.
If you're looking to enhance your career, knowledge of a foreign language like Spanish can open doors that would otherwise remain closed for you. There are a significant number of opportunities in the workplace that require you to understand a different language. Especially now, when most of our communication has shifted to the internet, being able to communicate using the world's second largest language opens up a host of new opportunities for you.
Learning Spanish as an adult challenges your cognitive function, which means that you develop a completely new set of mental skills and even social skills. This makes it a lot easier to learn other challenging concepts and languages, so that you become even more well-versed and knowledgeable on different topics. If you're someone who likes to grow constantly, you'll love the opportunities that learning a new language opens up for you.
There is a ton of art to enjoy in Spanish, including movies, music, and literature. When you learn Spanish, your appreciation for different forms of art gets to expand even wider. You can follow along with a Spanish movie without having to read subtitles, you can enjoy the different styles of music that are sung in Spanish, and you can enjoy new books with a completely different set of adventures, philosophies, and experiences.
Language can serve as either a bridge or a barrier. When you decide on the best way to learn Spanish and create a bridge, you get to connect with some amazing people that you would not have been able to communicate with. You can learn about their culture, personal experiences, and enjoy the personality of someone that may just become your best friend now that you can speak with them in their native language.
Best Ways to Remember New Vocabulary
Learning new vocabulary can be made easier by using several different techniques and setting up your environment in a way that promotes learning. Learning new vocabulary, or learning in general, is also a very individual process, so with some trial and error, you'll find what works for you. Below are some tips that you can follow.
Separate your study area
Often, when learning something new, you may end up in your bedroom with flashcards or your laptop on your bed. But that is not the best environment to be learning new material because your bedroom is typically associated with rest and sleep. Therefore, it's important that you find another place that you can dedicate to studying in your home or go to a coffee shop or learning center where you can sprawl out with your books, your laptop, and your coffee.
Add context to individual vocabulary words
Learning Spanish can be made fun when you not only learn individual vocabulary words, but when you speak Spanish sentences using those words you're working on learning. This helps you remember the word a lot better, and you can even create funny or especially memorable sentences to get your gears going. There's more than one way to learn Spanish but when you incorporate humor into the learning process, you make it easier for your brain to remember the new language. If you have a knack for drawing, you can also add little images to the words and sentences you're learning, as that will help create stronger memories.
Immerse yourself in learning Spanish
Another way to learn Spanish is to listen to people who speak the language. This could be a TV show or a movie or even a podcast. The point is to surround yourself with the Spanish language as much as possible. In fact, if you are up for traveling, going to a Spanish-speaking country for a while can help you learn Spanish a lot more quickly. But if you're just learning from home, surround yourself with books and movies with Spanish speakers, and you'll get the hang of how words are used in the Spanish language.
Try different tools
You might love having flashcards in front of you that you can quickly flip over and find any little drawings or sentences that help you remember. You might love having sticky notes with your vocabulary words on your mirror and in your car so that you can incorporate language learning into your day-to-day routine. Or, you may be more high-tech, relying on your phone for nearly everything. If that's you, try downloading an app that has you practice memorization and pronunciation all in one. You can look up any games designed for language learning to make learning Spanish a more enjoyable process.
Repetition, repetition, repetition
Whenever you're learning something new, you'll need to practice with repetition. Practice speaking Spanish out loud and with other people who are also learning or even native speakers who are willing to lend you their time. After you've learned a new set of vocabulary words, try using them in sentences frequently and continue to practice speaking them out loud. Keep building your foundation of vocabulary words, and start interchanging them in your speaking. And don't forget to go back to the first vocabulary words you learned even if you feel like you've got them all memorized—repetition will help reinforce those words in your memory for use in the future.
Use the method of loci
This is a memory strategy that uses your imagination of spatial environments to help you recall important information. It's also often referred to as a "memory palace". In order to create a memory palace that helps you remember Spanish words, you need to follow a few steps:
Select a place you'd like to imagine. It doesn't have to be somewhere that you've never been, in fact, it works better if you imagine a place you know well. This could be your bedroom, your office, or your favorite coffee shop.

In your mind, walk through it and map out each location. For example, if you are imagining your office, you'll want to envision walking through the door, spotting your desk in the right corner, noticing any shelves or artwork, and mapping out where there is any other furniture.

Take your list of Spanish vocabulary words and begin placing them in certain locations throughout your memory palace. Whenever you can create an association, that's even better. For example, if on your desk there's always a coffee cup, you can place the words "taza de café" there to remind you how to say, "cup of coffee". 
How Long Does It Take to Learn Spanish?
According to the US Foreign Service Institute, if you speak English, you can learn Spanish and achieve fluency in approximately six months if you spend three hours per day focused on learning Spanish. If you drop that number to one hour per day, then you can expect it to take approximately 1.5 years to achieve fluency. Having these approximations is helpful, because it gives you an idea of how much time you want to dedicate to learning this new language. The fact is learning Spanish is not just about your study time, but also about how you incorporate learning techniques into your everyday experience. There are a couple of factors that can help you understand how long it will take you to learn Spanish.
The amount of time you dedicate daily
This is really the most important factor because it determines how much of your day and your brain is spent learning new words, practicing pronunciation, and practicing sentence structure. This isn't just the time that you are sitting down and studying. It also includes the time you spend watching movies in Spanish, reading books in Spanish, or writing in Spanish. You can incorporate podcasts into your daily exercise activities and keep feeding your brain Spanish words and sentences to maximize your learning.
Your overall interest in Spanish
Just like anything, if you really enjoy what you're learning, it becomes almost effortless. What is it that you like about Spanish? Are you interested in how the words sound, are you intrigued by the culture and history of Spanish speakers? Do you have friends or family that speak Spanish and you'd like to connect better with them? If you have a strong pull toward the language, you'll find that learning Spanish is a lot easier.
How often you're surrounded by Spanish
Whether you have coworkers who often speak Spanish at work, or you are living in an environment where there are a lot of Spanish speakers, there's nothing like being completely immersed in an environment that promotes Spanish learning. Ultimately, it's the real life exposure that helps you understand the nuances of the language. Plus, you'll be constantly placed outside of your comfort zone so that you can practice and perfect everything you're learning.
Your belief in yourself
Sounds like something you would read in a fortune cookie but it's true. Do you believe that you're going to become a fluent Spanish speaker? If so, that intrinsic motivation is going to keep you focused on achieving your goal, whether it takes six months or two years. If this is your first time learning a new language, you may find that you meet with some roadblocks. But if you stay the course and continue studying and learning, you will have achieved a new feat. The confidence this brings you will spill over into other aspects of your life.
Get to Know the Culture 
Set up your news alerts to let you know what's happening in Spanish speaking countries. Reading local news in different areas can get you connected with current events happening throughout the world. You can also look into common celebrations across Spanish speaking countries. For example, you can learn about the quinciañera celebration, which is a party held to celebrate the coming of age of a girl when she turns 15. You can witness many of these common practices in movies, in books, and in TV shows. 
Notice the daily routines of families and characters in your favorite TV shows and learn what they mean and why they're important. Not all Spanish speakers have similar customs. A person from Cuba, for example, will speak differently and have different traditions than someone from Mexico who grew up in Los Angeles, CA. There is a lot to learn and a lot to learn from. 
You can watch novelas, which are Spanish speaking soap operas. These are usually dramatic and engaging, and can help you keep up with your vocabulary because they're so intriguing. Along with news, podcasts can help you understand Spanish-speaking culture through the lens of current events. Try out a couple of different sources of media to get yourself acquainted with the culture and then you can stick with your favorites!
Conclusion
Ultimately, the best way to learn Spanish is through the method that most resonates with your learning style. Speaking the Spanish language is made possible when language learners are committed to the process. You can increase your speaking skills and test out a new way to learn Spanish using different services. 
The best way for language learners to stay afloat with new information is to practice speaking Spanish regularly. Memorization is one way to learn Spanish and a language class with a tutor can help you make the language usable, with greater contextual understanding. No matter which program you select, the journey to learning the Spanish language is a fun one, with plenty of moments that'll become great stories to tell later!