Bird scooters are in the Boston area.
The electric scooter company announced that it has brought its Bird scooters to Cambridge and Somerville over the weekend, offering a new transit option to residents. Similar to dockless bikes, potential riders can unlock Bird scooters via a smartphone app and pay a fee to ride them around the city.
Bird scooters have been appearing in cities across the country, from Los Angeles to Indianapolis to Washington. If you haven't heard of this new transit option, though, here's what you need to know about those electric scooters you'll be seeing on the streets of Cambridge and Somerville.
What are Bird Scooters?
Bird scooters first debuted in 2017, founded by Travis VanderZanden, who previously served as the COO of Lyft and also a senior executive at Uber. The company says the transit option is perfect for those "'last mile' trips that are too long to walk, but too short to drive."
Bird scooters are electric, so they're not as much of a workout as a bicycle. The company bills their scooters as "low-cost, environmentally friendly transportation solutions to communities across the world."
How do Bird scooters work?
To ride a Bird scooter, you'll have to first download the Bird app, available on the App Store and Google Play. When you open the app, you'll see a map showing you locations of Bird scooters near you, and you can pick a scooter and use the smartphone app to unlock it.
Riders must also be older than 18 and upload a valid driver's license to the app, as well as sign consent to a safety agreement before riding. The app also provides a tutorial on how to safely ride the scooters.
Bird scooters cost $1 to start, according to the company, and then $0.15 per minute of riding. They can reach to 15 miles per hour and last about 15 miles on one charge.
Riders looking to scoot around Cambridge and Somerville should use their Bird scooters in bike lanes and on the street, rather than on sidewalks, the company recommends. Then, when you're done with your ride and want to leave your scooter, you can park it "out of the way of public pathways and at bike racks where available."
Bird rides are available beginning at 7 a.m. every day. Employees begin to pick up the scoots at sunset every evening so they can be stored, charged and repaired each night.
"In the morning, Birds are parked at 'nests,'" according to the company, "which are on private property conveniently located for riders across our markets. There are typically three Birds at each nest, although sometimes property owners agree to host more."
Riders are also encouraged to wear helmets, though it seems you have to bring your own. The company did say that it provides helmets "to all riders who request one in the markets we serve," but you may have to wait or plan to get one before you ride. You can request a helmet in the safety section of the Bird app and will need to pay for the cost of shipping.
Bird Scoots in Cambridge and Somerville
For these kinds of transit options, just like bike sharing, the companies usually work with the cities in which they operate. Bird says that it works closely with their host cities as well, but Bird scooters have a bit of a reputation of popping up unannounced.
The Providence Journal recently reported that "Surprise!," the scooter-sharing service arrived in the Rhode Island city without warning, as it did in Baltimore — leaving officials to scramble to establish rules for the company, as the Baltimore Sun reports — and St. Paul, Minnesota, to name a few.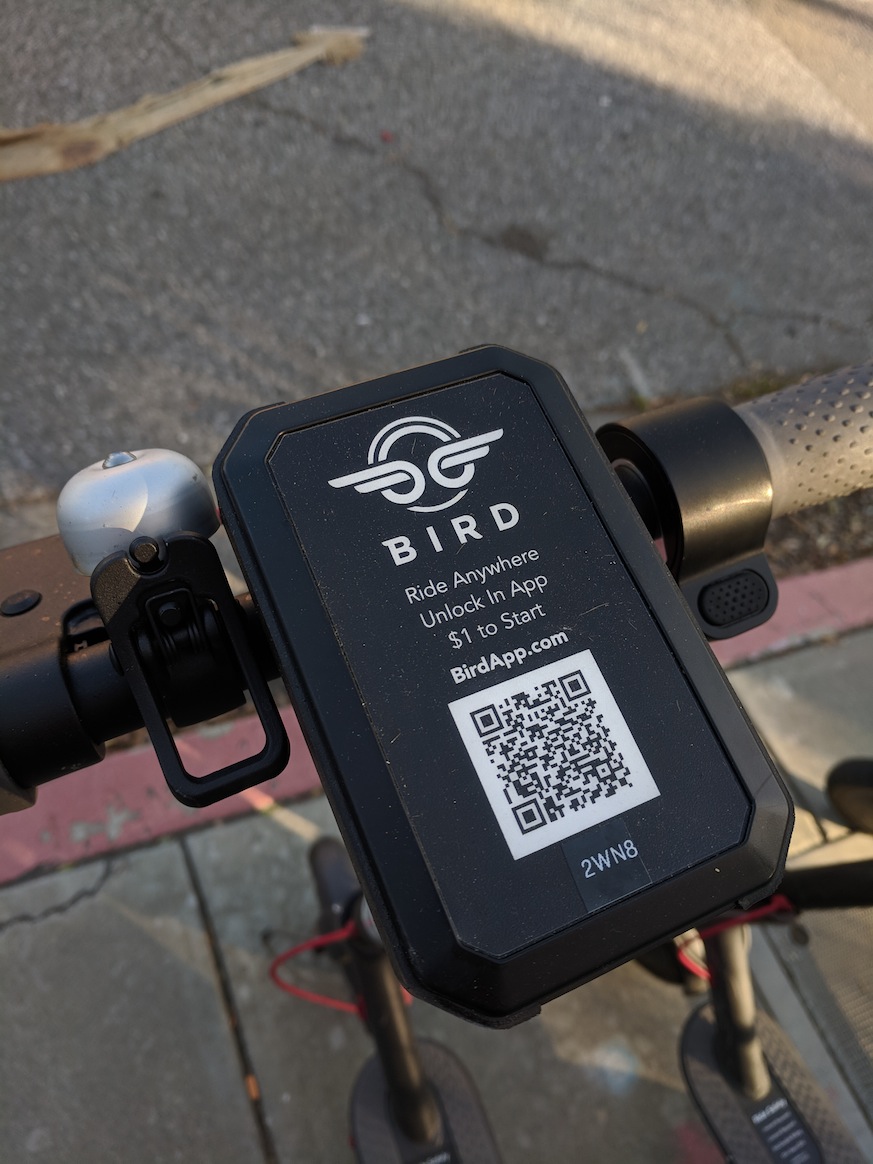 Cambridge and Somerville seem to be no different. A spokesperson for the city of Somerville told multiple outlets that the city does not have a contract or agreement with Bird and was not aware of the rollout of the program prior to scooters showing up on city streets. 
Similarly, a spokesperson for Cambridge said the city was not aware of the electric scooter rollout and does not have an agreement with the scooter-sharing company.
In response, a Bird spokesperson told Metro that the scooter company has reached out to city officials.
"The cities of Cambridge and Somerville share Bird's vision of building communities with fewer cars, less traffic, and reduced carbon emissions," the spokesperson said. "We have reached out and look forward to working closely with local leaders and officials to develop a framework that permits affordable and convenient transportation options."
It was not immediately clear how many scooters were deployed throughout Cambridge and Somerville. A request for this number has been sent to the company but Bird did not give an exact amount.
"When we go into each market, we look at the community's needs and we want to make sure supply meets demand. For this reason, the number of vehicles varies by market and it varies over the course of time," the spokesperson said. The company said that "as ridership grows, we will adjust the number of Birds and areas they're available based on rider demand."
Bird scooters have received some backlash from those who say the California-based company is cluttering sidewalks with their new transit option. In response, it seems, Bird has launched a "Save our Sidewalks" Pledge, which the electric scooter company is urging the CEOs of other scooter- and bike-sharing companies to sign.
Addressed to Lime Bike, ofo, Mobike and Jump, the Save Our Sidewalks pledge lays out three pillars in request to keep the sidewalks clear: a program to pick up the shared vehicles every night; a promise of "responsible growth," in which the companies pledge not to add more vehicles to a city's fleet unless they are being used at least three times per vehicle per day; and a revenue sharing program, for which the companies offer to send $1 per vehicle per day to city governments "so they can use this money to build more bike lanes, promote safe riding, and maintain our shared infrastructure."
But what about Bird scooters in Boston? After the news that the electric scooters suddenly appeared in Cambridge and Somerville, Boston Mayor Marty Walsh warned the company not to try the same tactic in Boston.
"They can't just show up here, there has to be some regulation and some notification of what's going to happen," Walsh said, per the Boston Herald. "If they drop them off here, we're going to pick them up off the street and they can come pick them up at the tow yard."