Whether or not you want to admit climate change is real, scientists say the effects of a warming climate are putting sea level rise into hyper drive — a new map predicts most coastal communities in the U.S. will be totally submerged under water by 2100 or at least see regular flooding as a result of man-made climate change.
And for Boston, a city that's built on wood pilings above harbor waters, the future is looking pretty grim.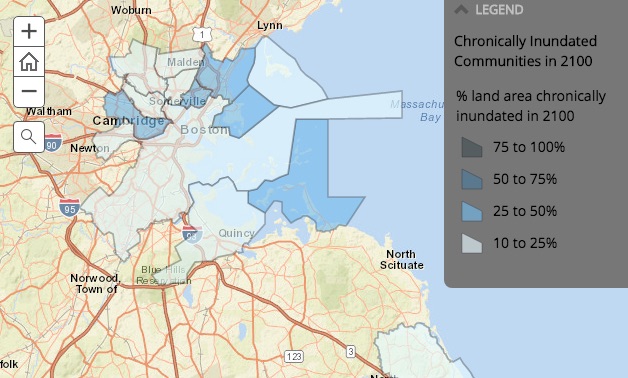 The interactive map by the Union of Concerned Scientists is a companion to their peer-reviewed reported, "When Rising Seas Hit Home." The report spells out the consequences of rising seas levels, showing which coastal communities will be largely submerged by 2100 and which will see regular flooding by that year as a result of human-induced climate change.
Regular flooding is defined as occurring at least 26 days out of the year.
"In this scenario, global warming is limited to less than 2 degrees Celsius above pre-industrial levels, ice sheets melt more slowly, and sea levels rise less rapidly. By 2100, seas rise by 1.6 feet globally," the scientists write.
Though the politics of climate change might make it seem a lot of people don't believe that climate change is real, deniers are actually in the minority. Almost 70 percent of Americans think climate change is a real, manmade threat.
There is another segment of the population — Boomers and Gen X-ers, we're looking at you — who don't believe they'll have to deal with the consequences of climate change in their lifetime, and on the whole, they're right. The maps indicate the most serious flooding won't occur until about 2065.
So what can be done?
The report outlines what some communities are already doing and what efforts are underway to mitigate the devastating effects of rising tides on coastal areas. For one, Miami has built one of the best water pumping systems in the world to protect its residents despite the fact that its governor has prohibited the term "climate change" from being used on official documents.
But rather than simply keep the waters at bay, the scientists suggest nearly 400 at-risk communities could be saved if the country agreed to and acted the terms of the Paris Climate Agreement, an agreement President Donald Trump has backed away from since taking office earlier this year.