Patrick Sweeney isn't going to tell you that there's nothing to be afraid of.
The Belmont native, and now Bedford resident, has been through enough in life that it seems nothing could scare him: he finished second in the 1996 Olympic trials in rowing, holds multiple cycling world records and beat a rare form of Leukemia that he says almost killed him. But he's not above fear — in fact, he encourages it.
"The more we can do things that push us out of our comfort zone, the more fear we can find, the better life we're going to have," he said.
And the next thing he's doing to find some fear? A 3,000 mile, 12-state bicycle race.
Race Across America bills itself as the "world's toughest bicycle race." Beginning in California, it traverses three mountain ranges, climbs 175,00 feet, passes through the Mojave and Sonoran Deserts and ends in Maryland all on open roads, meaning cyclists have to contend with traffic.
When asked if he was scared ahead of the race, which starts Saturday, June 16, Sweeney laughed. "Absolutely," he said.
"Not only am I scared about the cars — which I think is real danger, there are people who've died on this and nearly died on this course — but I'm also really scared about the desert and the heat, coming from New England where a few months ago it was 40 degrees and snowing," he said. "The first night in the desert, Saturday afternoon going into Sunday morning as get into Arizona, they're talking about [it getting to] 110 degrees."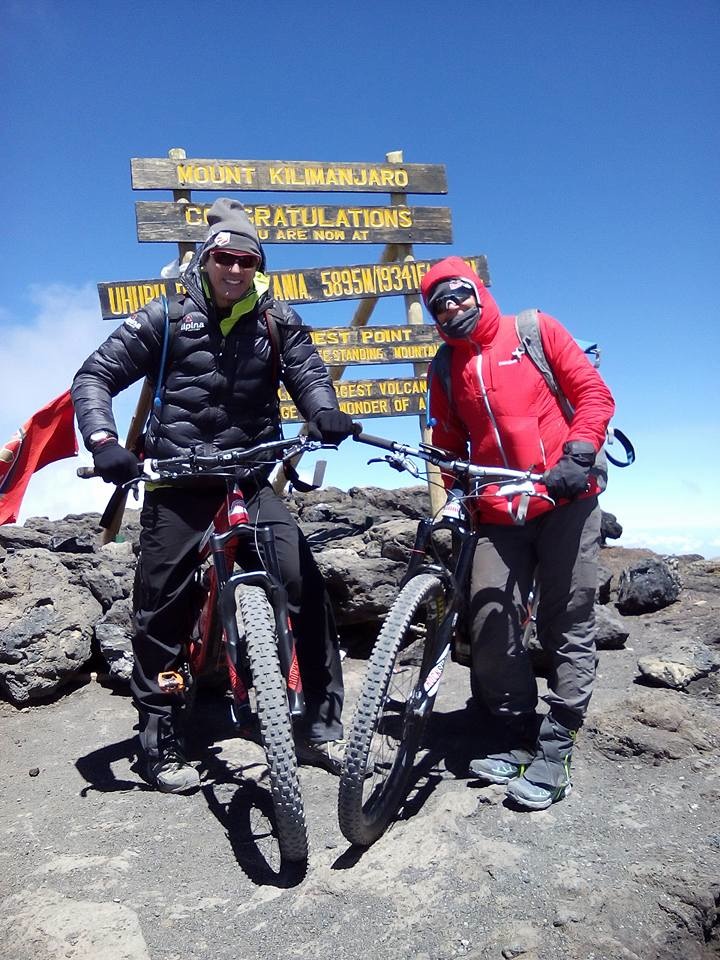 Patrick Sweeney, left, and mountain biker Rebecca Rusch biked Mount Kilimanjaro in March 2016. Photo: Provided
Sweeney didn't even want to do Race Across America. Though he's done a lot of mountain biking, road racing is a different beast. He got roped in by a business partner who told him "you'll probably be terrified the whole time, but it's a worthy challenge." Sweeney is racing on a four-person team called Fat Chance.
Until he had cancer, Sweeney was terrified of everything, he said, letting that fear debilitate him. He didn't want to be like other cancer survivors he found who become "prisoners" of their fear — of a relapse or of something else going wrong with their health — and essentially stopped living their lives.
Once healthier, he began researching fear and what happens to your body when you are afraid, meeting neuroscientists and psychologists from Tufts, Harvard, MIT and NYU. Now, he speaks to organizations and even has a book coming out about how "Fear is Fuel."
"It's like the most powerful performance-enhancing drug we can take, but most people don't recognize that," he said. "Once you start to find more fear, courage has a halo effect that will change your whole life."
When he's on that Race Across America course, he'll be honing into his fear, not shying away from it. He hopes his trek can inspire others to seek out something scary for themselves.