The Trump Administration's family separation policy for migrant families at the southern U.S. border sparked outrage and action across the country, from thousands protesting in major cities to politicians and lawyers planning trips to the border.
If you can't travel to the border from Boston, there's still a way you can help thanks to Combined Jewish Philanthropies. CJP recently set up the Fund to Aid Children and End Separation (FACES) and in its first week raised $170,000, with thousands of that already going to the border to counteract family separation.
CJP spread the fundraiser on Facebook with a plea for people to "donate $5, take five minutes and send the campaign to five friends." More than 300 people donated within the first week, with amounts ranging $5 to $50,000, said Sarah Abramson, CJP's vice president of Caring, Community and Impact.
"It's a testament to the fact that people are so passionate about being given an opportunity to act as a collective and as a faith-based organization," she said of the number of donors. "I think what we know from this outpouring of over 300 people giving what they can, they give to this particular fund because it's important to them that it's given from a Jewish perspective."
That perspective is crucial, she said, because it's connected to the modern immigrant story and the horrors of family separation. 
CJP — which has been around for more than 100 years and is the largest nonprofit in Massachusetts — says its mission is to engage the Jewish community and build it up for future generations. It came out of this question, Abramson said, of what it would take for Jewish people to integrate into America, into a non-Jewish community, and to still keep their culture alive.
"The Jewish people, particularly in America, are absolutely a people of immigrants," she said. "It was not too long ago that people like my grandparents were turned away from different countries because they didn't have the right papers or didn't have the right look or didn't meet some criteria that had been set forth."
When the organization woke up to what was happening at the border, it was obvious they needed to get involved. Not because of politics (CJP is not a political organization, Abramson stressed) or anything specific in their religious text (the nonprofit is working alongside Catholic Charities, the Young Center, and the Interfaith Welcome Coalition) but because it's a chance to put their values into action. The value of family, Abramson said, is clear across different faiths, and that's what makes family separation so horrifying to so many.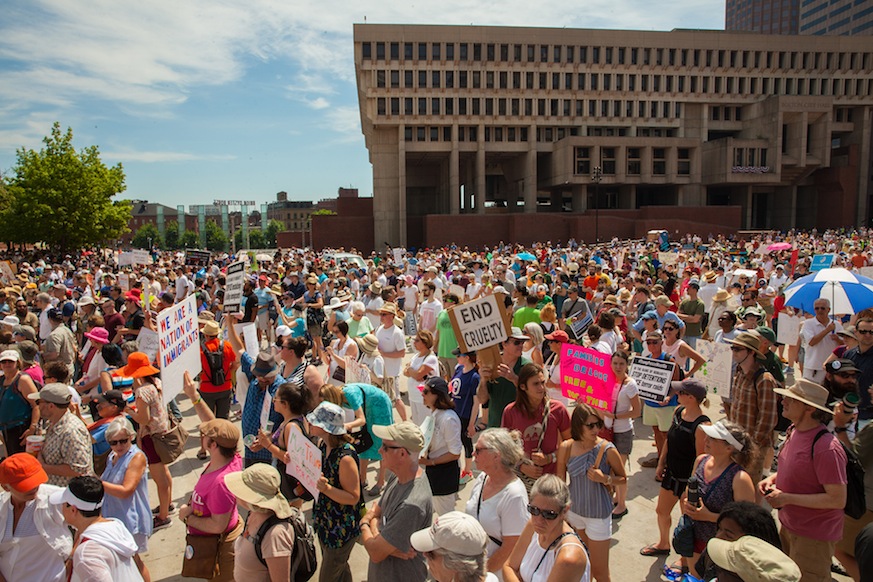 About 15,000 people protested family separation in Boston on June 30. Photo: Emett Smith 
CJP's fundraiser has already allowed the Young Center to hire a family reunification specialist and for the Interfaith Welcome Coalition to put together 2,000 backpacks filled with snacks, English-language dictionaries, phone cards and more for families dropped off at bus shelters by immigration officials.
One hundred percent of the donations go straight to these services and the fundraiser will be open, Abramson said, as long as people keep responding to it and as long as it can have an immediate impact.
"We're not waiting around to see what's going to happen, and we're here in Boston, not there [at the border], but we're allowing our dollars to take our place and do the work for us," she said. "This is also an opportunity for all of us to … make sure we don't become desensitized, don't harden our hearts, just because this is difficult to read about." 
Learn more at cjp.org/faces.