The Farmers' Almanac was spot on with its hot, hot, hot forecast for summer 2018, so there's a pretty good chance the Farmers' Almanac winter 2019 predictions will come true.
And that's not necessarily a good thing, unless you love subfreezing temperatures.
"The real teeth-chattering arrives mid-February especially in the following zones: Northeast/New England, Great Lakes, Ohio Valley, Midwest, and Southeast (yes, even the Southeast will be in the chill zone!)," the team behind the Farmers' Almanac winter 2019 predictions writes on the official website.
Predictions according to the Farmers' Almanac winter 2019
The whole prediction for winter 2019 is in the Farmers' Almanac, but they revealed that the bone-chilling temps will come from an Arctic cold front that is expected to create "blustery and bitter winds," along with widespread snow and a sharp drop in temperatures.
Winter is expected to stick around much like it did in 2018: right up until spring starts in 2019. The Great Lakes, Midwest, Pacific Northwest and New England can expect above-normal amounts of snow, too.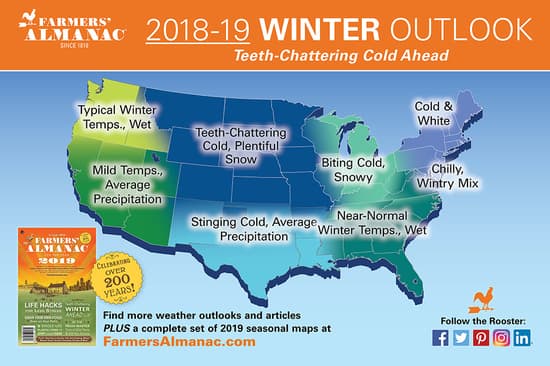 And don't expect winter 2019 to go out quietly, either.
"We are red-flagging March 20–23 for a potent East Coast storm that could deliver a wide variety of wintry precipitation just as we are making the transition from winter to spring," they write. "So, no matter what the groundhog says in February, you'll know winter isn't going anywhere anytime soon."
Great.
Is the Farmers' Almanac winter 2019 forecast accurate?
The Farmers' Almanac is based on a formula developed over 200 years ago, but "now includes both mathematical and astronomical factors," editor Peter Geiger told Country Living earlier this year.
"We base our predictions on a specific and reliable set of rules that were developed back in 1818 by David Young, the Farmers' Almanac's first editor," he said. The full formula is a closely held secret — and they use it to make their predictions up to two years in advance. The predictions are then told by fictional Farmers' Almanac forecaster Caleb Weatherbee.
So will Farmers' Almanac winter 2019 be accurate? We'll have to wait and see, but they have a pretty good history of being spot on. So, don't ignore the Farmers' Almanac winter 2019 forecast — and stock up on boots, warm socks and coats before the first winds start to blow this December.