Have you ever wanted to make cocktails in a cauldron and wave your wand to get a beer? You can do it at London's Harry Potter-themed bar The Cauldron, which is relocating across the ocean for The Cauldron NYC this fall.
The "magical cocktail experience" is taking up residence starting Sept. 12 at Bavaria Bier Haus at 19 S. William St. in the Financial District, where the staff will trade their lederhosen (yes, they really do wear them) for wizard robes through Dec. 31, 2018.
To brew potions at The Cauldron NYC, guests will first have to don their own robes, or BYO if you've already been Sorted. The experience is a bit like a Potions class — you'll be working from recipes, with guidance if needed from a distinctly friendlier "wizard" than Severus Snape (this is a good time to mention The Cauldron NYC has no official ties to Harry Potter author J.K. Rowling or Warner Bros.)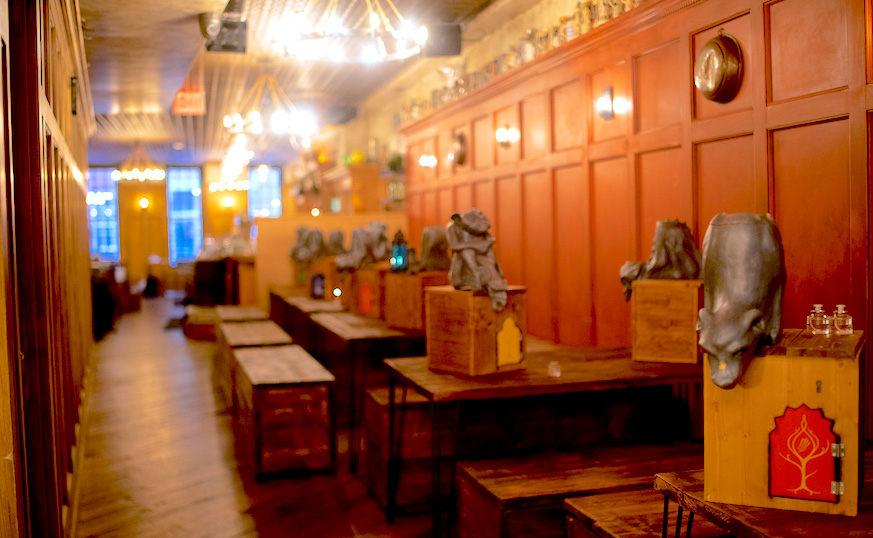 The Cauldron's Potions lab in London. Xavier Boldu
Each student will have their own cauldron with all the ingredients to make color-changing cocktails that smoke and fizz, over the course of an hour and 45 minutes. Guests will also receive a wand upon entry, which they can wave to "magically" — if you consider the radio waves that disable a car's door locks witchcraft — turn on taps of beer.
Nonalcoholic, gluten-free and vegan options are available, and all guests must be over 21. Tickets to The Cauldron NYC are on sale now for $44.99 during off-peak hours and $54.99 after 5:30 p.m. on Thurs-Fri nights and all weekends.
Visitors are encouraged to share the gift of reading that brought them to The Cauldron NYC in the first place by donating a copy of their favorite children's book at the bar, which will be passed on to a local classroom in need.
The Cauldron NYC is just the beginning of Harry Potter fun in NYC this fall
Hope you like Harry Potter, because you'll be running into him everywhere this fall in New York. First, there's the New-York Historical Society's History of Magic exhibit all about the inspirations for J.K. Rowling's Wizarding World, also traveling here from London. You can also take The Completely Unofficial & Definitely Unlicensed Boy Wizard Tour of The Met with Museum Hack.
There is also a Harry Potter-decorated restaurant in Queens called Pasta Wiz, decorated with leaning towers of books and suits of armor. If you're just here for the colorful drinks made by a "wizard," there's also Barcelona Bar in Hell's Kitchen, where staff will don a scarf, glasses and wizard hat to make your Harry Potter shot.