As winter starts to bite, New York restaurants and bars are bringing in their sidewalk tables and closing up patios. But Brooklyn's Nowadays isn't shutting down its backyard — it's turning it into a cozy escape with a large yurt, new enclosed bar with hot cocktails and even a sauna.
"We've really been thinking about how we've had this great outdoor space and it feels silly to go into hibernation," says Justin Carter, owner and resident DJ at Nowadays. The backyard is a point of pride for him: A landscape architect friend who also helped design the High Line created the Bushwick bar's backyard to be more like a park rather than a beer garden.
And having a backyard sauna is a bit of a personal perk, too: "I like to go to Spa Castle and the Russian/Turkish baths in the East village, and one day it's a life goal of mine to have my own sauna so that every morning I can go out and have my morning schvitz and then get on with my day."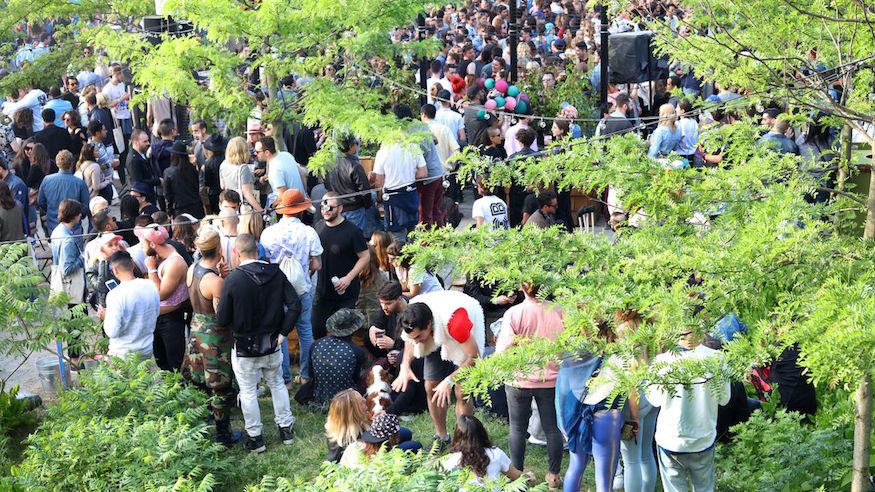 The Nowadays backyard during summer. Provided
What to expect at Nowadays' backyard sauna
The HotBox Mobile Sauna is 144-square-foot roving oasis that's been to all five boroughs — like a meditation truck, because even wellness is on-the-go now. The sauna fits 8-10 people at a time and heats up to 180 degrees. Your session includes a towel and a cool shower after the experience; robes are either BYO or rent one for $3.
A sauna session will require a little modesty. There's a private changing area, but your sweat session will be the entertainment (and envy) of the rest of the backyard. The Hotbox is open for business Friday through Sunday beginning Nov. 2 through at least the end of December — reservations are $40 per person for 90-minute sessions (or late-night sessions run to 4 a.m. on Fridays and Saturdays for $20 per person) at comegethot.com.
In addition to the HotBox Mobile Sauna, they've also enclosed the backyard bar area, with a new menu of hot cocktails featuring classics like the Hot Toddy and new creations like the Chaider, a chai-spiced cider. A heated yurt with Moroccan cushions and ottomans is also being set up to welcome larger groups, and some of the regular outdoor tables are staying put with the addition of blankets to help you get some of that vitamin D we're all low on during winter.
"In Germany, when it's a sunny day, every establishment sets up all their outdoor seating because even if it's cold, people want to be in the sun," says Carter. "Just as long as you're dressed warmly, and you give people something to warm themselves up with."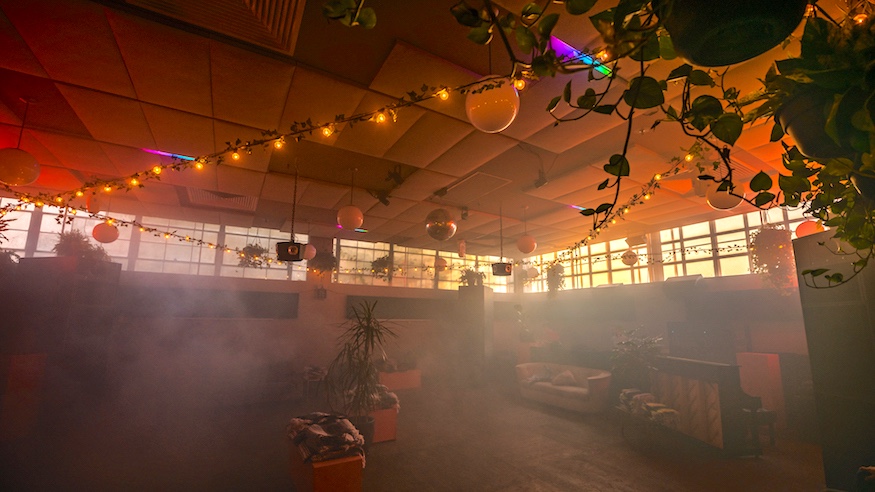 The Planetarium room at Nowadays. Provided
Why a backyard sauna is totally on brand for Nowadays
Nowadays has always been a different kind of space. "We always refer to it as a gathering place rather than 'nightclub' or 'beer garden' or 'restaurant' or any of those things, because we feel like the place encompasses all of those things," says Carter.
That means weekly classes by college professors through ThinkOlio on everything from Foucault to the music of Twin Peaks. It means a thoughtful beer selection, full kitchen and various rooms where you can dance all night or totally get away from the music, or even sit silently and allow yourself to be taken on a five-hour sonic journey during Planetarium sessions, which return on Thursdays beginning Nov. 1.
"You can be really interested in craft beer and strange dancing and learning and food," says Carter. "Hopefully, we can reach all of those people and have them grow an affinity for what it is that we're doing, and then overlap with each other and meet each other and talk to each other."
Nowadays is located at 56-06 Cooper Ave. in Bushwick on the Ridgewood border. Outdoor hours are Fridays 5 p.m.-4 a.m. (happy hour until 8 p.m.) and Saturdays 2 p.m.-4 a.m. The sauna is open Fridays 8 p.m.-4 a.m., Saturdays noon-1:30 p.m. and 4 p.m.-4 a.m., Sundays noon-3 p.m.