Brooklyn's newest green space is throwing open its lawns with a giant party. Domino Park spans a quarter mile of green space packed with playgrounds and activities along the North Brooklyn waterfront, just above the Williamsburg Bridge. The park brings a ton of new recreation options to the neighborhood, and you can be among the first to try it all during a giant opening day celebration on Sunday, June 10.
Developer Two Trees Management is throwing the "best of Brooklyn" party from noon to 4 p.m., with waterfront yoga classes by Sky Ting, live music courtesy of National Sawdust and performance art by STREB, tours of the park by Untapped Cities, a read aloud organized indie bookstore McNally Jackson and more. Play a round of dominos with El Puente, get to know the city's most scenic community garden North Brooklyn Farms and meet the people who helped create what's sure to be one of the most popular green spaces in the city.
And because it's not a party without food, you'll be treated to the first taste of Danny Meyer's new taco (and margarita!) stand Tacocina (a permanent addition to the park) as well as bites from Fornino, Mekelburg's, Yankee Doodle and Van Leeuwen ice cream.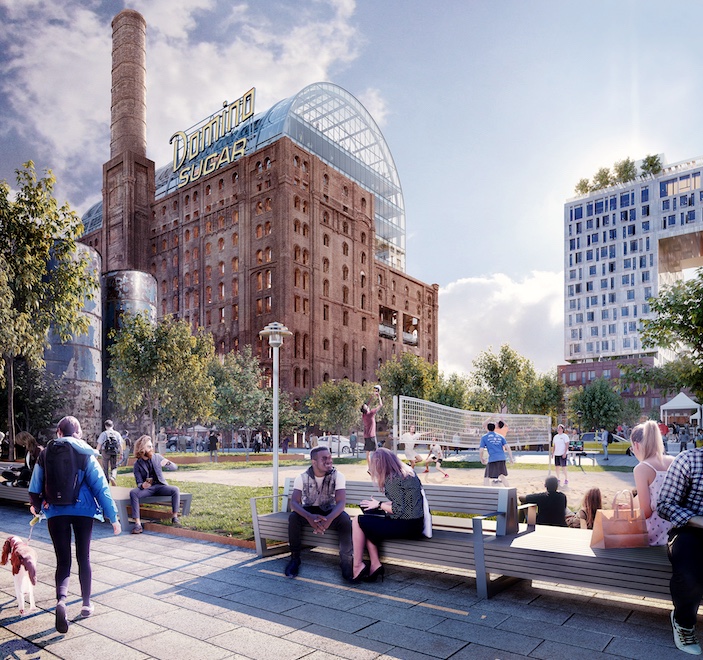 The six-acre Domino Park sits in the shadow of the former Domino Sugar Factory, which closed in 2004 and is being redeveloped into apartments. Stretching from the inlet that divides it from Grand Ferry Park to South Fifth Street, the park will have spaces for various activities from sports to leisure and even a spacious dog run. 
Designed by James Corner Field Operations, which also created the High Line, the park will have its own elevated walkway as well as a five-block-long Artifact Walk, featuring more than 30 large-scale pieces of salvaged factory equipment to nod at the site's past as one of the largest sugar refineries in the world.
For leisure lovers, there will be an "urban beach" with a shaded lawn and chaise lounges along the East River, grassy knolls to picnic on, a Japanese pine garden, a playground inspired by sugar refining designed by Mark Reigelman (who turned Midtown's steam vents into charming cabins in 2016) and a tiered seating area around a programmable water fountain. 
Sports lovers will have access to volleyball and bocce ball courts as well as a 6,300-square-foot flexible playing field.