The New York Mets are just playing out the rest of their 2018 schedule, another year in which the little brothers of the Big Apple woefully underachieved while falling flat on their collective faces. 
Being a contender on a budget given by cheap ownership that is the Wilpon family was going to be hard enough in 2018, but no one expected the organization to have the third-worst record in the National League. Once again, injuries played their fair share as Yoenis Cespedes' campaign was limited to just 38 games, Todd Frazier hit the disabled list twice after never being on the DL in his previous eight MLB seasons, and Noah Syndergaard has dealt with finger issues before a run-in with hand, foot & mouth disease. 
Sometimes it makes you wonder what kind of ancient burial ground Citi Field was built on to bring on such bad luck. 
But then the ineptitude of organization's management provides a quick reminder that it's not all just bad luck. 
Regardless, the Mets are gung-ho on the fact that they will be contenders in 2019, which makes little to no sense considering the kind of season they've had in 2018. 
With ownership likely to pinch pennies yet again, it's unlikely the Mets will make a splash in free agency nor do they have the organizational depth in the farm system to pull off a big trade to bring back a legitimate star to help turn fortunes around immediately. 
What could the Mets build on in 2019?
There has been a promising development over the past few weeks in the pitching of Syndergaard, Jacob deGrom and Zack Wheeler.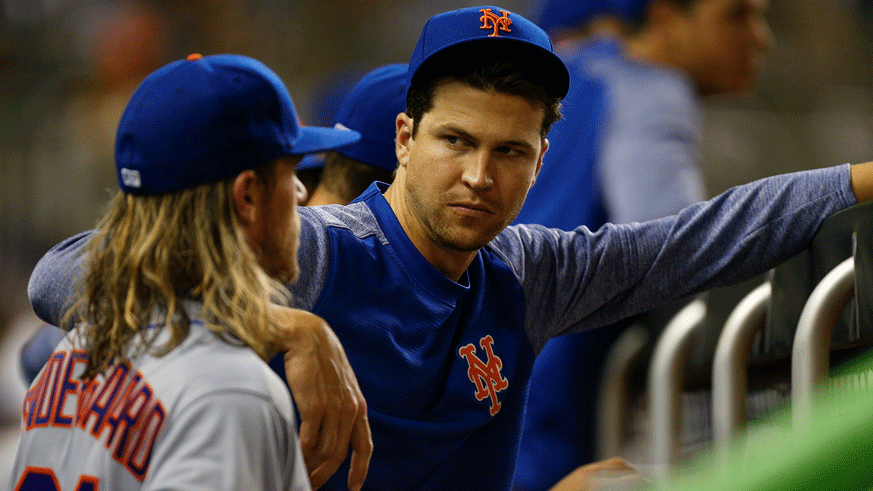 Since coming back from hand, foot & mouth disease, Syndergaard hasn't necessarily been the shutdown pitcher he was at the beginning of last season, his 4.43 ERA in his last three starts clearly suggests that. However, he's gone seven innings in two of those last three outings dating back to Aug. 1 while going 2-1 in the process. 
He's 8-2 with a 3.22 ERA this year, a surprising record on a bad team. 
It's a winning percentage that the ace deGrom deserves this year considering he is a clear candidate for the National League Cy Young Award despite a 6-7 record. He has a league-best 1.77 ERA with 183 strikeouts this year but has been cursed with little run support.
He has a 1.60 ERA in his last six starts while going at least eight innings in four of them. Yet his record is 1-3 as the Mets have scored two runs or fewer four times.
While deGrom and Syndergaard are the expected one-two punch in the Mets rotation, Zack Wheeler has drastically turned things around to offer a No. 3 option that could create a very formidable trio come next year. 
After beginning the year much like had performed in 2017 after a two-year absence caused by Tommy John surgery with a 2-6 record and 4.85 ERA in 14 starts, Wheeler found his groove dating back to the end of June.  
In his last eight outings, Wheeler has been nothing short of brilliant, going 5-0 with a 2.22 ERA. 
There's been a stark contrast in his control this year as his strikeout-to-walk ratio of 4.15 over his last eight starts is far superior to the 2.54 mark he had during the first half of the year. 
And to think that all three of these pitchers saw their names crop up in trade talks during the season, especially Wheeler, who garnered the most interest nearing the league's Jul. 31 trade deadline.
If the Mets are really all-in on being contenders in 2019, then the team has to center around these three arms moving forward. However, a legitimate offense is going to be needed in order to prevent a repeat of deGrom's Twilight Zoneesque year.