CBD, or Cannabidiol, is a non-psychoactive compound found in marijuana. In simple terms, it's the part of the plant that doesn't get you high — and it's proven to have medicinal effects on consumers, treating pain and anxiety, reducing inflammation and even controlling seizures. When it comes to thwarting similar conditions in canines, CBD for dogs does exist. Here's everything you need to know.
CBD for dogs: the rundown
CBD supplements for our furry friends come in oils, tinctures, pills and a variety of treats. They're derived from Industrial Hemp as opposed to cannabis, meaning they contain no THC — or have extremely low amounts of it. High levels of THC can be dangerous for pets, notes the ASPCA.
Paleo Paw products, for instance, have a 20:1 CBD to THC ratio, while brands such as Suzie's Pet Treats and TherPet are THC-free.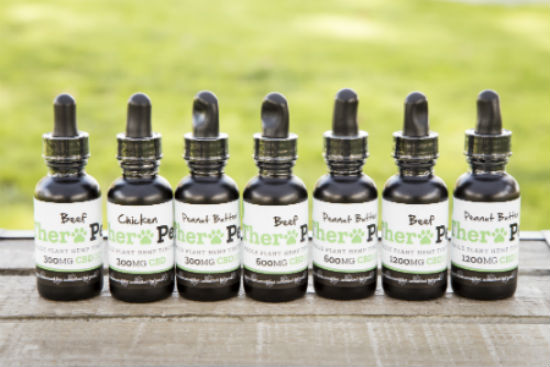 "TherPet tinctures are Whole Plant, Full Spectrum based products derived from the Industrial Hemp Plant, not the medical marijuana plant grown for dispensaries," JJ Southard, Vice President of Products for Applied Biosciences Corp., the company that produces TherPet supplements, explains to Metro. They offer tinctures for both dogs (beef and peanut butter flavors) and cats (just chicken for now). 
Is CBD for dogs legal?
"CBD for pets manufactured from approved Industrial Hemp sources in the US are legal products," Southard says, "but the FDA has not approved CBD for any particular condition due to the lack of scientific studies on it." This is exactly why pet owners are told on the TherPet FAQ page that the FDA "strictly prohibits us from making any claims related to disease or medical conditions in conjunction with our products."
"We predict the approval is coming soon," Southard says, "and at that point, we will be more free to link the products with actual health claims and the extraordinary testimonials we receive often."
Is CBD for dogs safe?
Yes. Southard says he highly recommends these products "with confidence." 
"Similar to humans, CBD will work best as a daily supplement in small doses regularly," Southard advises. "Some people will want an instant result with their pet when it may take a daily micro dose for a few days to start seeing the best results. Some folks will also be leery about their pet having an adverse reaction. TherPet has been tested for safety and is guaranteed to be a healthy additive to your pet of any age."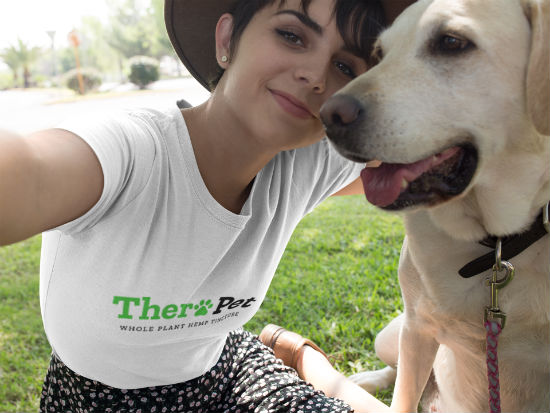 The ASPCA does warn the following: "Most CBD treats are labeled to contain a specific amount of CBD (often 2.5 or 5 mg/treat) and may claim to contain none or very minimal THC. However, if CBD is present in the treats, there is likely to be some THC in the products." To learn more about what you can do if your dog is exposed to high amounts of THC, go to the ASPCA website.
What do vets think about CBD for dogs?
Not all vets are 100 percent on board with giving dogs, or any pet, CBD supplements.
"I don't use CBD oil in my practice," Dr. Marcie Fallek, DVM, CVA, of Holistic Vet — with offices in NYC and Connecticut — tells Metro. "Anecdotal experience from other practitioners and clients and patients that have used it, has shown me that the effect is milder and temporary compared to the other modalities I use. I have not been impressed with the results." Instead, she uses homeopathic medicine to treat pets' pain or anxiety.
Some, however, are more open to it, as the Miami-based Dr. Patricia Khuly, VMD, MBA, told Leafly last year, "I find they can be somewhat effective as part of a well-rounded chronic pain protocol."
"You do not need a prescription or vet approval to purchase TherPet," Southard says. "In the development of the formulations used in TherPet, a team of veterinary scientists worked together to approve it." He does note to "always speak to your vet if you feel like you need more advice about your specific pet's condition."
Meet Calista, the Pit bull with cancer who uses CBD for dogs
Calista, a rescue Pit bull from Phoenix who was subject to abuse and had both earflaps severed earlier in life, takes CBD for dogs — specifically oil from Suzie's Pet Treats — to help fend off the side effects of cancer treatment (nausea, pain, anxiety, etc.).
"We have talked about CBD with our past and current veterinarians, integrative veterinarians, oncologists and surgeons," Jeannette, Calista's owner/mom, tells Metro. "Each one has their own unique position. Some have very strongly recommended CBD, others suggested the evidence is inconclusive, so it may not be worth it, but none have told me not to use it." 
Jeannette stresses the importance of finding a company that is transparent about the amount of CBD and THC in their products because "you need to be able to talk to your vet about dosing, and you can't do that if you don't know what is really in a certain supplement." For Calista, she's found that supplement, and it allows the Pit bull "to feel like herself every single day, no matter what medication she has to take, or what procedure she has to go through."
"That," Jeannette says, "is everything."