Baked by Melissa is pulling a Willy Wonka.
In honor of the bite-sized bakery's 10th anniversary, 10 lucky golden ticket winners across the country will receive 100 cupcakes on their birthday for the next decade.
Yep, that's 10 years of one hundred free cupcakes to kick off your b-day celebrations.
This Baked by Melissa contest, called "Find the Golden Cupcake," begins today, September 12, when you buy a Latest & Great Cupcakes 25-pack ($28). It lasts until October 7, 2018 at 11:59 PM ET (or until supplies are sold out).
These Latest & Greatest packs will feature gold scratch-off sleeves and 12 fan favorites. This includes three seasonal flavors — Chocolate Chip Banana, Dark Chocolate Peanut Butter and Snickerdoodle — and eight "Original Greats."
For the record, if you haven't tried Cookie Dough (a shining star from the original flavors) you're missing out.
There's over 1,000 other instant prizes too, including certificates for 25 Baked by Melissa cupcakes. So, if you don't win the coveted golden ticket — like Charlie Bucket — there's still plenty to celebrate. 
In addition, the Mini of the Month Vanilla Cookies & Cream cupcakes in each winning pack will feature a gold filling. 
Baked by Melissa was founded by Melissa Ben-Ishay in 2008. Ten years later, they operate 14 locations (currently across New York and New Jersey) and have a thriving national reach online.
"These last 10 years have been a magical journey, and I feel incredibly lucky to have created a company that makes people happy," Ben-Ishay said in a statement. "I am excited to continue working with our hard-working, passionate team to bring the delicious joy of Baked by Melissa to as many people as we can around the country."
Baked by Melissa Golden Cupcake Promotion details
According to official rules, you can request a free game sleeve by sending a "self-addressed, stamped envelope, to: Baked by Melissa Golden Cupcake Promotion, 3200 Liberty Avenue, Unit 3, North Bergen, NJ 07047."
These requests must be postmarked by October 7 and received by October 12 of this year. You must be at least 18.
During the duration of the Baked by Melissa promotion, the Latest & Greatest assortments will look like this: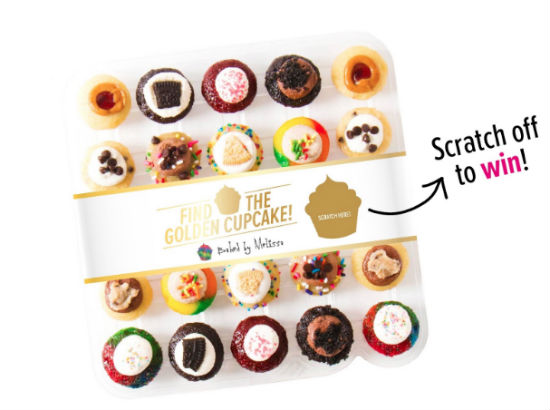 All 14 locations appear to be participating, and you can view their exact storefront addresses on the company's promotion page.
A Baked by Melissa spokesperson tells Metro that the 10 free cupcake winners will be able to choose the flavors sent to them every year for 10 birthdays.
"Baked by Melissa has been engaging their customers in a hippy, smart, fun way for 10 years," the spokesperson adds. "This contest is unique but consistent with how we like to thank and reward our loyal customers."
Baked by Melissa Instagrammed the announcement this morning, prefacing the details with, "FIND THE GOLDEN CUPCAKE!"
Don't mind if we do.