We've brought you cheese tea. We've brought you some delightful wine and beer glasses made out of cheese. And now, cheese ice cream is making rounds in NYC. 
Will cheese ice cream be your go-to flavor this summer? 
Where to get cheese ice cream this month
Friday, August 3, through Friday, August 10, Davey's is selling two cheese ice cream flavors: "You Feta Believe It!" and "The Présidential Sweet" made from Président Cheese.
"You Feta Believe It!" features Davey's sweet cream ice cream blended with their homemade guava curd, spiced pie crust crumble and Président Feta, according to Delish. "The Présidential Sweet" consists of sweet cream ice cream, Président Creamy Brie, an oven-roasted garlic swirl and brioche French toast pieces.
The roasted garlic swirl may throw you off (and we don't blame you if it does), but it's worth a try — especially with this being a limited time offer. 
This isn't Davey's first experimentation with cheese ice cream.
A spokesperson told Metro that, last summer, Davey's did a collaboration with NYC's Bedford Cheese Shop and Maine's Josh Pond Farm to make "Adelegger and Blueberries Ice Cream."
They also participated in New York's Wine & Food Festival (NYCWFF) this fall where they served "Deconstructed Apple Pie Sundae" made with yellow cheddar cheese ice cream (yum?). "We garnished it with spiced apple compote, pie crust crumble and bourbon caramel, topped whipped cream and pepitas," the spokesperson said.
Davey's East Village location will be selling "You Feta Believe It!" and Davey's Williamsburg location will be selling "The Présidential Sweet" cheese ice cream.
You can buy both flavors by the pint according to the following: 
Davey's East Village location
Uber Eats delivery
Postmates delivery
Walk-ins
Davey's Williamsburg location
Uber Eats delivery
Postmates delivery
Walk-ins
Davey's Greenpoint location
Walk-ins only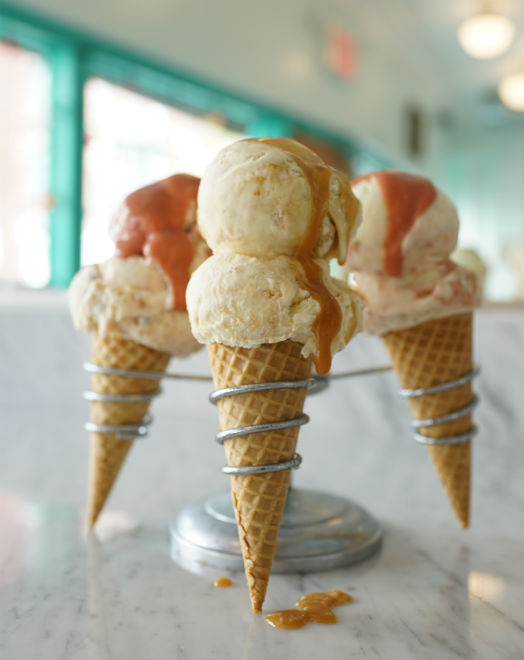 OddFellows Ice Cream is also joining in on the fun with their own cheese ice cream available this week.
OddFellows partnered with Murray's Cheese shop to create an Annelies ice cream made from Murray's Cavemaster Reserve Annelies cheese.
In honor of Annelies' second birthday, OddFellows will be serving scoops of this cheese ice cream from Thursday, August 2, through Sunday, August 5.
Murray's will also be giving out samples at their Bleecker Street store and Grand Central Market location on August 2. 
Cheese ice cream all summer 
In case you miss the opportunity to get your fix from Davey's or OddFellows, you can head over to Dominique Ansel Kitchen, whose soft serve window has been offering cheese ice cream — burrata with balsamic reduction, to be exact — since 2015.
"It doesn't taste like cheese—it's more like a rich, creamy flavor," Ansel told Bon Appetit last summer. "I lower the sugar ratio so it intensifies the flavor of the burrata and brings out the saltiness."
Also, head over to Whole Foods and other retailers for a tasty pint of Coolhaus' Balsamic Fig and Mascarpone. 
What are you waiting for? Be like a mouse and go get that cheese (ice cream).