New Chelsea manager Maurizio Sarri is on the verge of making his second big signing as boss of the London side as Sky Sports News is reporting that a deal with Russian playmaker Aleksandr Golovin is close.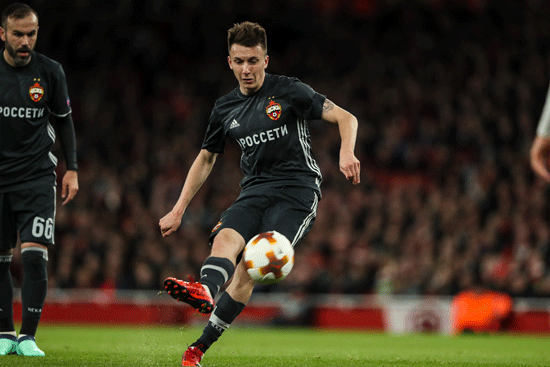 Sarri has been high on Golovin for some time now as he attempted to bring the CSKA Moscow man on during his time as Napoli manager. 
It looks like Chelsea has done enough to hold off the likes of La Liga giants Barcelona, who were also rumored to be in on the 22-year-old. But a report from Marca on Wednesday has ruled the Catalonians out. 
Golovin only bolstered his status as a young star after his performance at the 2018 World Cup. As Russia's top playmaker, he recorded a goal and two assists in four matches as the hosts made an improbable run to the quarterfinals where they were defeated in penalties by eventual finalists Croatia. 
His time on soccer's biggest stage was further confirmation that he can perform well outside of Russia.  He initially garnered attention behind a solid showing during last year's UEFA Europa League with CSKA Moscow as he accrued two goals in five matches. 
Golovin is a dynamic, attacking presence in the center of the midfield who is not afraid to take on defenders behind a sublime array of tricks. His distribution continues to improve, which will only help Chelsea's strike force up top. Whether that includes Eden Hazard remains to be seen as transfer rumors surrounding him and Real Madrid continue to swirl. 
Should the transfer be completed, don't expect Golovin to come in and take the spot right away. Sarri has brought in Brazilian and Italian playmaker Jorginho from Napoli to join an already crowded central midfield that includes World Cup winner N'Golo Kante and veteran Spaniard Cesc Fabregas. 
It's safe to assume that at least one of them will not be applying their trade at Stamford Bridge come next season.