Citi Bike is stretching out across New York City with plans to double its service area and triple its number of rideshare bicycles over the next five years.
Mayor Bill de Blasio announced the expansion on Thursday, which will make the bike share service — already the largest in the nation — one of the biggest in the world.
The Citi Bike expansion is possible thanks to an agreement between New York City and Lyft. The rideshare service is investing $100 million into the bike share system.
"This expansion means tens of thousands more New Yorkers are going to have a fast and inexpensive way to get around their city," de Blasio said in a statement. "It also means much more reliable service for all the riders who already use Citi Bike. We welcome Lyft's investment to make Citi Bike bigger and better."
Officials hope the expansion helps more New Yorkers across all five boroughs gain access to bikes and choose to travel on two wheels more frequently.
The Lyft partnership will continue to make Citi Bike accessible to low-income New Yorkers, as well, through more investment into the $5 a month memberships available to SNAP recipients and NYCHA residents.
Lyft, Citi Bike expansion agreements
Under this expansion, Citi Bike will have a fleet of nearly 40,000 bikes within five years. The new fleet will include regular and pedal-assist Citi Bikes, an update made in light of the looming L train shutdown.
The bike share's service area will grow by 35 square miles, more than doubling its current size.
The service area expansion details haven't been made yet, the city said, but those new geographic boundaries will be established in the coming months after community and elected official outreach.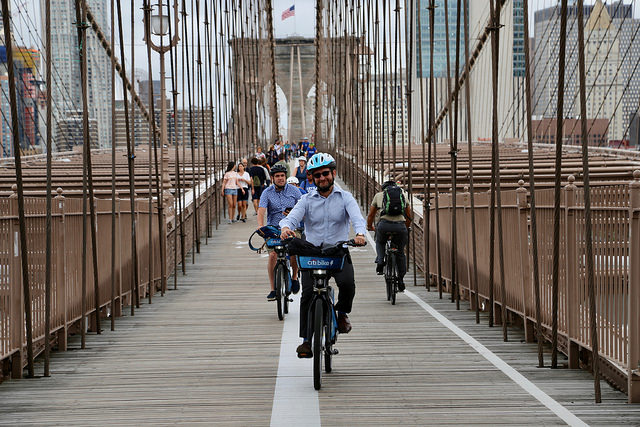 Twelve new Citi Bike valet stations are on the horizon, which Lyft will add while also increasing bike and dock availability at the busiest Citi Bike areas.
"Today's announcement marks a major milestone in Lyft's growth as a sustainable transportation service that connects communities, and reduces unnecessary driving in urban centers," said John Zimmer, president and co-founder of Lyft, in a statement.
Borough presidents Eric Adams (Brooklyn) and Gale A. Brewer (Manhattan), along with City Council members, state officials and outgoing Public Advocate Letitia James all praised the expansion.
But Melissa Mark-Viverito, a candidate for Public Advocate, expressed some frustration at the news.
"What has 472 crumbling stations, 5.7 million delayed riders, and is regularly ignored by politicians?" she asked in a statement. "In the last two days alone, elected officials have championed e-bikes, e-scooters, and a deal with Lyft to take over Citi Bike — but we haven't heard one word about the crumbling MTA. Maybe instead of patting themselves on the back for transferring Citi Bike ownership from one private corporation to another, these leaders should start talking about ways to fix the subway."