Sometimes, the biggest hurdle in the way of achieving success is that little voice in the back of your head telling you that your unique ideas are not worthwhile. For every great startup that revolutionizes an industry, there are countless that are never funded because the person who came up with the idea never took the chance and jumped into the ball-pit. Singer and entrepreneur T-Pain will be treated kindly by history as someone who had changed the course of pop-music when he emerged on the scene back in the early 2000's. Just think about all where all of the mumble rappers in the Top 40 would be without hearing "Buy You a Drink" or "I'm in Love with a Stripper" all of those years ago? With his new show, T-Pain's School of Business on Fuse, the entertainer will be meeting with young entrepreneurs to give advice on their business decisions and learn a little something from them in the process. We spoke with T-Pain about the show and picked his brain a little on how to chase your dreams.
T-Pain talks his brand new show T-Pain's School of Business on FUSE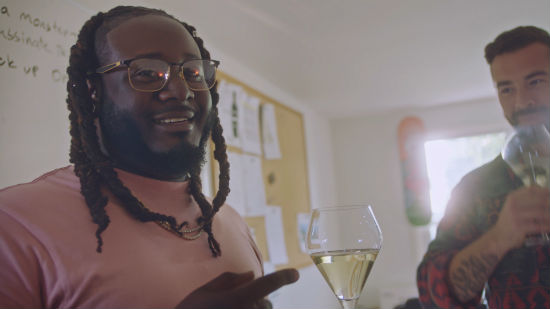 T-Pain's School of Business. Photo: Jasmine Evaristo/FUSE. 
Tell us about your brand new show, T-Pain's School of Business.
T-Pain: Pretty much the idea behind the new show was seeing what entrepreneurs have to really go through the get their businesses off the ground. I don't think a lot of people know the process and they just think that you come up with a good idea and then you just make a lot of money. People don't think about the failures and the trials and tribulations and things you have to go through to really have a successful business. We're showing the world it's more than a good idea and a big check. Even if you're afraid of your big idea — if it's stupid but it works, then it's not stupid. We're just trying to show you the positives of getting over that hump. You may have a great idea that's sitting in your head right now but you may think it's stupid. So, here's what other people are going through. When people hear the name "School of Business", they think "is this going to be T-Pain saying how much he knows about business more than everybody else?" and it's really not that. It's very encouraging to young entrepreneurs and showing people to just try everything and do anything you want.  If it doesn't work, try something else. It's basically a motivational show and very important in my opinion.
You could interpret the "School" in the title of your show as you going to business school.
T-Pain: The best kind of teachers learn from their students as well, you know what I'm saying? So it's always great to go into a business or into a class knowing that you don't know everything and you can always learn more. We grew up with this idea that teachers were the smartest people in the world. That's why they're teachers. They know everything (laughs). That's just the most untrue thing we grew up thinking. We make these people go to school for four to seven years to get all of the answers in the book. If we're all gonna learn together then take away the cheat sheet for the teachers and let's all learn together. Everybody's learning at the same time! I'm learning, the people who are watching are learning, and I'm giving my experiences to the people I'm talking to. So literally everybody involved is learning. It's all around benefit!
Have startups always been something that have sparked your curiosity?
T-Pain: Yeah, I've always been. I've always just done random Kickstarters and just going and looking Kickstarter and looking at cool things. I believe in projects and how people get started and stuff like that. If i spend two grand on your project and if my push can help you out and can get me your product for free before everybody else then hell yeah. I'm with you! (laughs).
No one was using autotune in the way that you did when you and Lil' Wayne first broke big on the scene and now everyone is trying to sound like you. Is it safe to say that "innovation" is one of your biggest driving factors?
T-Pain: Yeah that's what it's all about, man. It's about taking risks. When I see someone doing that for an idea they believe in, I'm automatically drawn to that thing. I want to see it all pan out because I know how much money can be made off of a new idea that might seem silly at first but then … oh boy. Then you see all the people who said it was silly and wished they could help it out and backed it. I try not to miss any opportunities like that. I've definitely learned that for sure.
Are there any people or businesses out there that remind you of that kind of drive and curiosity you had back then?
T-Pain: There's a ton of people. I go into the black holes of youtube. I get into weird websites and things of that nature. I subscribe to StumbleUpon. I'm always Stumblin! I'm always bookmarking things and just looking for all kinds of different sh-t that people wouldn't normally go through. I don't do the normal everyday websites. I go through the black hole of the internet and see what the hell I've been missing
Have you talked to Lil' Wayne since The Carter V came out?
T-Pain: Yeah, on his birthday! I talked to him before he went to the club. Yeah man, he's doing good. He's in a good headspace. Everything is good with him. He's about to grab some businesses to now that he owns his whole company. Wayne has always been an entrepreneur. He's got a few more things coming that obviously I can't talk about. But yeah, he's doing great.
What would be your biggest advice for someone who is looking to follow their dreams?
My main advice to everybody all of the time is don't listen to anybody else. If everybody else knew what a good idea was, they would have made it first. Go ahead and do what you're thinking. If it turns out bad, then do the other thing that you were thinking. Everybody has these ideas but they always get to that point of "ah, I'm not going to do that. That'll be stupid. Nobody is gonna buy that." It's that point where you go past that and you just do it anyways, that's when it comes into fruition and you start making a ton of f-cking money (laughs).  That's just how it is. Don't listen to anyone around you, just get past that point. Even people that you respect. When I got in the game and I started producing, all of these producers like Timbaland and people that I really respected, they told me that my beats was whack. You know what I'm saying? I made all of the beats on my first three albums and two of them went gold and one of them went platinum. I'm fine with not listening to anyone around me.
T-Pain's School of Business premieres on October, 16th at 11pm on FUSE.
Check out a trailer for T-Pain's School of Business below: