Fired FBI Director James Comey's June 8 testimony before Congress was hyped as the biggest live congressional event since Watergate. People skipped work. Viewing parties were organized. Bars opened early. Custom cocktail menus and drinking games provided anesthesia. 
After it was all done, some argued that Comey's testimony was anticlimactic because his remarks had been released early. Whether or not the event was completely satisfying depends on your perspective. But new data argues that it was, at least for a few hours, and productivity wasn't the only thing to droop in the nation's capital.
Pornhub, the world's largest site for adult content, reported that in Washington, D.C., traffic to their site plummeted when Comey took the stand. The former FBI director's testimony began at 10 a.m. EDT, and site traffic dipped more than 10 percent at that hour.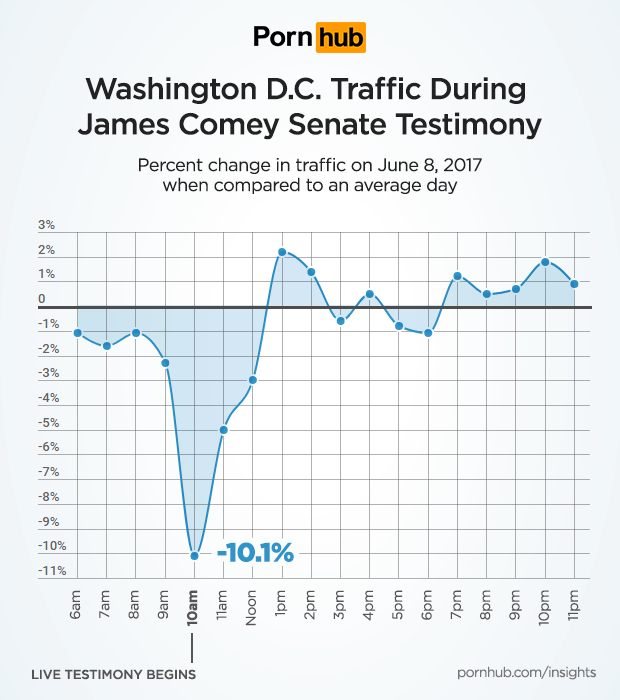 The same phenomenon occurred when current Attorney General Jeff Sessions testified before the Senate Judiciary Committee on June 13. Sessions' testimony began at 2:30 p.m. EDT and caused a 12 percent dip in D.C. Pornhub traffic.
Pornhub points out that Comey had a quicker refractory period: After his testimony, traffic levels to the site recovered around 12 p.m., around two hours after his hearing began. But on the day of Jeff Sessions' testimony, traffic didn't return to a normal level until about 7:30 p.m., nearly five hours later.
Potential explanations for the longer lag time abound. Post-traumatic stress is a possibility but has not been surveyed. Likewise, whether the extended time-out has anything to do with the appearance of Democratic Senators Martin Heinrich and Kamala Harris at the Sessions inquiry, and whether their questions inspired extended solitary analysis, is unclear.
Martin Heinrich says Sessions "obstructing" congressional investigation by declining to answer questions: "Your silence…speaks volumes." pic.twitter.com/ifFsxG1vjk

— ABC News (@ABC) June 13, 2017
KAMALA HARRIS: Is that policy in WRITING somewhere?

SESSIONS: I think so.

HARRIS: You don't KNOW? pic.twitter.com/9KwtrdDCT2

— Mikel Jollett (@Mikel_Jollett) June 13, 2017