Originally one of President Trump's less unqualified Cabinet hires — with a rare somewhat smooth Senate confirmation — Commerce Secretary Wilbur Ross has turned into a kind of problem child for the Trump administration. There are reports about the 80-year-old former investment mogul's stake in a Putin-related company and his tendency to fall asleep in meetings, after which he mops up any resulting drool with his tie.
A source I had contacted about something more important responded that not only has Wilbur Ross fallen asleep at every meeting he's been in with source, but that he drools – and uses his tie to clean it up.

— Eliana Johnson (@elianayjohnson) January 22, 2018
Whether it's the somnambulance, spittle or something else, Trump has soured on his former star hire and has "effectively taken him off the playing field," according to a report this week from Axios. Originally entrusted with major negotiations with China, Ross drew Trump's ire about six months into his presidency, when he criticized the deals Ross had struck: "These trade deals, they're terrible," Trump said, according to someone who was present at the upbraiding. "Your understanding of trade is terrible. Your deals are no good. No good."
Among the work Trump was displeased with: Ross opened American markets to cooked Chinese chicken in exchange for the Chinese accepting American beef, and a 100-day, high-level negotiation to eliminate excess Chinese steel capacity that was hurting the U.S. steel industry, which Trump rejected, shocking advisers.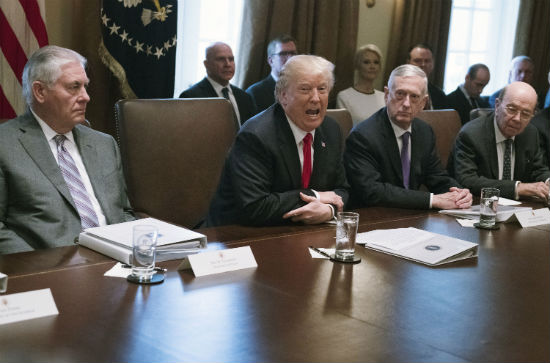 Wilbur Ross (far right) in a meeting with Trump, looking about to fall asleep. Photo: Getty Images
In August, Trump said he didn't trust Ross to negotiate at all anymore, and he made U.S. trade representative Robert Lighthizer the go-to dealmaker. "Wilbur has lost his step. Actually, he's probably lost a lot of steps," Trump reportedly said.
Since then, Ross has been trying to get back on Trump's good side, and he's still present in weekly meetings on trade, although it's unclear how often he's conscious.
The White House disputes the account. "Secretary Ross is leading the administration's approach on steel, aluminum, intellectual property, and trade," Principal Deputy White House Press Secretary Raj Shah said in a statement. "Far from souring on his performance, since taking office, the President has expanded his responsibilities."