Love them or hate them, everyone knows what Crocs are: those rubbery, holey, not-sure-what-to-make-of-this clogs sold since the early 2000s. They've been subject to many memes over the years, even hit fashion runways around the world and became the center of the "ugly shoe trend." Now, the Swiss-cheese-resembling shoes we love to hate (or, perhaps, just love) are taking it to the next level with their new Crocs with socks design.
Wait. Crocs with socks?
Precisely. Crocs has teamed up with NYC street brand Alife for a collection of limited-edition footwear coming out June 14.
"Most of what we do at Alife is stemming from design and creative before actual fashion," Rob Cristofaro, Alife's founder and chief creative officer, told GQ. "And as an object, Crocs have always been appealing to me."
The Alife x Crocs collection features three styles, one of these being Sport, which comes with attached tube socks.
They deem rather patriotic, somewhat retro and very — well — unique. Take a look: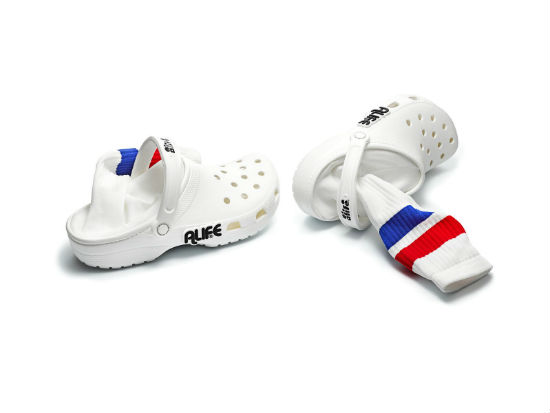 "The tube sock was a staple for me while growing up in New York in the 1970s," Cristofaro explained. "In the boroughs of New York, you would see kids rocking socks with the Adidas slides. The concept was really to take something as next-level as a Croc and mix it with these elements."
These bad boys go for $140.
But it's not just Crocs with socks — there are two more styles included in this Alife x Crocs launch.
Other styles in this collab besides the intriguing Crocs with socks
Sport is accompanied by the Classic and Art designs. The Classic style, going for just $80, features simple gray clogs with the Alife over-sized logo across the tops. According to Footwear News, this is also meant to evoke nostalgia — a "nod to the '90s logo trend."
The Art clog features Jibbitz (3D shoe charms) that create a miniature NYC skyline. These Crocs cost a whopping $600.
"Crocs' iconic clog has made a global impact, not only because of its unique design, but because it serves a functional purpose," Cristofaro said in a press release statement. "At Alife, these are the brands that we strive to work with."
"The clog is a fashion misfit, which is why I think our collaboration points out that doing something you love is more important than following the latest trends," he continued.
Crocs with socks (and the other two designs) will be available exclusively at alifenewyork.com and at the Alife NYC store (158 Rivington St.) starting June 14.
Tell your family, tell your friends, tell everyone.
My mom woke me up at 6:45 this morning just to tell me that crocs are now selling shoes with socks attached to them ??? thnx mom

— lex (@alekssyyy) June 1, 2018