Danny McBride is not Kenny Powers. He's a nice guy, not his egomaniacal monster of a former baseballer from "Eastbound & Down." (He's also not "Danny McBride," the assholish version of himself he played in "This is the End.") He's not even strictly a funnyman anymore. In Ridley Scott's "Alien: Covenant," he plays the non-wisecracking pilot of a massive ship transporting thousands sleeping colonists to a new home far away. En route, the crew investigates another planet, only to suddenly find themselves battling space monsters, and not just the classic Xenomorph from the original "Alien."
But that's not all: McBride is flexing his horror muscle some more. He's recently signed up to co-write the reboot of "Halloween" with his longtime friend and cohort David Gordon Green ("Pineapple Express"). We talked to the actor-filmmaker, 40, about going from laughs to scares.
It's pretty cool that you're segueing from comedy into horror now.
Yeah! Turns out killing people is as much fun as making people laugh. [Laughs]
Were you surprised with "Alien" that you weren't going to play a comic relief who cracks jokes then gets an alien mouth through the head?
Honestly, that's what I was expecting when I first heard from Ridley. I would gladly participate in anything he wanted me to. When I got the script it was exciting to see he was going to rely on me for something different than what I'd done before.
And you're a nice guy in this movie.
I know, it's great! [Laughs]
Are people surprised to learn you're not an egomaniacal asshole like Kenny Powers?
All the time. I'd hate it to be the opposite, where it's like, "He seems like such a nice guy. Turns out he's a dick." [Laughs]
Too bad you only got one scene in the beginning of "Alien" with James Franco.
That experience was so much fun, because it was good to have a buddy show up and you get to say, "See? I told you I was in this movie!" I wish he'd been in it a little longer, but I'll take what I can get.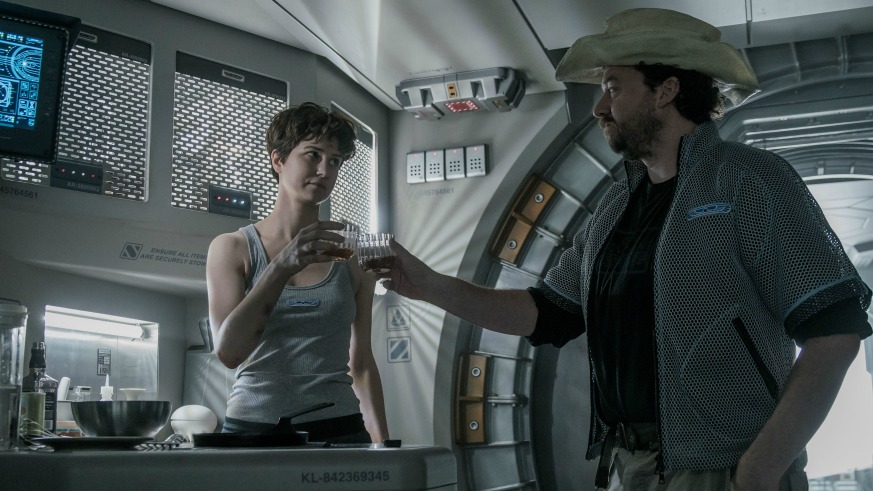 It must have helped doing this before you wound up with the gig co-writing "Halloween." It's such a different kind of film for you and David Gordon Green.
It really is. I met David my freshman year of college; he was my next door neighbor, one year ahead of me at North Carolina School of the Arts. When I saw his films, I thought he was definitely doing something different than everyone else at school. He had a unique voice. It's high praise, but I really think his career path is similar to Robert Altman. Robert Altman was not afraid to jump from one genre to the next. He could do something like "Nashville," then make something like "Popeye." That's what David likes to do. He just likes making movies, and he doesn't want to have that same experience every time he shows up on set.
Still, is it scary to be doing horror?
No, it's just as exciting as doing a comedy — to be looking at masks and blood effects and figuring out intricate ways to kill people. [Laughs] It's just a different set of issues to get your head around. The thing that's kind of crazy about creating a horror film is you rely on the same thing that you do with comedy. Ultimately it's about engineering tension and pace and knowing when to let the audience off the hook, so you get the best reaction out of them. It's been fun to take some of those same principles you would with comedy and figuring out how to engineer scares instead.
You've actually met with John Carpenter, who created the series. That must be terrifying when you're telling him you're messing with his property.
Exactly. When David and I decided to do this, it was really important that we pitched it to him, get his approval. We wouldn't be interested in doing it if it wasn't something he thought was a good addition to it. It was amazing to go into pitch him. It was nerve-wracking, but when he liked our take, it made us feel great.
Follow Matt Prigge on Twitter @mattprigge