A week after news that the federal government would have more oversight over the troubled New York City Housing Authority Mayor, more changes are coming to the public housing system. Mayor Bill de Blasio announced that Kathryn Garcia, the city's sanitation chief since 2014, will run NYCHA as the new interim chair.
Garcia is succeeding Stanley Brezenoff, who was named interim chair of NYCHA in April 2018 and will depart later this month. Brezenoff inherited the nation's largest public housing system after a lead-paint scandal that led to Chairwoman Shola Olatoye stepping down from the position.
In the announcement of the new NYCHA chair, the city applauded some of Brezenoff's accomplishments — including launching a plan to deliver $24 billion in repairs for 175,000 residents, a contract with the Teamsters that provides 7-day service for public housing residents and improving response times to heating outages — but the public housing system is still facing a myriad of issues.
NYCHA's current repair needs top $31 billion over the next five years. Last week, on the coldest day of the year so far, more than 10,000 NYCHA residents experienced heat and hot water outages. That same day, Housing and Urban Development Secretary Ben Carson came to New York City to sign an agreement with de Blasio that calls for a federal monitor to oversee the public housing system.
Who is NYCHA interim chair Kathryn Garcia?
After praising Brezenoff's run, de Blasio introduced Garcia by saying in a statement that "There is no better person to continue our turnaround effort at NYCHA than Kathryn."
"She is a battle-tested leader who has taken on sprawling challenges from eradicating lead exposure to overhauling the broken commercial carting industry," he added. "She is ready to fight every day for the 400,000 New Yorkers who call NYCHA home."
Garcia is currently the NYC Sanitation Department's 43rd commissioner, a position she'd held since 2014 when she was appointed by de Blasio. In that time, she worked on ways to reach the city's Zero Waste goal, put into operation new initiatives like organics collection and overhauled the city's snow-clearing operations by prioritizing certain snow plow routes, per the mayor.
Before that role, she was COO at the Department of Environmental Protection where she oversaw, among other things, the delivery of safe drinking water to those in the five boroughs and upstate New York.
Garcia also spearheaded the launch of Lead Free NYC, announced in January, which is the city's plan to end childhood lead exposure and will eliminate lead paint hazards in NYCHA apartments and family shelters.
Brezenoff will step down on Feb. 15. When de Blasio and Carson signed the NYCHA deal last week, he had said "I've been trying to get out of this job for months," the New York Times reports.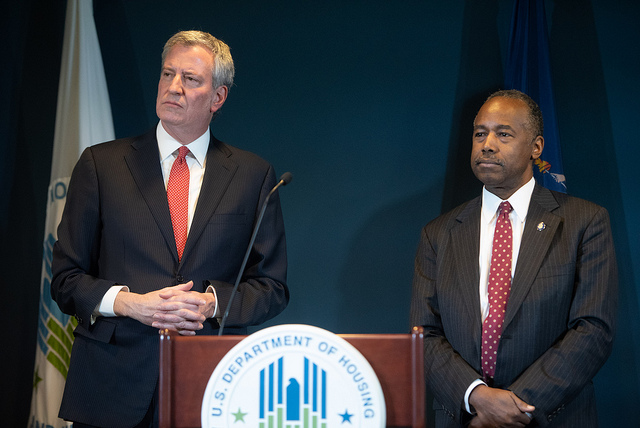 Michael Appleton/Mayoral Photography Office
In a statement, he said that helming NYCHA is "one of the toughest and most rewarding jobs in America. I will leave this interim role knowing that we are putting NYCHA in very capable hands."
"I am going to work every single day to make life better for the 400,000 New Yorkers who call NYCHA home," Garcia said in a statement. "There's been real progress—now it's time to go farther and faster. We have a plan to renovate tens of thousands of apartments and an agreement with the federal government to improve all of our key services to residents. I'm ready to roll up my sleeves and put these plans into action."